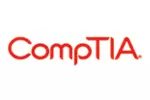 CompTIA certifications are a globally recognized benchmark of skilled IT professionals in a range of disciplines. Completing a course or degree program with CompTIA certification training demonstrates real-world technical prowess and dedication to your career.
Accredited colleges and computer schools offer courses and degree programs featuring certification prep for marketable CompTIA credentials, including the A+, Network+, Security+ and Project+.
Use this page to compare CompTIA certification training programs online and in your area.
CompTIA Degree Programs
Browse the top-rated college degrees featuring CompTIA certification training and related computer skills.
Associate of Arts in Information Technology
Gain critical thinking skills and learn about the technology and tools needed for business success today and in the future. This flexible, online degree helps you fit education into your busy life.
Program Highlights:
Take coursework that's relevant to CompTIA (A+, Network+) certifications
Learn how to apply basic business management skills
Locate, evaluate and solve business problems with technology
Understand professional, ethical, legal, security and social issues related to technology
Analyze the impact of computing on individuals, organizations and society
Bachelor of Science in Cybersecurity
This online bachelor's degree provides the cyber security, networking and management skills modern employers demand, while preparing students to earn valuable IT certifications. Graduates of this program will be prepared for job roles such as cyber security analyst and network manager.
Program Highlights:
Includes Certification Preparation for:

CompTIA A+, Network+ and Security+
TestOut Network Pro, Security Pro & Pro PC

Design Secure Computer Networks and Applications
IT Risk Management & Info-Sec Policy Creation
Cyber Attack Incident Response and Investigation
Learn how to Manage IT Projects and Services
Search IT courses and degree programs by job role, technology platform & major.
CompTIA Courses & Certificates
Browse online courses and certificates featuring CompTIA certification prep and related topics.
Bachelor of Science in Cybersecurity
Includes Certification Preparation for:

CompTIA A+, Network+ & Security+
TestOut Network Pro, Security Pro & Pro PC

Gain the Skills and Credentials to Pursue Jobs in Cyber Security and Network Management
Information Security Tools and Techniques
Design, Build & Manage Secure IT Networks
Cyber Security Policy and Risk Management
IT Service and Process Management
Bachelor of Science in Network Technology: Cisco
Includes Certification Preparation for:

CompTIA A+, Network+, Security+, Project+ & Linux+
Cisco CCNA Routing and Switching

Design & Manage Cisco Wired / Wireless Networks
Network Security Threats & Countermeasures
Install and Support Telecommunications Systems
IT Project and Process Management Training
Explore Hot IT Topics inc. RFID Architectures, Enterprise Mobility & Cloud Computing
Master's in Technology Management
Prepare for Leadership Roles in Business and Information Technology
Business Intelligence and Data Analytics
Cyber Security Threats & Countermeasures
Cloud Computing and Virtual Data Centers
Globalization and the Modern IT Workforce
Computer Systems Analysis Tools & Techniques
Wield Emerging Technologies and IT Personnel to Achieve Business Goals
No GRE or GMAT Required for Admission
CompTIA Certification Resources
CompTIA certifications validate your skills and expertise in modern information technology roles. Many of today's best computer jobs begin with CompTIA certification training.