Best Computer Science Schools in New York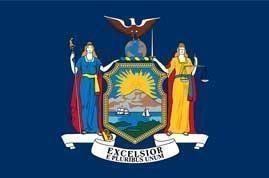 Research and compare computer science schools in New York.
In addition to New York City being the nation's financial, cultural, culinary and fashion capital, the big apple is home to some of New York's top schools for computer science and engineering. For those who don't want to study in the city, there's a host of respected computer schools in New York State and the NY tri-state area too.
Noteworthy computer science schools in New York include Cornell University in Ithaca (upstate) New York, as well as Columbia University and New York University in NYC. The Empire State is also home to headquarters or major satellite branches for leading tech employers like IBM, Google, Cognizant Technology Solutions, Meta, and Compass.
Find top-rated computer science schools.
Best CS Schools in New York
Compare New York's top colleges for computer science and related subjects.
Cornell University
The Cornell Bowers College of Computing and Information Science (CIS) at Cornell University is one of the best computer science schools in New York. Cornell's computer science department was established in 1965, placing it among the first of its kind.
Graduate & Undergraduate Programs in:

Computer Science
Information Science
Advanced Statistics

Campus Locations:

Cornell Main campus: 402 Gates Hall | Ithaca, NY 14853
Cornell Tech: 2 West Loop Road | New York, NY 10044
New York University
New York University is one of the world's most respected research universities; its Courant Institute of Mathematical Sciences - which houses the CS department - offers innovative computer science degrees at the graduate and undergraduate level.
Computer Science Programs include:

Computational Biology
Algorithms & Theory
Machine Learning
Graphics, Vision & User Interfaces
Computer Systems / Networking

Campus Locations:

NYU Main Campus: 50 West 4th Street | New York, NY 10012
NYU Tandon School: 6 MetroTech Center | Brooklyn, NY 11201
Online Comp-Sci Schools in New York
These top-rated online computer science schools are currently accepting New Yorkers.
Capella University
Capella University offers online computer science degrees that focus on the skills, platforms and certifications that employers demand.
Computer Science Programs in:

Data Management and Analytics
Information Assurance & Cybersecurity
Networking with Cisco & Microsoft Technologies
Web and Software Development
Southern New Hampshire University
SNHU's online computer science programs feature experiential learning and hands-on projects to provide the skills needed for success in the modern IT workforce.
Undergraduate & Graduate Programs in:

Computer Science and Engineering
Business Intelligence & Analytics
Graphic Design & 3D Animation
Information Security
Top Paying Tech Jobs in New York
Here's how much you can earn if you decide to work in-state after going to computer school in New York.
Source: U.S. Bureau of Labor Statistics
Regional Salaries for IT Pros in NY
Here are the New York cities and metropolitan areas that pay the highest wages to IT professionals.
| New York Location | Average Salary |
| --- | --- |
| New York-Newark-Jersey City, NY-NJ-PA | $109,010 |
| Ithaca, NY | $91,500 |
| Binghamton, NY | $88,320 |
| Utica-Rome, NY | $84,620 |
| Albany-Schenectady-Troy, NY | $83,860 |
Source: U.S. Bureau of Labor Statistics
Life of an IT Pro in NYC
Referred to as "Silicon Alley" because of its high and fast-growing population of dot-coms and new media companies, New York City's thriving tech sector has become a staple of the city's economy. Many New York tech companies make their bread and butter in software development, web services, biotechnology, fintech and other cutting-edge computer niches. While the verdict is split on New York City as a place to raise a family, NYC is perfect for the young IT pro looking to have an adventure and build a career in the city that never sleeps.
Frequently Asked Questions
Here are some common questions from prospective computer science students in New York.
What's the best SUNY school for computer science?
The best State University of New York (SUNY) school for computer science is Stony Brook University, according to the latest rankings from US News & World Report.
Search more IT courses and degree programs by job role, technology vendor & major.