IBM Professional Certificates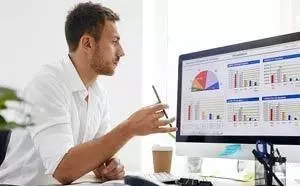 IBM professional certificates provide the skills and credentials to launch a variety of careers in IT.
IBM, one of the world's leading technology companies, has a rich history of innovation, groundbreaking research, and dedication to excellence. Alongside its myriad technological achievements, IBM offers a range of industry-respected training and certification programs. IBM professional certificates provide IT pros with the means to demonstrate skills in marketable domains like cybersecurity, data science, software development, and artificial intelligence.
This page will serve as your guide to IBM's professional certificate program, including the costs and benefits of getting certified, jobs and salaries you can pursue upon certification, online training options, and links to deep-dive descriptions of the top IBM credentials.
Find IBM Certification Training
Benefits of IBM Certificates
IBM professional certificates are among the most renowned IT certifications. By getting certified, tech pros can gain several professional and personal benefits.
Here are some of the key advantages of IBM professional certifications.
Skill Validation: IBM certificates prove current skills in sought-after technical disciplines. This can be especially beneficial for IT professionals wanting to differentiate themselves in a competitive job market.
Affordability: IBM professional certificates are available through self-paced online courses on Coursera with a subscription price of $49 per month. IBM professional certs are designed to be completed in 3 to 6 months, for a total cost of about $150 to $300 each. Financial aid is also available for qualifying students.
Higher Salaries: IBM certificate holders gain increased leverage during salary negotiations. Workforce studies indicate that IBM certified pros earn more than their non-certified counterparts, on average.
Upward Mobility: IBM certifications, like many technology credentials, can be a key factor in promotions, as they demonstrate a commitment to professional development and continuous learning.
College Credits: Most IBM professional certificates qualify for at least 10 college credits per credential earned. Visit the website for the American Council on Education (ACE) for detailed credit counts.
Increased Job Opportunities: Many employers prioritize candidates with IBM certificates during the hiring process, as they provide a benchmark for relevant expertise. This is especially true for the thousands of organizations that use IBM technologies.
Digital Badges: IBM offers digital badges for its certifications. IBM professional certificate badges can be shared on business networks, resumes and email signatures, providing a modern way of showcasing achievements.
Enhanced Expertise: The process of training for IBM certificates gives candidates a more thorough understanding of the subject matter, which leads to improved skills and job performance.
Professional Community: IBM certified professionals gain access to a robust community where they can connect, share, and learn from other experts in the field.
Confidence Boost: Earning IBM certifications can boost an individual's confidence in their technical abilities, knowing they've met the standards set by a global tech leader.
Continuous Learning: IBM professional certificates require periodic recertification, which ensures that certified pros remain current with the latest tools, techniques and best practices.
Global Recognition: IBM professional certificates are globally-recognized, making them valuable for IT professionals seeking employment opportunities around the world.
Special Offers & Discounts: Occasionally, IBM offers discounts on products, services and industry events to professional certification holders, providing an added incentive to get certified.
Organizational Benefits: For employers, having IBM-certified employees often translates into projects being completed more efficiently, reduced operational costs, and increased customer satisfaction.
IBM Professional Certificates List
These are some of the most sought-after IBM professional certificates available today. Click on each credential for an in-depth description including curriculum, training programs, costs, duration, career outcomes and more.
This list represents the most in-demand professional certificates from IBM. It will be updated and refreshed as new IBM certifications launch and old certs are retired.
IBM Certificate Jobs and Salaries
Here are some popular career paths you can pursue with IBM professional certificates, along with the average salary for each position.
IBM Professional Certificate
IT Career Path
Salary
IBM Cybersecurity Analyst Certificate
IT Security Specialist
$92,000
Cybersecurity Analyst
$89,000
Junior Cybersecurity Analyst
$67,000
IBM Data Science Certificate
Data Architect
$114,000
Data Analyst
$84,000
Junior Data Scientist
$94,000
IBM Full Stack Software Developer Certificate
Web Developer
$77,000
Computer Programmer
$67,000
Full Stack Developer
$102,000
IBM Applied AI Certificate
Machine Learning Engineer
$124,000
AI Developer
$103,000
Data Engineer
$115,000
IBM DevOps & Software Engineering Certificate
DevOps Engineer
$130,000
Software Engineer
$126,000
Cloud Engineer
$135,000
IBM IT Support Certificate
Help Desk Technician
$49,000
IT Support Professional
$57,000
Desktop Support Specialist
$68,000
Source for salary data: Salary.com
IBM Certification Training
These online courses and degree programs align with the leading IBM professional certificates.
Frequently Asked Questions
Tech insiders answer questions from IBM professional certification candidates.
What are the prerequisites for IBM professional certificates?
Most IBM professional certificates are designed for complete beginners, and as such have no prerequisites. However, a few IBM certificates, such as the AI Engineering Pro and Machine Learning Pro credentials, are intermediate level credentials that require some experience in the field.
How can I prepare for an IBM professional certificate?
IBM provides self-paced online courses for its professional certificates via the web-based learning platform, Coursera. Many candidates also attend third-party training programs that align with the curriculum of IBM certifications.
Are IBM professional certificates worth it?
Yes, IBM professional certificates are definitely worth it. While getting certified won't guarantee you a job, IBM's professional credentials feature well-designed curricula taught by qualified instructors with a relatively low barrier to entry. You can also attend a 7-day free trial to determine if the program will be a good fit.
Search IT courses and degree programs by job role, technology platform & major.
About IBM Professional Certificates
In 2019, International Business Machines Corporation - better known as IBM - launched its professional certification program in partnership with online training provider, Coursera. IBM professional certificates are designed to validate IT professionals' skills in popular job roles that utilize IBM's prolific computing technologies.