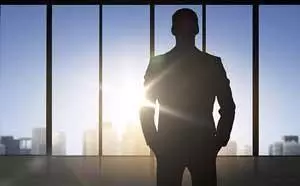 The CIO is responsible for the company's technical direction.
The CIO sets forth the technology goals of the business, then plans and oversees key IT projects – such as budgeting, personnel and equipment procurement – to achieve those goals. As technology becomes more vital to enterprise success, demand is soaring for forward-thinking CIOs who can interpret the company's business needs, then find and implement cutting-edge IT solutions to fill them.
While the experience and education requirements for the Chief Information Officer role vary, universal traits of effective CIOs include an agile strategic mind, strong leadership ability, superior communication skills, and high acumen in both technology and business. While some of these talents are innate, many can be learned and honed with proper training. Compare some of the top-reviewed CIO training programs in the U.S. and online below.
Top IT Management Programs Online
Explore high-quality, flexible degree programs that will take your career to the next level.
Contact these schools to learn about start dates, transferring credits, financial aid & more.
Southern New Hampshire University
Top IT Management Programs:
Georgetown University
Top IT Management Programs:
Chief Information Officers come from a range of careers – and not always from IT – so regardless of your current position you can put your name the running. Wherever you get your start, it will take years of hard work, a stellar track record, and maybe even some luck to fulfill your C-Suite aspirations.
CIO Skills & Responsibilities
Chief Information Officers employ a variety of business, technology, and soft skills to excel in this position. Here are some important day-to-day activities and marketable skills sets of the modern CIO:
Purchase, deploy, and evaluate the risks of adopting new technologies and computer systems.
Develop, champion, and enforce short-term and long-term information technology strategy.
Find IT service vendors and negotiate favorable contracts to cut costs and boost productivity.
Collaborate with other C-Suite officers and department heads to shape interdepartmental IT policy.
Track, optimize and enforce short-term and long-term computer and information systems budgets.
Keep current with emerging IT trends, competitors' tech footing, and the day's dominant technologies.
Superior soft skills (a.k.a. interpersonal communication skills) - such as negotiation, presentation,
verbal & written communication, relationship building and team development - is central to one's success as CIO.
---
CIO Salary
The path to becoming CIO is long, arduous and extremely competitive. Companies recognize the talent and commitment required to achieve this position, and reward it in kind – the average Chief Information Officer salary is $237,875, placing it squarely atop the highest paying IT careers. Including perks and bonuses, elite CIOs can take home high six-figures or even seven-figures per year in total earnings.
Average salary range for CIOs and related IT management positions:
Chief Information Officer (CIO): $175,500 - $300,250
Chief Technology Officer (CTO): $153,000 - $267,250
Chief Security Officer (CSO): $156,750 - $280,750
Vice President of Technology: $146,250 - $239,000
Technology Director: $122,000 - $206,000
Software Development Manager: $110,500 - $188,000
Info Systems Security Manager: $124,250 - $213,000
Database Manager: $114,500 - $192,000
Network Manager: $100,500 - $174,750
The lower figure in each range represents those with little to no prior experience in the role, while the high mark represents a deep relevant skill set and years of experience as CIO. Of course there will be outliers on either end.
Source: 2021 IT Salary Guide by Robert Half Technology
---
Education Requirements
Chief Information Officers normally have at least a bachelor's degree, however many companies prefer CIO candidates with a graduate degree or MBA. Desirable college majors for this position include Management Information Systems (MIS), Computer Information Systems (CIS), IT Management and Project Management. But keep in mind that tech chiefs come from a range of disciplines, so a degree in networking, databases, security or another relevant field, combined with the skills and experience your prospective employer is looking for, can serve you just as well.
Master of Business Administration (MBA) degrees translate well to C-Suite postings like CIO, as these advanced programs are designed to simulate the business, financial and technology challenges you will face in the real world. Due to the rapid evolution and growing importance of IT in the modern enterprise, MBAs now come in a range of fascinating and sought-after IT concentrations, so make sure to choose one that reflects your passions and interests - this way you graduate prepared to do something you love, even if you don't end up as CIO.
No matter how fancy your school or diploma, nobody will give you the keys to the kingdom without first proving yourself in the field. Like other C-Suite appointments, candidates typically need a decade or more of relevant experience to be considered for CIO. That said, with the breakneck speed of IT innovation, and a booming start-up culture that's showcasing some serious young talent, I expect the average age (and therefore the experience level) of Chief Information Officers to dip in coming years.
Compare popular courses and degrees matching the CIO's education requirements.
---
CIO Training
Browse college degrees, professional certificates and self-paced online courses matching the Chief Information Officer career path.
Southern New Hampshire University
Prepare for CAPM Certification from PMI
IT Resource Estimating and Scheduling
Hands-On Training in Microsoft Project
Project Risk, Integration and Quality
Capella University
Manage Cloud Solutions to Meet Business Goals
Design and Secure Enterprise Tech Networks
Distributed Cloud Systems inc. SaaS, PaaS & IaaS
Cloud Application Deployment and Operations
Georgetown University
Managing Technology & IT Staffers
Ethics in Technology Management
Enterprise Modernization Strategy
Information Security Management
Search IT courses and degree programs by job role, technology platform & major.
---
CIO Job Outlook
According to the latest projections from the U.S. Bureau of Labor Statistics, employment for IT managers and executives is expected to grow by 11% from 2020 to 2030, faster than the average for all occupations. However, only a fraction of these 52,000+ new job openings will be for Chief Information Officer. Traditionally, CIOs are only employed in enterprises and large companies, and with one slot per company, competition is fierce.
Here are some industry trends you can capitalize on to improve your chances of becoming CIO:
In an effort to reduce overhead and boost productivity, enterprises are outsourcing a range of IT services to specialized cloud-based providers. To leverage this rapidly growing trend, hone your soft skills in vendor management and contract negotiation, and enhance your working knowledge of cloud computing.
Many enterprises are making data analysis a top priority through 2025 and beyond. Prospective CIOs (and really all corporate officers) should be well-versed in business intelligence (BI) tools, techniques and technologies, and be prepared to tell your employer how you can use their data stores to spark a competitive edge.
Cyber security, mobile development, and cloud engineering are other subjects at the heart of enterprise wish lists. Increase your value by becoming a subject matter expert in one (or more) of these hot IT disciplines.
Sources: U.S. Bureau of Labor Statistics' Occupational Outlook Handbook | The Wall Street Journal
---
CIO Job Openings
Your CIO training and experience may qualify you for a range of IT job roles. Browse and apply to:

---
Frequently Asked Questions
Tech insiders answer common questions from people considering the Chief Information Officer career path.
What is a Chief Information Officer?
A member of the c-suite (the highest ranking executives in an organization, including the CEO, COO, CFO and CTO), the CIO shapes the technical direction of the business.
What does a Chief Information Officer do?
The CIO position includes tasks like evaluating and securing the best technology vendors, staffing and overseeing the IT department, and ensuring that the organization's information technology footprint increases the bottom-line.
CIO vs. CTO, what's the difference?
The main difference between chief information officers and chief technology officers is that CIOs focus on internal initiatives, such as managing IT personnel and technologies used in the office to boost the bottom-line, while CTOs are concerned with external projects, such as improving the company's technology offerings to consumers and increasing top-line growth.
On average, chief information officers earn about 12% more than chief technology officers; the median wage for CIOs is $215,750, while CTOs take home $192,000, according to the 2022 IT salary survey from Robert Half Technology.
---
Related Careers
---
Subject Matter Expert Contributor