Cisco Certifications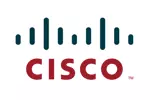 Cisco certifications validate your ability to use the best-in-class networking and business communications devices from Cisco Systems. The "Cisco Career Certification" program offers a diverse range of credentials that bring measurable rewards to network professionals and the companies that employ them.
Cisco certifications improve your understanding of networking in more than just Cisco products; throughout the certification learning process, candidates will develop a complete understanding of IT networking and how different network topologies interact to form a secure and efficient network. This "big picture" knowledge is beneficial in any networking role, and it's one of the many reasons Cisco certifications are in consistent demand, even at companies with few Cisco products.
The latest generation of Cisco certifications was designed to be more compatible with the day-to-day activities of computer networking professionals, thus Cisco certification candidates can quickly acquire the credentials that prove their job-specific expertise to hiring managers.
Five Levels of Cisco Certification
This newest generation of Cisco certifications features five levels of general IT certification; from lowest to highest the Cisco certification levels are: Entry, Associate, Professional, Expert, and Architect.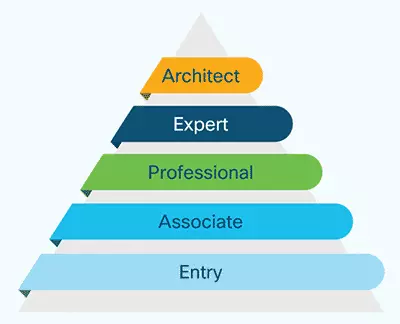 Eight Paths of Cisco Certification
Within the five levels of Cisco certifications, the Cisco Career Certification program features various paths (a.k.a. tracks) so you can match your Cisco learning path to your specific job role or industry. The 8 Paths of Cisco certifications are listed below. You can also jump to the Cisco Certification Roadmap for a detailed overlook of Cisco certs.
Routing and Switching: This is the Cisco Certification path for Network Professionals who Install and Support Cisco networks containing LAN and WAN Routers and Switches.
Design: The Design Cisco Certification path is aimed at Network Professionals who Design Cisco networks in which LAN and WAN routers and switches reside.
Network Security: This is the Cisco Certification path for Network Professionals who Design and Implement Cisco Secure Networks.
Service Provider: This Cisco Certification path is aimed at Network Professionals that work with Infrastructure or Access Solutions in a Cisco environment - primarily in the telecommunications arena.
Service Provider Operations: This is the Cisco Certification path for Network Professionals who Manage, Maintain, and Troubleshoot complex Service Provider Networks.
Storage Networking: This Cisco Certification path is for Network Professionals who Implement Storage Solutions over extended networks utilizing multiple transport options.
Voice: The Voice Cisco Certification path is for Network Professionals who Install and Maintain Voice over IP (VoIP) Networks.
Wireless: The Wireless Cisco Certification path is aimed at Network Professionals who Configure, Implement, and Support Wireless Networks.
Benefits of Cisco Certification:
Cisco certified professionals are among the highest paid IT professionals in the world.
Cisco certifications validate skills in networking, one of the fastest growing and most versatile IT domains.
According to a Fairfield Research survey, CCNA certification gives on average a 16.7% salary increase.
Industry data proves that each Cisco certification earned brings an increase in the IT professional's salary.
Getting Cisco certified opens the door to exciting and lucrative IT careers in the government and military.
Resumes with Cisco certifications grab the attention of information technology recruiters and employers.
Cisco certified professionals gain access to a global community of like-minded network professionals.
Popular Cisco Certifications:
Cisco Training and Degrees
Bachelor of Science in Network Technology: Cisco
Includes Certification Preparation for:

Cisco CCNA Routing and Switching
CompTIA A+, Network+, Security+, Project+ & Linux+

Design & Manage Cisco Wired / Wireless Networks
Network Security Threats & Countermeasures
Install and Support Telecommunications Systems
IT Project and Process Management Training
Explore Hot IT Topics inc. RFID Architectures, Enterprise Mobility & Cloud Computing
Bachelor of Science in Cybersecurity
Includes Certification Preparation for:

CompTIA A+, Network+ & Security+
TestOut Network Pro, Security Pro & Pro PC

Gain the Skills and Credentials to Pursue Jobs in Cyber Security and Network Management
Information Security Tools and Techniques
Design, Build & Manage Secure IT Networks
Cyber Security Policy and Risk Management
IT Service and Process Management
Master's in Technology Management
Prepare for Leadership Roles in Business and Information Technology
Business Intelligence and Data Analytics
Cyber Security Threats & Countermeasures
Cloud Computing and Virtual Data Centers
Globalization and the Modern IT Workforce
Computer Systems Analysis Tools & Techniques
Wield Emerging Technologies and IT Personnel to Achieve Business Goals
No GRE or GMAT Required for Admission
About Cisco
Cisco (NASDAQ: CSCO) is the worldwide leader in networking that transforms how people connect, communicate and collaborate. One of the world's largest technology companies, Cisco is an American-based multinational corporation that designs and sells consumer electronics, networking, voice, and communications technologies and services. Cisco career certifications are globally recognized as the preeminent credentials for IT network professionals.
Cisco®, Cisco® Logos, and Cisco® Certifications are either registered trademarks or trademarks of Cisco Systems, Inc.