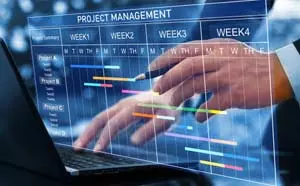 In an increasingly technology driven and projectized world, demand for tech-savvy project managers is soaring. This demand has led to the rising popularity of degrees in IT project management. Essentially, an IT project management degree provides the expertise to ensure that technical projects are completed on time, under budget, and to specifications.
So IT project management degrees are a hot commodity, but which degree level is right for you - associate, bachelor's, or master's? In this guide, we will provide an overview of the IT project manager degree levels to help you make an informed decision. We'll also highlight some of the best online degrees in IT project management available today.
Featured Project Management Programs
Explore top-rated certificates and degrees in project management and related subjects.
Contact these schools to learn more about programs, transferring credits, financial aid & more.
Southern New Hampshire University
Top Project Management Programs:
Georgetown University
Top Project Management Programs:
IT Project Management Degree Levels
Each level of technology project management degree offers distinct advantages and career opportunities. The choice between an associate, bachelor's or master's in IT project management will depend largely on your current level of education, career goals and financial resources. While an associate or bachelor's degree in IT project management can help get your foot in the door, a master's or MBA can unlock more opportunities and greater earning potential.
Here is a breakdown of the IT project management degree levels.
Associate Degree in IT Project Management
An associate degree in IT project management can be an excellent entry to the field. Typically taking 2 years to complete, this program introduces students to the key principles of project management, such as planning, scheduling, budgeting, and risk management. IT project management associate degrees are an ideal choice for those seeking a basic understanding of the field or transitioning into a project management career. Graduates are typically qualified for entry-level roles, such as project coordinator or junior project manager.
Bachelor's Degree in IT Project Management
In addition to reinforcing the principles learned at the associate degree level, IT project management bachelor's programs dig deeper into the strategic aspects of project management, such as quality control, procurement, and dealing with stakeholders. Students in this 4-year program can gain exposure to advanced tech-based PM topics like Agile methods and DevOps, and prepare for industry certifications like the Certified Associate in Project Management (CAPM) from the Project Management Institute (PMI). Graduates of an IT project management bachelor's can pursue roles such as IT project manager, project analyst, or operations manager.
Master's Degree in IT Project Management
An IT project management master's degree focuses on the PM and leadership skills you need to effectively manage complex projects. Often geared toward experienced professionals, a master's in technology project management explores advanced topics like strategic portfolio management, project analytics, megaproject management, and organizational dynamics. Many of these programs prepare students for marketable certifications such as the Project Management Professional (PMP). Graduates of an IT PM master's degree can pursue high-level roles such as senior project manager, program manager, or project management office (PMO) director.
Online Degrees in IT Project Management
Research and compare the top-rated IT project management degrees online.
Got targeted learning goals? Many schools offer individual courses from accredited PM degrees.
Southern New Hampshire University
Prep for CAPM Certification from PMI
IT Resource Estimating & Scheduling
Hands-On Training in Microsoft Project
Project Risk, Integration and Quality
Capella University
PMI/GAC Accredited Master's Program
Project Planning, Execution & Control
Budgeting, Buying & Risk Assessment
Agile Project Management Methodology
Georgetown University
Managing Technology & IT Staffers
Ethics in Technology Management
Enterprise Modernization Strategy
Information Security Management
IT Project Manager Resources