Mobile Development Courses & Degrees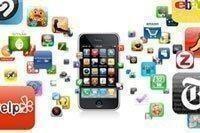 There has never been a better time to learn mobile application development. As mobile devices continue to change the way we do business, communicate, and access news & entertainment, the demand for new and innovative apps is growing at breakneck speeds. This increased demand translates to one of the largest skills gaps ever realized, i.e., there are more mobile development job vacancies than qualified developers to fill them.
Accredited schools now offer a range of degrees featuring coursework in Android and Apple iOS application development (by far the two hottest mobile platforms). The best mobile development degrees also delve into the business side of mobile, with topics like app marketing and deployment, as well as mobile art direction and graphic design. Compare the top-reviewed mobile development training programs in the U.S. and online below.
Featured Mobile Development Programs
Bachelor of Science in Mobile Development
Programmers are revolutionizing the possibilities of the mobile application medium, and this creative spirit is the basis of Full Sail University's mobile development online bachelor's degree. This well-designed curriculum features the business, marketing, design and development skills to become an Android and iOS application developer, user interface (UI) designer, and mobile entrepreneur.
Program Highlights:
Android and iOS App Development Training
Mobile App Distribution and Promotion
Multimedia Graphic Design and Art Direction
Video Game Design for Web and Mobile Devices
Mobile App Usability and UI/UX Design Training
Professional Mobile Developer Portfolio Creation
Learn to Program in Java, Objective-C, PHP, MySQL & JavaScript
Learning Method:
Online Degree
Degree Level:
Bachelor
Accredited School:
Yes
Financial Aid Available:
Federal, State, Military & Scholarships

Related online programs from Full Sail University:
B.S. Web Development & Design
B.S. Graphic Design
B.S. Game Art
M.S. Mobile Gaming
M.F.A. Media Design
---
B.S. Software Development: Mobile
Capella University's IT bachelor's degree with the mobile development concentration delivers the skills and hands-on experience to create the mobile solutions that modern businesses need. Graduates of this online program will be prepared to pursue job roles such as mobile application developer, user experience (UX) designer, software engineer, and database developer.
Program Highlights:
Cross-Platform Application Development for Android & iOS
User Interface (UI) and User Experience (UX) Design
Advanced Database Development and Data Security
Cloud-Based Mobile Application Development
Learn Marketable Languages inc. Java and Javascript
Manage Software Projects using Agile Tools & Practices
Learning Method:
Online Degree
Degree Level:
Bachelor
Accredited School:
Yes
Financial Aid:
Federal, State, Military and Scholarship

Related degrees at Capella University:
BS - Software Development: Web Application
BS - Software Development
BS - Information Assurance & Cybersecurity
MS - IT: Project Management
---
Mobile App Development Courses, Certificates & Degrees
Find Mobile Development Schools

Mobile Application Developer Resources