Mobile Development Degrees & Courses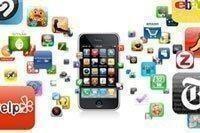 There has never been a better time to learn mobile application development. As mobile devices continue to change the way we do business, communicate, and access news and entertainment, the need for new and innovative apps is soaring. This increased demand translates to a massive skills gap, i.e., there are more mobile development job openings than qualified application developers to fill them.
Accredited schools now offer a range of undergraduate and graduate degree programs that feature coursework in mobile application development. Skip ahead to compare programs or read on for tips on how to choose the best mobile development course or degree for you.
Find certificates and degrees in mobile development now.
This page will explore the most important considerations when choosing a mobile development training program, including:
mobile app development classes and skills you should look for in a degree program curriculum
comparison of mobile development degree levels with data like cost, duration & requirements
potential career paths and salaries you can earn at each level of mobile development degree
frequently asked questions from prospective students in mobile development training programs
Compare mobile development programs
Popular Mobile Development Classes
The skills and platforms you will learn in mobile development courses are paramount when building a learning plan. Here are the key hard skills and soft skills that employers demand, and which you should seek out in a mobile development training program.
Hard Skills
Hard skills are the tools, techniques, and platforms you will use in the field on a regular basis. Hard skills to look for in a mobile development degree program include:
Apple iOS & Google Android application development - These two platforms account for over 99% of mobile operating systems in the US so this is where the jobs are. iOS has the edge in America while Android leads globally.
Native mobile development programming languages, i.e., code that's designed to work on each mobile platform; this means Java or Kotlin for Android, and Swift or Objective-C for iOS.
Cross platform mobile development tools - these frameworks that are rapidly growing in popularity enable devs to build web and mobile apps for multiple platforms at once, hence the name "cross-platform." Marketable cross-platform dev tools right now include React Native, Ionic, Flutter & Xamarin.
Mobile media distribution and promotion - In a competitive field like mobile, it pays to have expertise in the business and marketing domains that help determine the commercial success of applications.
User interface (UI) and user experience (UX) design - Knowing how and why users interact with mobile applications, and how to capitalize on these tendencies, is a vital skill set for mobile app developers.
Graphic arts and creative design - Having strong design skills in the Adobe software suite and other popular design programs will make you more well-rounded and valuable to employers.
Database expertise - Knowing how to design and manage information systems is key for mobile devs as many apps need to interact with information kept in relational databases.
Top-Rated Mobile Development Degrees
These online degree programs best reflect the mobile application development skills and platforms that employers demand.
Bachelor of Science in Software Development
Capella University's IT bachelor's degree with software development minor delivers the skills and experience to create the mobile solutions that modern businesses want. Graduates of this online program will be prepared for jobs such as mobile application developer, user experience (UX) designer, software engineer and database developer.
Program Highlights:
Cross-Platform App Development for Android & iOS
User Interface (UI) and User Experience (UX) Design
Advanced Database Development and Data Security
Cloud-Based Software Application Development
Learn Marketable Languages inc. Java and Javascript
Manage Software Projects using Agile Tools & Techniques
Related degree programs at Capella University:
BS - Software Development: Web Application
BS - Information Assurance & Cybersecurity
MS - IT: Project Management
BS Computer Science - Software Engineering
Students in this specialized computer science degree will use the latest software development tools, techniques and programming languages to create secure software systems and applications. Graduates of this online bachelor's will be prepared for job roles such as mobile application developer, software engineer and programmer analyst.
Program Highlights:
User Interface/Experience (UI/UX) Design for Cloud-Based and Mobile Technologies
Evaluate & Implement Emerging Systems Architectures to Achieve Business Goals
Identify Software Vulnerabilities and Develop Secure Systems and Applications
Use Reverse Engineering to Develop, Improve and Support Existing Software
Related online degree programs at SNHU:
AS in Information Technologies
BS in Computer Science - Information Security
BS in IT - Software Development
MS In IT - Software Application Development
Mobile Development Degree Levels
Degrees in mobile application development and related subjects come in a range of levels, such as associate, bachelor's, master's and doctorate. The mobile development degree level you pursue will depend on multiple factors, including your current education level, career goals, and the time and money you wish to allocate toward training.
Here are the most popular mobile development degree types along with the cost, duration, entry requirements, and jobs you can pursue with each:
Mobile Development Degree Programs
Compare undergraduate and graduate degrees in mobile application development and related subjects.
Mobile Development Boot Camps
Coding boot camps are accelerated training programs that cover the fundamental skills to become a web or mobile application developer. Because of their quick pace and varied assumptions of baseline knowledge, mobile development boot camps tend to work best for those who already have experience in a related field.
Coding Boot Camp
Gain the expertise to become a web developer in 24 weeks. Learn in-demand full stack skills via engaging online content and live, instructor-led virtual classes.
Program highlights:
Learn Marketable Skills and Platforms such as HTML5, CSS3, JavaScript, jQuery, Bootstrap, Express.js, React.js, Node.js, Database Theory, MongoDB, MySQL, Command Line & Git
Access Continuation Courses in Hot Areas like Python, Java, C#, and Amazon Web Services
Career Services inc. Interview Prep, Portfolio Review, Resume Support & 1:1 Career Coaching
Schools offering this program:
Frequently Asked Questions
IT and education insiders answer common questions from people considering a degree program in mobile app development.
What can you do with a mobile development degree?
Earning an undergraduate or graduate degree in mobile application development can unlock a range of career opportunities. Here are some popular jobs for graduates of degree programs in mobile development and related subjects, along with the typical education level and salary for each position.
| Job Title | Typical Education Level | Average Salary |
| --- | --- | --- |
| Mobile Application Tester | Associate Degree | $67,000 |
| Mobile Application Developer | Bachelor's Degree | $116,000 |
| Software Engineer | Bachelor's Degree | $117,000 |
| Software Development Manager | Bachelor's or Master's | $130,000 |
| Senior Software Architect | Master's Degree | $138,000 |
Source for salary data: Indeed.com
Further Reading