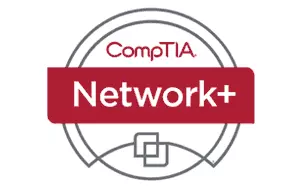 A guide to the best Network+ certification bootcamps for 2023.
Networking is a cornerstone of the IT department, facilitating vital functions like communication, data exchange, and resource sharing. CompTIA's globally-recognized Network+ certification validates the skills you need to become a network professional. For those seeking to fast-track their path to this credential, Network+ bootcamps provide an accelerated and comprehensive solution to Net+ training and exam prep.
In this article, we will highlight some of the best CompTIA Network+ bootcamps for 2023. We'll also outline the curriculum, benefits, time and costs associated with this training program, and answer questions from prospective students to help you choose your ideal Network+ bootcamp.
Network+ Bootcamp Overview
Average Cost: $1,400 - $2,400
Duration: 3 to 5 days (8+ hours per day)
Format: Live, instructor-led. Online or In-person.
Level: Beginner. No prior tech experience is required.
Exam Prep: CompTIA Network+ (exam code N10-008)
Network+ Bootcamp Curriculum
The curriculum of a top-tier Network+ bootcamp will align with the topics of the Net+ certification exam. Here is a typical subject list for a Network+ bootcamp along with the exam weight for each knowledge domain.
Networking Fundamentals - 24% of Exam
Network topologies and architectures
(OSI) model layers and encapsulation
Configuring IP addressing schemes
Types of network cables & connectors
Network connectivity in the cloud
Network Implementations - 19%
Install & configure network hardware
Setup wireless network technologies
Configure data and voice networks
Deploy Ethernet switching features
Network Operations - 16%
Network traffic monitoring and analysis
Management of networked IT systems
Network storage tools and techniques
Disaster recovery and backup skills
Network Security - 19%
Basic network security concepts
Common vulnerabilities and attacks
Remote access methods & controls
Apply network hardening techniques
Importance of physical security tools
Network Troubleshooting - 22%
Network troubleshooting methodology
Resolve wireless and cable connectivity
Network software tools and commands
Troubleshoot general networking issues
View this exam blueprint from CompTIA for a complete topic list for the Network+ certification.
Benefits of Network+ Bootcamps
Attending an instructor-led Network+ bootcamp provides a range of benefits for career-minded IT professionals. Net+ bootcamps offer focused training from experienced instructors, enabling you to efficiently grasp key concepts such as the configuration, management, troubleshooting and security of enterprise networks. The top Network+ bootcamps feature advantages that will enhance your probability of success, such as practice tests, extended access to labs and materials, post-class support, and free exam retakes. Attending a Network+ bootcamp is the quickest way to earn a certification that will validate your skills, enhance your professional reputation, and help pave the way to sought-after careers like network administrator and network architect.
Network+ Bootcamp Cost
The cost of an accelerated, instructor-led Network+ bootcamp will vary depending on several factors, such as program length, school reputation, delivery format, and program features. Many of the best Network+ bootcamps cost between $1,400 and $2,400. Additionally, some training providers offer discounts and scholarships that can be used to offset the tuition of a Network+ boot camp.
Top Network+ Bootcamps
This year's top-ranked Network+ bootcamps were chosen based on numerous factors, including overall value, training provider reputation, flexibility, and program features.
Here are our top-ranked Network+ bootcamps for 2023:
InfoSec Institute
The CompTIA Network+ Training Boot Camp offered by InfoSec Institute features expert-led prep for the Net+ certification exam, 90 days of extended access to training materials and class recordings, unlimited practice tests, exam voucher, and a three month subscription to the Infosec Skills platform with over 1,400 IT labs and courses.
Duration: 5 days
List Price: $1,499
Format(s): In-Person | Live Online | Group On-site
CompTIA
While it has a longer duration than other programs on this list, the Network+ bootcamp offered directly from CompTIA includes an exam voucher, vendor-authorized labs, practice exams and courseware from CertMaster - CompTIA's official platform for training and certification prep. This Net+ training program is a great choice for students who prefer a less accelerated learning option.
Duration: 10 days
List Price: $2,299
Format(s): Live Online
Training Camp
Training Camp's A+ and Network+ combo training program is one of our favorite Network+ bootcamps for 2023. In addition to CompTIA-authorized, accelerated training that prepares students for both the CompTIA A+ and Network+ certifications, this bootcamp features exam vouchers, official CompTIA training materials, and live online post-class review sessions.
Duration: 7 days
List Price: $2,995
Format(s): Live Online | In-Person
Network+ Training Options
These online courses and degree programs from respected training providers align with the CompTIA Network+ certification.
Southern New Hampshire University
A+, Network+ & Security+ Cert Prep
Network Design and Administration
IT Network and Application Security
Incident Response and Investigation
Capella University
CompTIA Security+ Certification Prep
Learn Cisco, Microsoft & Linux Platforms
Microsoft Azure and AWS Cloud Skills
Info Assurance and Network Security
Strayer University
CompTIA A+, Net+ and Sec+ Prep
Hardware and Software Support
Information Systems Management
Computer Programming Essentials
Search IT courses and degree programs by job role, technology platform & major.
Network+ Bootcamp FAQs
Tech insiders respond to frequently asked questions from prospective Network+ bootcamp students.
What can I expect from a Network+ certification bootcamp?
Network+ bootcamps compress the normal study period into a shorter, intensive training program. Whether you attend class in-person or a choose an online Network+ bootcamp, you'll have daily instructor-led lessons that cover the skills, platforms and tips you need to pass the CompTIA Network+ certification exam.
How long is a CompTIA Network+ bootcamp?
The length of a Network+ bootcamp will vary depending on the training provider, but it typically ranges from 5 to 10 days.
What knowledge do I need before taking a Net+ bootcamp?
CompTIA recommends having the A+ certification and at least 9 months of computer networking experience before attempting the Network+ certification. However, Network+ bootcamps are generally designed to take you from beginner to certified, so you should be able to participate without the recommended experience.
How do Network+ bootcamps compare to self-study online courses?
The key advantages of a Network+ bootcamp are the speed and intensive focus. Net+ bootcamps are great for those who want to get certified quickly, however, the pace can be challenging, and it requires a significant daily time commitment. Self-study online Network+ courses allow you to learn at your own pace but take longer - usually weeks or months to complete.