IT Project Manager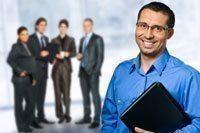 IT Project Managers oversee large-scale technology projects.
IT project managers ensure that complex technical projects, such as systems upgrades and technology deployments, are completed on time, under budget and to specifications. These professionals plan and coordinate the efforts of the internal project team, third party contractors and consultants to bring IT projects to successful completion.
IT project management skills are in high demand as an increasing number of organizations prefer specialists and project-based methods to get the job done right, the first time. Opportunity for advancement and earning potential in this field are excellent; the average salary for IT project managers in the U.S. is $127,500, and this role can be a springboard to C-level positions like CIO and CTO where salaries can soar into the high six figures.
Colleges and universities offer degree programs in business and IT project management. Private training centers also offer specialized courses and certificate programs in the latest PM tools and techniques, including prep for industry certifications, such as PMI's Project Management Professional (PMP), the preeminent globally-recognized credential for project managers. Compare the top-rated IT project management training programs in the U.S. and online below.
a.k.a. IT Program Manager | IT Operations Manager | IT Process Manager | Project Manager | IT Project Lead
IT Project Management Training
IT Project Manager Skills & Responsibilities
Typical day-to-day activities and in-demand skill sets for IT project managers include:
IT project managers plan, execute and finalize technology projects on schedule, under budget and to scope.
IT project managers develop and manage a work breakdown structure (WBS) for large-scale IT projects.
IT PMs write project plans detailing a project's goals, technologies, systems, schedules, budget and personnel.
IT project managers develop project plans that include cost-benefit or return on investment (ROI) analyses.
IT PMs coordinate recruitment of project personnel and assign duties, responsibilities and spans of authority.
IT project managers develop and manage budgets, and subsequent budget updates, for technology projects
Information technology project managers understand project management concepts and best practices.
IT project managers monitor, analyze & summarize performance and trends to create project status reports.
IT project managers hold status and implementation meetings with project personnel and upper management.
Successful IT project managers build, grow and develop business relationships vital to the success of the project.
---
IT Project Manager Salary
Average salary for IT project managers (USA): $129,875
| | |
| --- | --- |
| IT Project Manager Salary $129,875 | |
Salary range for IT project managers and related tech pros and executives:
Help Desk Manager: $82,000 - $139,000
App Development Project Manager: $93,000 - $157,500
Network Manager: $94,750 - $162,000
IT Project Manager: $96,250 - $163,500
Software Development Product Manager: $101,750 - 171,750
Database Manager: $108,000 - $183,000
Information Security Manager: $116,000 - $199,750
Technology Director: $117,500 - $200,000
Vice President of Technology: $139,500 - $237,000
Chief Technology Officer (CTO): $147,750 - $263,000
Chief Security Officer (CSO): $148,000 - $270,000
Chief Information Officer (CIO): $171,750 - $293,000
Source: 2019 IT Salary Guide, Robert Half Technology
---
Education Requirements
IT project managers typically have at least a bachelor's degree, while some employers require PMs to possess a graduate diploma. A specialized master's degree in IT project management, or a master's of business administration (MBA) with a technology concentration is often preferred, however an advanced degree with a non-business or management focus can also be effective if the project management position you desire requires strong technical expertise in a specific IT domain - for example, a Master's of Computer Science in Software Engineering may be a great fit to pursue a software development project manager role.
Earning a respected project management credential - such as Project Management Institute's respected PMP certification - will validate your skills and expertise, making it easier to secure a top position and salary in this space.
Marketable skills to look for in an IT project management degree program include: project management concepts from PMI's PMBOK (project management body of knowledge), leadership, IT strategy & operations, computer systems analysis, software management, and soft skills like effective verbal/written communication and creative problem solving.
With recent technological advancements in online education platforms, the subject matter in IT project management degree programs works well in most online learning formats.
Research and compare IT project manager training programs online and in your area.
---
IT Project Management Training
Browse top-rated degrees from accredited universities, professional certificates, and self-paced online courses matching IT project managers' education requirements.
Find Project Management Schools

---
IT Project Manager Certifications
Marketable certifications for IT Project Managers include the following:
IT Project Manager Certification Prep
---
IT Project Manager Job Outlook
The job outlook for IT project managers is excellent. A recent survey of IT executives indicates that one out of every four organizations plans to hire project managers in the year ahead, placing it among the nation's hottest technology disciplines alongside juggernauts like cyber security and mobile app development.
Organizations across the globe are implementing specialized, project-based methods to achieve IT goals on-time and under budget, skyrocketing IT project manager to one of the fastest growing career paths. The Project Management Institute - the world's largest PM association and certifying body - forecasts 15.7 million new project management jobs in the decade leading up to 2020, with a financial equivalent of $6.6 trillion.
IT project management is here to stay, and you should feel confident in pursuing this career if job security and upward mobility are key concerns.
Sources: U.S. Department of Labor | Computerworld's 2017 Tech Forecast | PMI's Talent Gap: Project Management through 2020
---
IT Project Manager Jobs
Your IT project management training, experience & certifications qualifies you for a wide range of positions including:

---
IT Project Manager Related Careers