AutoCAD Courses & Degrees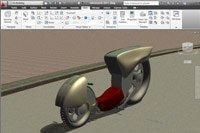 AutoCAD courses and degree programs provide the conceptual knowledge and hands-on drafting experience to begin or advance your career in CADD (computer-aided drafting & design).
Universities, colleges, and private computer schools offer training programs in civil engineering, building information modeling, AutoCAD drafting, 3D animation and other sought-after drafting disciplines and technologies.
Compare top-rated AutoCAD courses and degrees online and in your area below.
Featured AutoCAD Programs
BA Graphic Design - 3D Modeling & Animation
This online bachelor's degree covers the skills and technologies needed to succeed in today's multimedia industry. Graduates from this program will be prepared for job roles such as digital animator, 3D modeler, game artist, and interior designer.
Program Highlights:
3D animation and sculpting using Autodesk Maya & Mudbox
Art & design foundations inc. color theory and typography
Graphic design training ft. the Adobe Creative Suite
Design and animate 3d characters
Render photorealistic effects
Learning Method:
Online Degree
Degree Level:
Bachelor
Accredited School:
Yes
Financial Aid Available:
Federal, State, Military & Scholarships

Related degree programs at SNHU:
AS in Information Technologies
BA in Graphic Design & Media Arts
MS in IT - Web Design
MBA in Engineering Management
---
AutoCAD Courses, Certificates & Degrees
Compare undergrad & graduate college degrees, career-focused vocational certificates and self-paced online courses matching the Autocad Drafter career track.
Bachelor of Arts in Graphic Design: 3D Modeling
Learn the Tools and Techniques to Pursue Jobs in Computer Animation & Multimedia Design
3D Animation and Modeling using Autodesk Products such as Maya and Mudbox
Fine Art Foundations inc. Color & Typography
Graphic Design using Adobe's Creative Suite
Design & Render Photorealistic Digital Effects
Drafting with AutoCAD Diploma
Self-Paced Online Training in AutoCAD Drafting
Intro to Computer-Aided Drafting and Design
Create Structural, Civil & Electrical Schematics
Master AutoCAD's User Interface & Shortcuts
Learn Sketching and Geometric Construction
Use Coordinates to Draw and Render 3D Objects
Architectural, Mechanical, Civil & Metric Scales
Regionally and Nationally Accredited School
AutoCAD Drafter Career Resources