Technology Management Degrees & Courses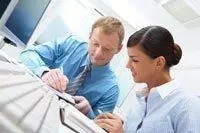 As technology becomes increasingly vital in business operations, the demand for talented IT managers who can effectively control computer systems and personnel is skyrocketing. These executives ensure that IT projects are efficient, sustainable, and inline with key business goals. While it takes certain personality traits to be a great leader, many of the tools, techniques and best practices of successful IT managers are learned in the classroom.
Accredited colleges, universities and private computer schools offer a range of training programs that cover the technical and business skills needed to excel as a technology manager. Compare top-rated IT management courses & degrees in the U.S. and online below.
Featured Technology Management Programs
BS in Computer Science - Project Management for STEM
This online bachelor's program provides students with the IT, computer science and project management skills to pursue a range of lucrative roles such as technology manager, software engineer, systems analyst, and project supervisor.
Program Highlights:
Advanced Project Management ft. Agile Methodologies
Training in Web, Mobile and Backend Software Development
Information Technology Service & Process Management
Cyber Security inc. Secure Software Engineering
Related degree programs at SNHU:
BS Computer Information Systems - Project Management
BS Information Technology - Project Management
MS IT - Information Technology Management
MS IT - Enterprise Networks & Cloud Computing
Students in this online master's program will gain the skills and experience to wield cutting-edge networks and cloud computing technologies to achieve complex business goals.
Program Highlights:
Design, Manage, and Secure Enterprise Computer Networks
Cloud Distribution Systems inc. SaaS, PaaS & IaaS
Cloud Application Deployment and Operations
Database, Application and UX Development
Network Policy, Regulation & Governance
Information Technology Project Management
No GRE or GMAT Required for Admission
Related degree programs at Capella University:
BS - Information Assurance & Security
MS - Network Management
MBA - Project management
---
IT Management Courses, Degrees & Certificates
Compare accredited undergrad and graduate degrees, vocational certificates and self-paced online courses matching information technology manager skill sets and education requirements.
Bachelor of Science in Computer Science: Project Management for STEM
Gain the skills & credentials to pursue a career as an IT project manager
Advanced project management using Agile methodologies
Information technology service and process management
Courses in IT essentials inc. cybersecurity and programming
Soft skills inc. leadership, problem-solving & business communication
Master's in Technology Management
Prepare to Lead IT Personnel and Wield Emerging Technologies to Achieve Business Goals
Choose from courses like:

Managing Diverse Organizations in a Flat World
Business Intelligence and Data Analytics
Cyber Security Threats & Vulnerabilities
Cloud Computing and Virtualization
Computer Systems Analysis
Cryptography & Network Security

Bachelor's degree required. No GRE or GMAT Required.
Master of Science in IT - Project Management
This program is accredited by the Project Management Institute (PMI) Global Accreditation Center for Project Management (GAC).
Manage projects from planning and execution to close and measurement
Project budgeting, procurement and quality management
IT project risk assessment and mitigation strategies
Leadership, management and politics in the PM role
Learn sought-after Agile project management skills
Search IT courses and degree programs by job role, technology platform & major.
IT Manager Career Resources