IT Management Courses & Degrees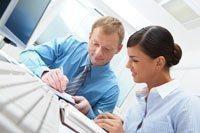 As technology becomes increasingly vital in business operations, the demand for talented IT managers who can effectively control computer systems and personnel is skyrocketing. These executives ensure that IT projects are efficient, sustainable, and inline with key business goals. While it takes certain personality traits to be a great leader, many of the tools, techniques and best practices of successful IT managers are learned in the classroom.
Accredited colleges, universities and private computer schools offer a range of training programs that cover the technical and business skills needed to excel as a technology manager. Compare top-rated IT management courses & degrees in the U.S. and online below.
Featured Technology Management Programs
BS - BA: Information Systems Management
This program provides the skills and credentials to pursue a variety of lucrative IT management positions. Students will learn to manage critical computer and information systems, while helping to grow the business to meet and exceed stakeholder expectations.
Program Highlights
Includes Certification Preparation for:

PMI CAPM (Certified Associate of Project Management)
CompTIA Project+ Certificate

Advanced Training in IT Project Management
Use Technology to Solve Business Problems
Predict and Capitalize on Tech Innovation
Explore the Lucrative Field of IT Consulting
Aligns with PMI's Project Management Body of Knowledge (PMBOK)
Learning Method:
Online Degree
Degree Level:
Bachelor
Accredited School:
Yes
Financial Aid Available:
Federal, State, Military & Scholarships

Related Programs at Purdue University Global:
A.A.S.B.A.: Small Business Management
M.S.I.T.: Project Management
M.B.A.: Information Technology
---
Master of Information Systems Management
Students in this online IT management degree program will merge core business and management principles with the cutting-edge technology necessary to succeed in this lucrative field.
Program Highlights:
Business Intelligence and Database Design
Business Architecture & Process Management
Advanced IT Project Management
Cyber Defense and Information Governance
Learning Method:
Online Degree
Degree Level:
Master
Accredited School:
Yes
Financial Aid:
Federal, State, Military & Scholarships

Related programs at Walden University:
BS - IT: Security and Forensics
BS - IT: Computer Information Systems
MS - IT: Information Security
---
IT Management Courses, Degrees & Certificates
Compare accredited undergrad and graduate degrees, vocational certificates and self-paced online courses matching information technology manager skill sets and education requirements.

IT Manager Career Resources