AWS Certifications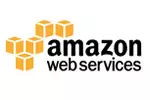 AWS certifications demonstrate the skills to design and manage software solutions on Amazon's ultra-popular cloud platform.
Simply put, cloud computing is the on-demand, pay-as-you-go distribution of IT resources over the Internet. Amazon Web Services (AWS) is the world's leading cloud platform and provider of these resources.
As more and more businesses move traditionally in-house services to the cloud - to reap benefits like reduced costs and increased efficiency - those with skills and certifications in the latest cloud computing solutions - especially those from AWS - will enjoy a wide range of job opportunities and top-tier salaries.
Benefits of AWS Certification
There are numerous advantages to becoming AWS certified. Amazon Web Services certifications…
validate your skills and knowledge in the preeminent cloud computing platform.
are consistently listed among the top paying info-tech certifications worldwide.
garner more interviews for aspiring cloud specialists, and higher wages once hired.
are recognized industry-wide as reliable and well-designed tech credentials.
demonstrate credibility and dedication to your cloud engineering career path.
provide access to a network of like-minded peers and AWS thought-leaders.
require recertification which ensures that your AWS skills remain current.
Why do Businesses use AWS?
Companies use AWS cloud computing solutions for a variety of business needs. This ever-growing list includes web and application hosting, big data storage and analytics, backup and disaster recovery, custom projects in emerging areas like IoT and more. Organizations that successfully integrate AWS solutions realize benefits like increased efficiency, cost-savings, greater speed, tighter security and easier scalability.
AWS Certifications List
Amazon Web Services credentials fall into 2 main categories: Core Certifications and Specialty Certifications.
AWS core certifications span three knowledge areas: architecture, development, and operations, and are offered in 3 skill levels: foundational, associate, and professional.
AWS specialty certifications validate advanced expertise in targeted IT disciplines, such as information security, big data, and networking.
Let's break down these categories and the certifications available in each:
AWS Core Certifications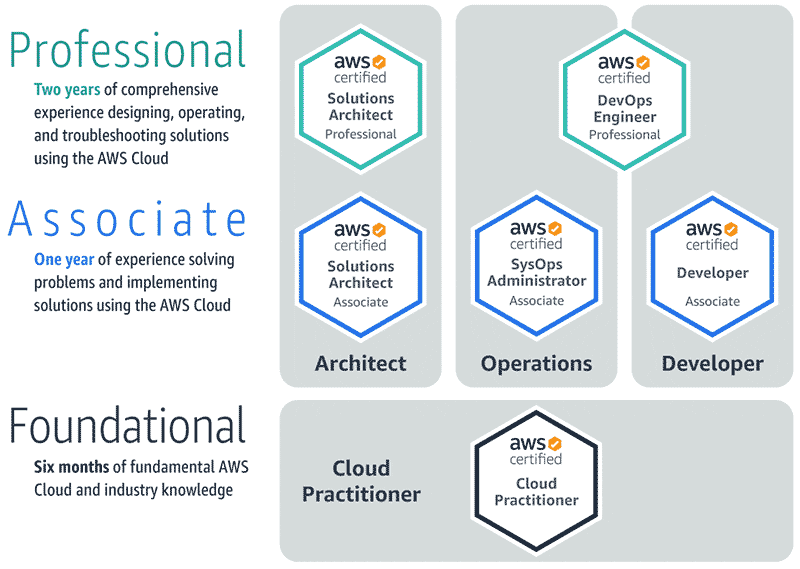 Chart courtesy of Amazon Web Services.
Here is a closer look at AWS' core certifications:
AWS Certified Cloud Practitioner - Foundational
AWS' baseline credential serves as a broad-strokes introduction for cloud technicians, or as a standalone credential for non-technical job roles that require a basic understanding of the Amazon Web Services cloud, such as managers, sales and marketing associates, and C-suite executives. AWS offers a free digital course to help you prepare for this foundation-level exam.
AWS Certified Solutions Architect - Associate
Amazon's most popular AWS certificate, and a common entry-point for those entering the cloud architecting space, this credential demonstrates your ability to design and deploy effective solutions on the Amazon Web Services platform. This certification is intended for individuals who can design distributed applications in AWS.
AWS Certified Developer - Associate
This AWS development certification validates your ability to design and maintain AWS applications. It is intended for software developers with one or more years experience designing and sustaining an application on the AWS platform. Candidates should also possess a deep working knowledge of at least one high-level programming language.
AWS Certified SysOps Administrator - Associate
This Amazon Web Services administration credential demonstrates expertise in deploying, scaling, migrating and managing AWS systems. SysOps certification exam candidates are recommended to have at least one year of hands-on experience managing cloud applications on the AWS platform.
AWS Certified Solutions Architect - Professional
This certification demonstrates advanced expertise in the design of distributed systems and applications on the AWS platform. Candidates for this certificate are required to hold the AWS Solutions Architect Associate cert, and are recommended to have 2+ years of experience in the design and deployment of cloud architecture on Amazon Web Services.
AWS Certified DevOps Engineer - Professional
This advanced AWS certificate validates knowledge in provisioning, management, security and operations of AWS solutions. Candidates are required to have either the AWS Certified Developer OR AWS Certified SysOps Administrator associate credentials before sitting for this exam. 2+ years of experience provisioning and managing AWS environments is also recommended.
AWS Specialty Certifications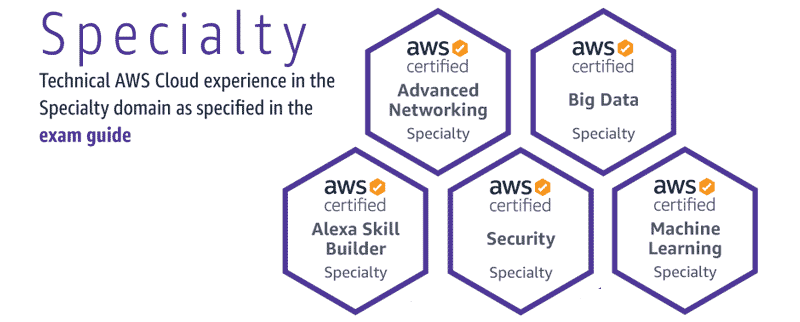 Chart courtesy of Amazon Web Services.
Popular AWS specialty certifications:
AWS Certified Big Data - Specialty
This certification demonstrates the skills to design and manage AWS solutions that can help organizations extract valuable insights and actionable intelligence from their business data. Exam candidates must have at least one of the 3 AWS Associate certs listed above, and are recommended to have 5+ years experience in data analytics.
AWS Certified Advanced Networking - Specialty
This AWS specialty certificate validates the skills to design and deploy AWS as part of a hybrid IT network architecture, to scale. Candidates need to possess one or more of the AWS Associate credentials listed above, and should have 5+ years of hands-on experience architecting and managing enterprise network solutions.
The cloud services market is hyper-competitive and evolving rapidly, and AWS is continually launching new products and services to stay on the cutting-edge. With new solutions comes new certifications to validate IT professionals' skills in their use; this page will continuously be updated as new AWS certifications are released.
For more information on Amazon Web Services certifications including detailed exam blueprints, visit the official AWS certifications page.
AWS Certification Salaries
In the relatively short time since the Amazon Web Services certification program launched in 2013, AWS certified pros already rank among the highest paid IT certification holders. According to a recent salary survey from Skillsoft, the average pay for AWS certified individuals is $128,467.
Here are the top paid AWS certification holders in North America:
AWS Certified Developer: $165,333
AWS Certified Solutions Architect – Professional: $158,485
AWS Certified Solutions Architect – Associate: $148,348
AWS Certified Security Specialist: $146,300
AWS Certified Big Data Specialist: $134,793
Source: 2022 IT Skills & Salary Report by Skillsoft
AWS Certification Cost
Cost is an important factor when considering AWS certification, or any cert for that matter. The price for standalone AWS certification exams is very affordable, ranging from $100 to $300 per test, but this doesn't tell the full story. While training isn't mandatory to take the exam, nearly all candidates will require some combination of AWS training and study materials to pass the test.
For starters, here are the costs for AWS certification exams only (exam fees are assigned by level):
| AWS Certification Level | Exam Price |
| --- | --- |
| Foundational | $100 |
| Associate | $150 |
| Professional | $300 |
| Specialty | $300 |
When it comes to training, AWS offers some free courses and materials to get you started. There are also some high-quality, affordable AWS online courses available by subscription on Coursera. If higher education is your goal, check out these cloud computing certificates and degrees which feature cert prep for AWS and other platforms like Microsoft Azure and Google Cloud as part of a deeper computer science curriculum.
AWS Lifecycle & Recertification
To keep your AWS credentials current, recertification is required every two years. This is a brief period compared to many other certifications - even in the fast-paced world of tech – as Amazon is constantly adding features and services to AWS to stay ahead of the rapidly evolving cloud market. AWS recertification consists of either advancing to the next level of your AWS certificate, i.e., Associate to Professional, or taking a recertification exam for your current credential at a reduced cost.
AWS Certification Training
Browse certification training programs, accredited college degrees, and self-paced online courses matching AWS certifications and related IT career paths.
Admissions consultants can provide more information about programs and curriculum, IT certification prep, start dates, tuition costs and personalized financial aid options.
Got targeted learning goals? Many schools offer individual courses and certifications from degree programs.
Southern New Hampshire University
Cloud Application Development
Cybersecurity & Secure Coding
UI/UX Design and Development
Software Reverse Engineering
Strayer University
Network Hardware & Operating Systems
Database and Info Systems Management
Programming and Web Design Essentials
Prepare for In-Demand Certifications
Capella University
Manage Cloud Solutions to Meet Business Goals
Design and Secure Enterprise Tech Networks
Distributed Cloud Systems inc. SaaS, PaaS & IaaS
Cloud Application Deployment and Operations
Search IT courses and degree programs by job role, technology platform & major.
AWS Job Openings
Your AWS training and experience may qualify you for a range of job roles. Browse and apply to:
Who are AWS's Competitors?
While Amazon Web Services offers the most comprehensive and popular service suite - accounting for about half of all public cloud solutions currently deployed – there are some other cloud service providers (or CSPs) effectively vying for a slice of this pie. The most prolific AWS competitors include Microsoft Azure, Google Cloud Platform, IBM Cloud, and OpenStack.
Which Cloud Platform Should You Learn?
If you know that the company you work for (or want to work for) uses an AWS competitor like those listed above, then train and certify in that cloud platform. Everyone else: Amazon Web Services training and certification is the way to go.
About Amazon Web Services
Launched by Amazon in 2006, AWS is now the world's leading provider of public cloud computing solutions. AWS offers a wide range of cloud services that help businesses succeed in today's web-based marketplace. Its certification program helps IT professionals prove they have the skills to design and manage these in-demand solutions.