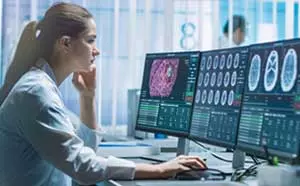 Health Information Technicians Manage Electronic Patient Data.
There's never been a better time to become a health information technician. Massive federal funding and aggressive legislation for medical practices to adopt standardized electronic records have helped make healthcare one of the fastest growing sectors.
Health information technicians use specialized computer programs and administrative techniques to ensure that patients' electronic health records (EHRs) are complete, accurate, accessible and secure. If you're intrigued by medicine, possess strong organizational skills, and seek to enter a fast-growing field with huge potential for upward mobility, health information technician is the career for you.
Learning a specialty is a great way to advance your health information technician career. Some of today's hottest specialties include:
Medical Coding: Medical coders translate diagnostic and procedural phrases in health records into alphanumeric codes to ensure record accuracy, simplify the EHR review process, and improve patient care.
Medical Billing: Medical billers enter patient and clinical data into specialized bill processing software so the medical practice can get properly reimbursed by insurance companies and government health care agencies.
Cancer Registry: Cancer registrars analyze patient records for cancer disease patterns, treatments, and test results, and maintain the aggregated data in national cancer registry databases.
Entry-level health information technician jobs typically require an associate degree in health IT (HIT), health information management (HIM) or health informatics (HI). Bachelor's programs generally include health IT administrator training, and are designed to prepare graduates for health information technician management roles. Many positions only accept CAHIIM accredited degrees, while some health IT jobs require specific certifications, like the RHIT from AHIMA. Learn more about health information technician education requirements and compare the top-reviewed health IT training programs in the U.S. and online.
a.k.a. Medical Record Technician | Health Record Technician | Health Information Manager | Health Care IT Technician
Health Information Technician Skills & Responsibilities
Typical day-to-day activities and in-demand skill sets for health information technicians include the following. Health information technicians:
Manage patients' medical data through standardized electronic health records.
Review paper forms and documents for accuracy before entry into EHRs.
Transfer existing paper medical records into electronic health records.
Use record management software to secure EHRs from unauthorized access.
Comprehend the regulatory rules of health record retention, disposal, and archiving.
Understand EHR classification systems, healthcare info-tech terminology & acronyms.
Are responsible for the maintenance and upkeep of the electronic health records database.
Can analyze electronic data and provide insight into disease patterns and treatment outcomes.
Specialized health IT pros perform medical billing, health record coding & cancer registry updates.
---
Health Information Technician Salary
The median annual wage for health information technicians is $52,000, according to the latest data from the US Bureau of Labor Statistics.
| | |
| --- | --- |
| Health Information Technician Salary: $52,000 | |
Average salaries for health information technicians and related specialists:
Medical Records Technician: $43,000
Medical Records Field Technician: $44,000
Registered Health Information Technician (RHIT): $50,000
Cancer Registrar: $51,000
Certified Coding Associate: $51,000
Medical Records Coder: $52,000
Clinical Outcomes Coordinator: $63,000
Medical Coding Consultant: $65,000
Registered Health Information Administrator (RHIA): $70,000
Health IT Instructor: $75,000
Coding Auditor Supervisor: $77,000
Supervisory Medical Records Administrator: $81,000
Director of Health Information Management: $90,000
Top paying U.S. cities and metropolitan areas for health information technicians:
Rochester, Minnesota: $94,000
Washington DC Metro $93,000
Chattanooga, Tennessee: $88,000
Medford, Oregon: $88,000
Bloomsburg / Berwick, PA: $85,000
The average hourly wage for health information technician positions ranges from $14 to $35 per hour.
Sources: U.S. Bureau of Labor Statistics | Indeed.com
---
Health Information Technician Education Requirements
The most important thing to look for when evaluating Health Information Management and Health Informatics education programs is CAHIIM Accreditation; this is critical for 2 reasons:
You must attend a CAHIIM accredited degree program in order to be eligible for the in-demand professional health information management certifications from AHIMA.
CAHIIM accredited degrees are guaranteed by the Commission on Accreditation for Health Informatics and Information Management Education (CAHIIM) to deliver the knowledge, skills and job marketability you need to succeed in HIM.
For entry-level health information technician jobs, hiring managers typically require an Associate degree in health information management (HIM), healthcare IT, or health informatics. Some entry-level health IT positions require certification, typically the AHIMA Registered Health Information Technician (RHIT) certificate. Advanced HIM degrees, i.e., Bachelor's and Master's, typically prepare students for supervisory health information technician roles.
Online training programs are viable at all health information technician degree levels, as there is no direct hands-on patient care involved, and software & hardware training is easily simulated in an online learning platform. Some online degree programs for health information technicians offer unique advantages over physical classrooms, such as full-time access to virtual EHR labs so you can practice your EHR coding & billing skills 24/7.
Research and compare CAHIIM-accredited health IT training programs in the U.S. and online.
---
Health Information Technician Training
Browse health IT degrees, certificates, and self-paced online training programs matching the health information technician education requirements and career path.
Bachelor of Science in Health Information Management
This CAHIIM-accredited online program combines key health IT concepts with computer science, data analytics, business and project management to help graduates become valuable assets in the field of health information management.
Program Highlights:
Includes Certification Preparation for:

Registered Health Information Management Administrator (RHIA)

Apply health information best practices to manage clinical classifications and reimbursements
Analyze health statistics and biomedical research data to improve organizational performance
Apply medical laws and ethics to decision-making in healthcare delivery and systems
Manage computer software and hardware to ensure effective data collection and analysis
Use proven leadership principles and project management tools to meet organizational goals
---
Health Information Technician Certifications
Established in 1928, the American Health Information Management Association (AHIMA) is the premier certifying body in health information management. AHIMA offers a wide range of respected credentials for electronic medical record professionals and healthcare technicians across various experience levels and career specializations. Highly desirable AHIMA certifications for Health Information Technicians include the following:
RHIT: Registered Health Information Technician
RHIA: Registered Health Information Administrator
CCA: Certified Coding Associate
CCS: Certified Coding Specialist
CHDA: Certified Health Data Analyst
CHPS: Certification In Healthcare Privacy and Security
---
Health Information Technician Jobs
Your specialized health information technician training, experience and certifications qualify you for a range of job roles:

---
Health Information Technician Job Outlook
The health information technician workforce is projected to grow by 11% from 2020 through 2030, faster than the 8% average for all occupations, according to the US Bureau of Labor Statistics. Federal funding initiatives and government mandates for healthcare practices to implement universal electronic medical records (EMRs) will drive job growth in health IT employment. Per the BLS, the healthcare industry will produce more new IT jobs this decade than any other single industry. Candidates who begin health information technician training now will be well-poised for supervisory roles as the HIT job market continues to mature.
Source: U.S. Bureau of Labor Statistics' Occupational Outlook Handbook
---
Related Careers
---
Subject Matter Expert Contributor