Technical Support Courses & Degrees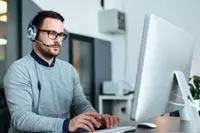 As technology continues to shape the way we live, work and play, workforce demand for the technical support specialists who keep our computer systems up and running will continue to flourish.
Completing a tech support training program is the best way to learn and validate the skills you need to succeed in this role. Computer schools offer technical support programs that feature training and certification prep in marketable subjects like IT help desk management, Windows, Linux & Mac administration, PC repair, mobile device support, networking and cloud computing.
Featured Tech Support Training Programs
These top-rated online programs in technical support and related subjects are currently enrolling students.
Google IT Support Pro Certificate
Coursera
Information Technology Fundamentals
Network and Systems Administration
End-to-End Customer Support Training
Basic IT Security Tools & Techniques
Bachelor of Science in IT - Networking: Microsoft
Capella University
Microsoft Network Administration
Cloud Management and Architecture
Install and Manage RFID Technologies
CompTIA & Microsoft Certification Prep
This page will explore the most important factors when choosing a tech support training program, including:
subjects you should look for in a technical support course or degree program
comparison of tech support degree levels with cost, duration and requirements
careers and salaries you can achieve with each type of tech support training program
Desirable Tech Support Subjects
Here are the most important hard skills, soft skills and certifications that employers want - and which you should look for - in a technical support training program.
Hard Skills
Hard skills are the actual tools, techniques and platforms you will use on a regular basis as a technical support specialist. Seek out these hard skills in a tech support degree program:
Computer hardware installation, maintenance and repair
Mobile device setup, security and administration
Troubleshooting software, hardware & network errors
Customer service and technical support - remote and on-site
Operating system management - especially Windows, Linux & Mac
Install and configure network and telecommunications systems
Foundational security tasks, such as backups and restorations
Soft Skills
Soft skills are character traits and communication prowess that will benefit you in the job role. Some are innate but most can be learned. Marketable soft skills to seek out in a technical support program include:
Active Listening
Effective Communication
Creative Problem Solving
Conflict Resolution
Time Management
Patience!
Certifications
Some tech support programs include training and exam prep for sought-after IT certifications. Here are some valuable certifications to look for in a tech support program:
Top-Rated Tech Support Programs
These online programs best reflect the skills and credentials that technical support specialists need to succeed.
Associate of Arts in Information Technology
Students in this online IT associate degree will gain the skills and credentials to pursue entry-level roles in technical support, computer networking, cyber security, and information systems management.
Program Highlights:
Prepare for IT Certifications from Leading Vendors such as CompTIA, Microsoft, EC-Council, and Cisco
Network and Systems Administration Training
Database and Information Systems Management
Introduction to Computer Programming & Web Design
Soft Skills inc. Professional Communication & Effective Speaking
BS - Network Technology: Microsoft (ABET-accredited)
Students in this online degree program will learn how to design and build custom computer networks using Microsoft's latest and greatest business solutions, while earning a variety of marketable IT certifications.
Program Highlights:
Includes Certification Preparation for:

CompTIA A+, Network+, Security+, Linux+ and Project+
Microsoft MCSA and MCSE

Develop and Manage Microsoft Business Networks
Network Administration and Security Training
Business Collaboration and Strategic Planning
Study Trending IT Topics like Cloud Computing, Mobility & Virtualization
Technical Support Program Levels
Technical support training comes in a variety of levels, including certificate, associate and bachelor's programs. Because IT support specialist is an entry-level career, there are no master's degrees or higher that focus on this role. The tech support program you pursue will depend on numerous factors, including your employment goals, current level of education, and the time and money you wish to allocate on training.
Here are the most popular types of technical support programs along with the cost, duration, entry requirements, and jobs you can get with each:
Technical Support Certificate
Certificate programs in technical support typically take from 6 to 12 months to complete with a full course load.
Unlike college degrees, most technical support certificate programs do not have any specific admission requirements.
The average net price (after financial aid) for a tech support certificate is $10,393, according to the National Center for Education Statistics (NCES). However, there are many online tech support certificates you can get for half this price or less.
Jobs you can pursue with a certificate in technical support include end-user support specialist and help desk technician.
Associate Degree in Technical Support
Associate degrees in technical support and related fields typically take 2 years to complete as a full-time student.
Common requirements for admission into a tech support associate program are a high school diploma or passing grade on the GED.
The average net price for a technical support associate degree is $11,133, according to the NCES.
Jobs you can pursue upon earning an associate degree in technical support include IT support specialist, junior systems analyst, and help desk technician.
Bachelor's Degree in Technical Support
Technical support bachelor's programs typically take four years to complete as a full-time student. Also, most bachelor's degrees in this space will cover additional skills beyond technical support, such as network administration, cybersecurity, and data management.
Common admission requirements for a bachelor's degree in technical support are a high school diploma or GED. Some tech support bachelor's require a certain score on your high school transcripts or SATs - these vary by institution.
The average net price - after financial aid - for a technical support bachelor's degree is $15,281, according to the NCES.
Jobs you can pursue with a bachelor's in tech support and related subjects include computer support specialist, systems administrator, and network manager.
Tech Support Courses, Certificates & Degrees
These campus and online programs feature coursework, certificates and skills training that aligns with the technical support specialist career path.
Bachelor of Science in Cybersecurity
Includes Certification Preparation for:

CompTIA A+, Network+ & Security+
TestOut Network Pro, Security Pro & Pro PC

Gain the Skills and Credentials to Pursue Jobs in Cyber Security and Network Management
Information Security Tools and Techniques
Design, Build & Manage Secure IT Networks
Cyber Security Policy and Risk Management
IT Service and Process Management
Bachelor of Science in Network Technology: Cisco
Includes Certification Preparation for:

CompTIA A+, Network+, Security+, Project+ & Linux+
Cisco CCNA Routing and Switching

Design & Manage Cisco Wired / Wireless Networks
Network Security Threats & Countermeasures
Install and Support Telecommunications Systems
IT Project and Process Management Training
Explore Hot IT Topics inc. RFID Architectures, Enterprise Mobility & Cloud Computing
Master's in Technology Management
Prepare for Leadership Roles in Business and Information Technology
Business Intelligence and Data Analytics
Cyber Security Threats & Countermeasures
Cloud Computing and Virtual Data Centers
Globalization and the Modern IT Workforce
Computer Systems Analysis Tools & Techniques
Wield Emerging Technologies and IT Personnel to Achieve Business Goals
No GRE or GMAT Required for Admission
Search IT courses and degree programs by job role, technology platform & major.
Jobs You Can Get with a Tech Support Degree
Completing a certificate or degree program in technical support and related fields can unlock a range of career opportunities. Here are some popular roles for graduates of tech support training programs, along with the typical education level and salary for each job.
| Job Title | Typical Education Level | Average Salary |
| --- | --- | --- |
| PC Repair Technician | Certificate or Associate | $43,000 |
| Help Desk Technician | Certificate or Associate | $50,000 |
| Desktop Support Analyst | Associate or Bachelor's | $63,000 |
| Mobile Device Support Analyst | Bachelor's Degree | $72,000 |
| Technical Support Manager | Master's Degree | $138,000 |
Technical support salary data courtesy of Robert Half Technology.
IT Support Specialist Resources