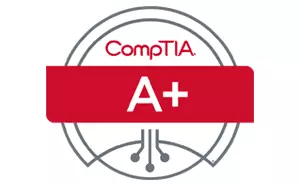 A guide to the best A+ certification bootcamps in 2023.
CompTIA's A+ is a globally recognized certificate that validates entry-level skills for a variety of IT careers. A+ certification covers a wide range of topics, including hardware, networking, operating systems, mobile devices, cybersecurity and technical support. The A+ certificate is valuable because it serves as a benchmark for IT hiring managers, demonstrates a candidate's commitment to professional development, and often leads to better job opportunities and higher salaries in the technology industry. A CompTIA A+ bootcamp is an accelerated training program that covers essential technical and communication skills, while preparing you to pass both of the A+ certification exams.
In this article, we will highlight the top-ranked A+ bootcamps for 2023, while delving into key topics like A+ curriculum, pros and cons of A+ bootcamps, tuition costs and more to help you choose the best possible program.
A+ Bootcamp Overview
Average Cost: $2,000 - $3,000
Duration: 4 to 5 days (with 8 hours of daily study)
Format: Live, instructor-led training. Online or In-person.
Level: Beginner. No prior technology experience is required.
Exam Prep: A+ Core 1 (220-1101) and A+ Core 2 (220-1102)
A+ Bootcamp Curriculum
The curriculum of well-designed A+ bootcamps align with the topics of the A+ certification exam. A+ certification covers the key foundational aspects of computing and information technology, including:
Hardware
Learn about the various components of a computer, including motherboards, processors, RAM and storage devices. Gain the skills to install, configure and troubleshoot common hardware issues.
Networking
CompTIA A+ boot camps cover the essential concepts of computer networking, including network types, topologies, protocols and troubleshooting techniques.
Mobile Devices
A+ certified professionals possess the skills to the install, setup and maintain mobile devices, such as smartphones, tablets and wearables.
Operating Systems
Understand the ins and outs of popular operating systems like Windows, macOS and Linux. Learn how to install, configure and maintain these platforms.
Security Essentials
Learn the fundamental principles of computer security, including encryption, malware and basic cyber threat mitigation.
Software Troubleshooting
Students in CompTIA A+ bootcamps will develop the ability to diagnose and resolve common software-related issues.
Operational Procedures
Learn the best practices for IT professionals, such as safety, environmental concerns, and effective communication skills.
Visit CompTIA.org for a detailed breakdown of the A+ certification curriculum.
Pros of A+ Bootcamps
Attending a CompTIA A+ bootcamp offers numerous benefits, including an accelerated learning environment, hands-on experience using essential hardware and software, and step-by-step guidance from experienced trainers. A Plus bootcamps provide a structured and focused approach to mastering the essential skills required for the A+ certification exam, enabling candidates to quickly gain the expertise to excel in IT and secure better job opportunities upon completion.
Cons of A+ Bootcamps
CompTIA A+ bootcamps may have drawbacks for some students, such as the potentially high tuition cost and the need to dedicate a significant block of time to the program. A-plus bootcamps can also be intensive and fast-paced, which may be challenging for individuals who struggle with learning in a high-pressure environment or those with no prior tech knowledge, making self-paced or traditional courses more suitable alternatives for some learners.
CompTIA A+ Bootcamp Cost
The cost of an A+ certification bootcamp varies depending on factors like location, program duration, and training provider reputation. In general, the cost ranges from $2,000 to $3,000, with online A+ bootcamps often being more affordable. Some programs also offer financial assistance, payment plans, and discounts for veterans and students, which can help reduce the cost of your A+ boot camp.
Top A+ Certification Bootcamps
The best bootcamps for A+ certification prep were chosen based on numerous factors, including training provider reputation, program features, value and flexibility.
Here are the top-ranked A+ bootcamps for 2023:
Training Camp
Training Camp's A+ Certification Bootcamp features official CompTIA courseware, exam pass guarantee, official practice test questions, post-class review sessions, A+ exam voucher, and hands-on training from a CompTIA Authorized A+ instructor.
Duration: 5 days (40 hours)
List Price: $2,495
Formats: Online or Physical Classroom
InfoSec Institute
InfoSec's CompTIA A+ Training Bootcamp features extended 90-day access to course materials, satisfaction and exam pass guarantees, unlimited practice tests, and A+ exam vouchers.
Duration: 5 days
List Price: $2,499
Formats: Online | In-Person | Group On-site
New Horizons
The A+ Certification program at New Horizons includes 20 targeted lessons that will help you pass the A+ exam, while preparing you for entry-level roles such as help desk technician, associate network engineer and desktop support specialist.
Duration: 5 days
List Price: $2,870
Formats: Online and In-Person
Featured A+ Training Programs
These reputable online courses & degrees align with the curriculum of A+ certification and related IT career paths.
Southern New Hampshire University
Network Design, Security & Management
Detect and Prevent Network Breaches
Prepare for In-Demand IT Certifications
Cyber Incident Response & Investigation
Strayer University
Network Hardware & Operating Systems
Database and Info Systems Management
Programming and Web Design Essentials
Flexible and Affordable Online Program
Coursera
Information Technology Fundamentals
Network and Systems Administration
End-to-End Customer Support Training
Prepare for CompTIA A+ Certification
Search IT courses and degree programs by job role, technology platform & major.
Frequently Asked Questions
Here we answer some common questions from prospective A+ bootcamp students.
Are CompTIA A+ bootcamps worth the money?
The value of a CompTIA A+ bootcamp depends on your learning style, resources and time constraints. Bootcamps offer an intensive and accelerated learning format, which can be beneficial for those who want structured guidance and a quick path to becoming A+ certified. However, A+ bootcamps are more expensive than self-paced learning options. To determine if an A+ bootcamp is worth it for you, carefully evaluate your needs and research the available training options before enrolling.
How long do A+ bootcamps last?
A+ bootcamp duration varies depending on the provider, but most A+ bootcamps last between 4 and 6 days. Keep in mind these are typically long days, usually with 8+ hours of intensive study.
What's the success rate of A+ bootcamp graduates passing the exams?
The success rate of A+ bootcamp graduates passing the certification exams varies by program, however many of the best A+ bootcamps have a success rate over 95%. Ask your prospective boot camp providers for their A+ pass rates.
Is an A+ bootcamp suitable for IT beginners?
Yes, many A+ bootcamps are designed for people who are completely new to the IT field. The A+ certificate is focused on the fundamentals of hardware, software, networking and troubleshooting, providing a solid foundation for those looking to launch an IT career.
Are A+ bootcamps available online?
Yes, there are online A+ bootcamps that provide the same level of instruction as in-person programs. Attending an A+ bootcamp online can be beneficial for those with busy schedules or limited access to computer training centers. Additionally, the hardware training portion in A+ bootcamps can be effectively simulated in a virtual environment.
Find tech bootcamps online.