IT Career Training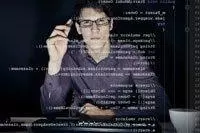 There's never been a better time to begin or advance your career in information technology. IT professionals will enjoy massive job growth over the next decade; the U.S. Bureau of Labor Statistics projects employment for computer and technology jobs to explode by 14% from 2022 to 2023 - much faster than the 3% growth rate for all occupations. Standouts in the IT space include information security specialists who will see job creation skyrocket by 32%, computer scientists at 23%, software engineers at 25%, and mobile application developers who will see 26% growth in their field.
Now is an ideal time for IT beginners to start learning the skills and technologies that will help them launch a fast-growing and lucrative career.
Established IT professionals seeking a new direction can jumpstart their careers with specialized training in hot and emerging tech domains like artificial intelligence, mobile development, information security, and cloud computing.
Use this page to browse IT courses and degrees from the leading training providers.
Find Training by IT Career Path