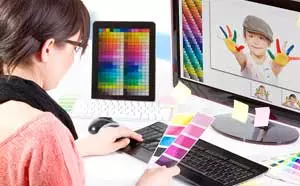 Graphic designers fuse creativity and technology to create engaging graphics that convey a message.
If you're creative, have a good eye for color and composition, and love technology, then graphic designer may be the career for you. Graphic designers' duties vary widely and include tasks like web design, laying out catalogs and newsletters, designing logos and marketing collateral, and creating any other digital and print materials your company or clients require.
The demand for well designed graphics - and skilled graphic designers - is soaring. From multimedia advertising campaigns, to print publishing and package design, clients expect modern branding initiatives to boost sales and elevate status. Self-employment opportunities abound for talented designers with an entrepreneurial spirit. Contributing to graphic designer job growth is the omnipresent need for innovative digital designs, now that almost every business requires an eye-catching web presence.
Featured Graphic Design Programs
Explore high-quality, online training programs in graphic design and related subjects.
Contact these schools to learn more about programs, start dates, tuition & aid.
Penn Foster
Top Graphic Design Programs:
Southern New Hampshire University
Top Graphic Design Programs:
While graphic design can be a fun job, a graphic designer career should not be taken lightly. To be a successful designer it's important to carefully construct your learning plan, continually advance your skills to keep pace with the latest digital design technologies, and build on your portfolio of work. Word of mouth and feedback from past employers typically plays into the decision to hire graphic designers, so reputation & quality of service are essential to long-term success.
Graphic design courses can help you unlock your natural talent and prepare you for a job you'll love. There are numerous graphic designer training programs and specialized college degrees featuring coursework in cutting-edge print and digital design techniques. Compare the top-rated graphic design courses & degrees in the U.S. and online.
a.k.a. Graphic Artist | Digital Media Designer | Web Designer | Adobe Graphic Designer | Interactive Media Designer
Graphic Designer Skills & Responsibilities
Typical day-to-day activities and in-demand skill sets for graphic designers include the following. Graphic designers:
Design websites, email and newsletter templates, and social media posts.
Plan layouts for magazines, brochures and other print publications.
Design corporate logos, business cards and company letterhead.
Make promotional displays, teasers and signs for public exhibitions.
Create banner ads and rich media marketing campaigns for web pages.
Work closely with copywriters, creative directors, and marketing managers.
Are proficient in Adobe's digital media and design products, e.g., Photoshop, Dreamweaver, Premiere Pro, InDesign, Illustrator and Acrobat.
---
Graphic Designer Salary
The median annual salary for graphic designers is $57,000, according to the latest data from the U.S. Bureau of Labor Statistics.
| | |
| --- | --- |
| Graphic Designer Salary $57,000 | |
Average salaries for graphic design specialists and related positions:
Packaging Designer: $57,000
Multimedia Designer: $64,000
Web Graphics Designer: $65,000
Interactive Graphics Designer: $67,000
Catalog Designer: $77,000
Graphic User Interface Designer: $83,000
Senior Art Director: $98,000
Top paying cities and metropolitan areas for graphic designers:
Seattle, Washington: $84,000
San Francisco / Oakland, CA: $81,000
San Jose / Santa Clara, CA $78,000
Washington DC Metro: $77,000
Boston / Cambridge, MA: $73,000
New York City Metro: $70,000
Some graphic design positions pay hourly; in these roles designers earn on average $25 per hour. Hourly rates for graphic designers will vary widely based on location, experience, and portfolio of work.
Sources: Indeed.com | U.S. Bureau of Labor Statistics
---
Graphic Designer Education Requirements
An undergrad or graduate degree in graphic design, fine arts, multimedia production, or a similar field of study in the creative arts is required education for most graphic design positions. Hands-on graphic design experience is just as important - or more important depending on who you ask - so regardless of how you learn or where you train, be sure to keep a comprehensive portfolio of your best design projects, as this is how professional graphic designers showcase their work to prospective clients and employers. Because your design portfolio is a critical factor in getting hired, all of our featured graphic design degrees include dedicated courses and/or assistance in graphic designer portfolio & resume compilation.
As the demand for graphic designers continues to increase, colleges and private design schools are bolstering their degree and certificate programs with coursework in modern digital design topics, such as 3D computer animation, interactive media, web and mobile application design, and digital photography & image manipulation. Expertise in the latest graphic design software is also vital, especially the Adobe Creative Suite, the most respected and widely used collection of graphic design programs. Prospective print designers should learn Adobe Illustrator, InDesign, Photoshop & Acrobat Pro, while web designers should focus on Adobe Photoshop, Dreamweaver, XD & Spark.
Research and compare the top-rated graphic design training programs in the U.S. and online below.
---
Graphic Designer Training
Our network of technology and design schools offers a range of training programs for graphic designers. Compare online courses, degrees and certificates matching the graphic designer education requirements and career path.
Admissions advisors can provide more info about graphic design programs and curriculum, admissions & start dates, online learning, career opportunities, tuition costs, and personalized financial aid options.
Got targeted learning goals? Many schools offer individual classes from accredited degree programs.
CG Spectrum
Online multimedia certificates in:

Digital Painting in Adobe Photoshop
Animation using Maya and Toon Boom
VFX Production in Houdini & Nuke
Penn Foster
Format, Design and Color Theory
Adobe Illustrator, InDesign & Photoshop
Multimedia Streaming and Animation
Digital Publishing & Corporate Design
Southern New Hampshire University
Create Stunning, Interactive Websites
Graphic Design Training in Adobe Suite
Learn UI / UX Design and Development
Build a Multimedia Design Portfolio
Search IT courses and degree programs by job role, technology platform & major.
---
Graphic Designer Certifications
Marketable certifications for graphic designers include the following:
---
Graphic Designer Jobs
Your skills and training in graphic design may qualify you for a range of positions:

---
Graphic Designer Job Outlook
Graphic designer employment is expected to grow by 3% from 2021 through 2031, slower than the 5% average rate for all occupations, but this statistic is industry dependent; employment for graphic designers in print media (newspapers, magazines, catalogs, etc.) is expected to shrink by more than 20%, while the job market for digital artists should see significant gains.
Graphic artists with web design and 3D animation experience will be especially sought after as demand increases for design projects that utilize interactive media for websites, mobile apps, video games, and emerging technologies like augmented reality (AR) and virtual reality (VR). In addition, the continued growth of Internet advertising is expected to increase the number of job opportunities for digital designers.
Source: U.S. Bureau of Labor Statistics' Occupational Outlook Handbook
---
Related Career Tracks
---
Subject Matter Expert Contributor