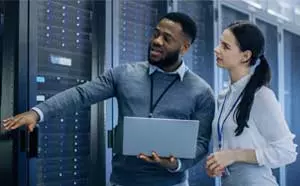 Information technology managers plan, direct & support IT initiatives.
IT managers ensure that their team or department operates efficiently, effectively and inline with organizational goals. They work closely with senior executives and department heads to identify, develop and support new technology solutions. Technology managers are also responsible for creating and ensuring adherence to IT policy and procedures.
Rapid growth in a range of information technology job markets, including cyber security, cloud computing, software development and data management, plus the continued proliferation of mobile and wireless technologies, is driving demand for IT workers across the board, which in turn is fueling job growth for the managers who lead them. The U.S. Bureau of Labor Statistics predicts IT manager employment to grow by 11% from 2020 to 2030, beating out the 8% average growth rate for all jobs while adding a whopping 52,700 new positions.
Featured IT Management Programs
Explore high-quality, flexible degrees that will take your career to the next level.
Contact these schools to learn more about programs, transferring credits, financial aid & more.
Southern New Hampshire University
Top IT Management Programs:
Georgetown University
Top IT Management Programs:
Business and computer schools offer a range of information technology management training programs. Compare top-rated IT management programs in the U.S. and online.
a.k.a. Information Systems Manager | IT Administrator | IT Director | Vice President of Information Technology
IT Manager Skills & Responsibilities
Typical day-to-day activities and in-demand skill sets for technology managers include the following. IT managers:
Are responsible for strategic IT planning, including fostering innovation & allocating monetary resources.
Direct operational IT planning, including planning IT projects and the allocation of manpower resources.
Oversee the financial aspects of their IT team or dept., including purchasing, budgeting & budget review.
Coordinate IT staffing, including hiring, supervision, scheduling, professional development and discipline.
Collaborate with and maintain communications with executives and department heads in the organization.
Design, implement and enforce the policies, procedures and best practices for their IT team or department.
Research IT solutions and make recommendations for the improvement of IT systems and IT infrastructure.
Negotiate and approve technology vendor, outsourcing, and consultant contracts and service agreements.
Should have superior skills in team leadership, employee development and interpersonal communication.
Should have a strong command of project management principles, procedures and best practices.
IT Manager Salary
The average salary for information technology managers is $162,000.
Average salary range for IT managers and related positions:
Chief Information Officer (CIO): $204,250 - $290,000
Chief Information Security Officer (CISO): $176,500 - $259,000
Chief Technology Officer (CTO): $171,250 - $259,000
Vice President of Technology: $158,500 - $221,000
Info Systems Security Manager: $137,250 - $198,500
Information Technology Manager: $132,000 - $192,000
Database Manager: $122,250 - $170,000
Software Development Manager: $117,250 - $173,750
Network/Cloud Manager: $111,500 - $160,750
These are the top-paying cities and metro areas for IT managers:
San Jose / Santa Clara, CA $280,000
San Francisco / Oakland, CA: $231,000
New York City Metro Area: $223,000
Seattle / Tacoma / Bellevue, WA: $200,000
Washington DC Metro Area: $187,000
San Diego, CA: $185,000
Sources: 2024 IT Salary Guide by Robert Half Technology | U.S. Bureau of Labor Statistics
IT Manager Education Requirements
In addition to some level of technical experience, IT managers are required to have at least a bachelor's degree education in IT, preferably with well-rounded major such as computer science, information technology or management information systems. Though a bachelor's degree may be sufficient when balanced with extensive field experience, most hiring managers prefer IT management candidates with a graduate degree. A Master's of Business Administration (MBA) with a technology concentration is the ideal program for IT managers, as the MBA curriculum covers the business and managerial skills necessary to succeed in a leadership role, and the IT focus teaches managers how to best apply this knowledge in the technology workplace. Most MBA programs include capstone projects wherein students put their hard-earned skills to the test in a simulated business project to be judged by professors and/or active practitioners in their respective fields.
Marketable skills to look for in an IT management education program include project management, team leadership, professional development, IT strategy, corporate decision-making, database & network management, managerial finance, research & analysis methodology, and superior oral, written & non-verbal communication skills. With recent technological advancements in online learning platforms, the subject matter in IT manager training programs works better than ever before in the distance learning format.
Research and compare the top-rated IT management training programs online and in your area.
IT Manager Training & Degree Programs
Browse the top-rated college degrees, professional certificates, and self-paced online courses matching the education requirements for information technology managers.
Admissions advisors can provide more info about IT management programs, admissions and start dates, career opportunities, tuition costs, and personalized financial aid options.
Got targeted learning goals? Many schools offer individual courses from accredited degree programs.
Southern New Hampshire University
Prep for CAPM Certification from PMI
IT Resource Estimating & Scheduling
Hands-On Training in Microsoft Project
Project Risk, Integration and Quality
Capella University
PMI/GAC Accredited Master's Program
Project Planning, Execution & Control
Budgeting, Buying & Risk Assessment
Agile Project Management Methodology
Georgetown University
Managing Technology & IT Staffers
Ethics in Technology Management
Enterprise Modernization Strategy
Information Security Management
IT Manager Certifications
Marketable career credentials for information technology executives and managers include:
Six Sigma Green Belt Certification (Process & Quality Management)
Six Sigma Black Belt Certification (Process & Quality Management)
CCIE: Cisco Certified Internetwork Expert (Network Management)
IT Manager Job Outlook
Employment for computer and information systems managers is expected to grow by 11% from 2020 to 2030, faster than the 8% average for all occupations. Technology managers' job outlook will be closely tied to the growth of the technology occupations they supervise; rapid expansion in a range of IT domains - including cyber security, web and mobile application development, cloud computing and virtualization technologies - will continue to drive demand for information technology workers for years to come, in turn fueling the need for talented IT managers.
Job prospects for qualified IT managers are "excellent" according to the U.S. Labor Department. IT management job candidates with specialized technical knowledge & experience, superior communication skills, and strong business acumen, as well as those holding an advanced degree with a tech-focused concentration will enjoy the best hiring prospects in the years to come.
Source: U.S. Bureau of Labor Statistics' Occupational Outlook Handbook
Related Careers