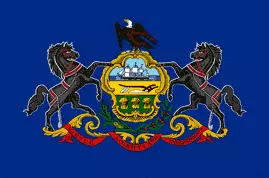 Research the top-ranked CS schools in Pennsylvania.
With tech startups proliferating in cities from Harrisburg and Philadelphia to Erie and Pittsburgh, Pennsylvania is rapidly becoming a high-tech darling. The Keystone State also boasts some of our nation's best colleges for computer science and information technology. The best computer science schools in Pennsylvania include Carnegie Melon in Pittsburgh, Penn in Philadelphia, and Penn State in University Park, PA.
This page will explore the best colleges for computer science in Pennsylvania, as well as online computer schools for PA residents. We'll also look at potential outcomes for comp-sci graduates in Pennsylvania, including the state's top paying cities and job roles for IT professionals.
Featured Computer Science Degrees
Contact these schools to learn about start dates, transferring credits, financial aid options & more.
Southern New Hampshire University
Top Computer Science Programs:
Accreditation: New England Commission of Higher Education (NECHE)
Capella University
Top Computer Science Programs:
Accreditation: Higher Learning Commission (HLC)
Best Computer Science Schools in PA
Compare the top-ranked computer science schools and degree programs in Pennsylvania.
Carnegie Melon University
Carnegie Melon is the best computer science school in Pennsylvania. The accolades for Carnegie's CS programs are many, including having the nation's top-ranked undergraduate programs in artificial intelligence, computer science & cybersecurity, and the top graduate degrees in AI, technology management & computer programming, according to trusted sources like US News & World Report.
Graduate & Undergrad CS Programs in:

Artificial Intelligence (AI)
Human-Computer Interaction (HCI)
Software and Privacy Engineering
Robotics and Machine Learning (ML)
Computational Biology and more

Campus Locations:

Carnegie Melon Schools of Computer Science: 5000 Forbes Avenue | Pittsburgh, PA 15213
University of Pennsylvania
Originally the brainchild of America's first engineer, Benjamin Franklin, this Ivy League standout is now one of the most prestigious universities in the world. University of Pennsylvania continues this long tradition of innovation with some of the nation's best programs in computer science and engineering.
Degree-Granting Engineering Departments include:

Computer and Information Science (CIS)
Electrical and Systems Engineering (ESE)
Chemical and Biomolecular Engineering (CBE)
Mechanical Engineering & Applied Mechanics (MEAM)

Campus Locations:

Penn School of Engineering & Applied Science: 220 South 33rd Street | 107 Towne Building | Philadelphia, PA 19104
Top-Paying IT Roles in Pennsylvania
If you decide to work in-state after attending computer school in Pennsylvania, here's how much you can earn.
Source: U.S. Bureau of Labor Statistics
Regional Tech Salaries in PA
Here are the metropolitan areas and cities in Pennsylvania that pay the highest wages to computing professionals.
| Location in PA | Average Salary |
| --- | --- |
| Philadelphia-Camden-Wilmington, PA-NJ-DE-MD | $97,650 |
| Pittsburgh, PA | $85,900 |
| Harrisburg-Carlisle, PA | $84,310 |
| Allentown-Bethlehem-Easton, PA-NJ | $83,710 |
| York-Hanover, PA | $83,550 |
| Reading, PA | $81,280 |
Source: U.S. Bureau of Labor Statistics
Frequently Asked Questions
Here are some of the most common questions from prospective comp-sci students in Pennsylvania.
Which Penn State campus has the best computer science program?
The Main Campus in University Park is the best Penn State location for computer science.
What is Carnegie Melon computer science known for?
Carnegie Melon University is best known for its industry-leading computer science degrees in artificial intelligence (AI), cybersecurity, and software engineering.
Online Computer Schools in Pennsylvania
These leading online computer science schools are accepting PA residents.
Capella University
Capella University offers online computer science degrees that focus on the skills, platforms and certifications that employers demand.
Computer Science Programs in:

Data Management and Analytics
Information Assurance & Cybersecurity
Networking with Cisco & Microsoft Technologies
Web and Software Development
Southern New Hampshire University
SNHU's online computer science programs feature experiential learning and hands-on projects to provide the skills needed for success in the modern IT workforce.
Undergraduate & Graduate Programs in:

Computer Science and Engineering
Business Intelligence & Analytics
Graphic Design & 3D Animation
Information Security
Search IT courses and degree programs by job role, technology platform & major.