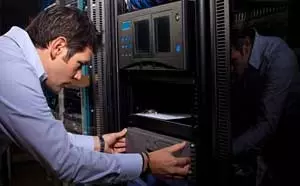 Network administrators manage networks & communications systems.
Network administrators install, support and manage the networks and computer systems that keep information flowing. They implement and maintain network hardware and software, troubleshoot network problems, and ensure network security, availability & performance standards.
In challenging economic times, organizations retain and hire network administrators to optimize existing systems to reduce costs and boost productivity. In a robust economy, companies implement new networking and communications technologies to spark a competitive advantage, leading to increased demand for network administrators to install, secure and optimize the new systems. This consistent demand, independent of economic conditions, has led many employment experts to dub network administrator a "recession proof career." This has become somewhat less true as the proliferation of cloud computing solutions continues to increase network productivity, enabling companies to do more with less personnel, however network administrator remains a solid career path with strong compensation and plenty of options for upward mobility.
Featured Network Management Programs
Explore high-quality, flexible online programs in computer networking and related fields.
Contact these schools to learn about start dates, transferring credits, financial aid & more.
Southern New Hampshire University
Top Networking Programs:
Capella University
Top Networking Programs:
Now is an ideal time to begin or advance your network administration career. Universities, colleges and private computer schools offer a range of network administrator training and degree programs. Compare network administrator courses & degrees in the U.S. and online.
a.k.a. Systems Administrator | Network Analyst | Cisco Network Admin | Network Manager
Network Administration Degrees
Network Administrator Skills & Responsibilities
Typical daily activities and marketable skill sets for network administrators include the following. Network administrators:
Configure and maintain the organization's internal computer network.
Manage network security tools, e.g., firewall, anti-virus and intrusion detection systems.
Identify, troubleshoot, solve and document network connectivity and performance issues.
Install and support hard-line telephones and other networked telecommunication devices.
Monitor network performance and optimize the network for optimal speed and availability.
Install, configure and maintain network hardware, for example, Cisco routers and switches.
Deploy, configure and upgrade network software, such as, enterprise antivirus or diagnostics programs.
Implement and maintain emergency backup and restore systems for mission-critical network servers.
Network administrators regulate user access to sensitive files to protect against internal security breaches.
In smaller companies, network administrators are often responsible for end-user desktop support, and the
maintenance of servers and other networked devices.
Network Administrator Salary
The median annual salary for network administrators in the US is $85,000, according to the latest data from US Bureau of Labor Statistics.
| | |
| --- | --- |
| Network Administrator Salary $85,000 | |
Average salaries for network administrators and related positions:
Computer Support Specialist: $56,000
Network Manager: $77,000
Cisco Network Administrator: $80,000
Network Designer: $81,000
Network Engineer: $86,000
Cisco Network Engineer: $88,000
Network Security Administrator: $89,000
Network Maintenance Specialist: $90,000
Network Architect: $105,000
Cisco Network Architect: $109,000
Cisco CCIE Network Engineer: $114,000
Top paying cities and metropolitan areas for network administrators:
San Jose California Metro Area: $134,000
Baltimore Maryland Metro Area: $117,000
San Francisco CA Metro Area: $107,000
NYC Metro Area (NY, NJ & PA): $106,000
Washington DC Metro (DC, VA, MD & WV): $102,000
Boston Massachusetts Metro (MA & NH): $102,000
The hourly wage for network administrators ranges from $25 to $70 per hour, depending on the individual's geographic location, known technologies, certifications held and practical field experience.
Deep dive comparison of network administrator salaries.
Sources: Indeed.com | US Bureau of Labor Statistics
Network Administrator Education Requirements
Network administrators are often required to have an undergrad or graduate degree in computer science, network administration, systems engineering, or a related field of study. Upon completion of a formal education program, network administrators can further distinguish themselves and increase employment and advancement opportunities by earning networking certifications, such as CompTIA's Network+, Cisco's CCNA, and Microsoft certifications in Windows Server and Windows Client.
Fundamental skills and courses to look for in a network administration degree program include systems administration training, LAN & WAN installation & configuration, routing & switching, and network security training. A networking degree that includes certifications will help you graduate with a distinct competitive advantage. Effective communication skills are also key, as network administrators communicate complex ideas and solutions to both technical and non-technical employees. Computer networking is a rich and vast domain, so beyond the basics, choose a degree with the courses that spark your interest, or those featuring networking skills that are hot right now, e.g., virtualization or cloud computing.
Research and compare the top-rated network administration degrees online.
Network Administrator Training, Certificate & Degree Programs
Browse college degrees, professional certificates, and self-paced online courses matching the network administrator education requirements and career path.
Strayer University
Network Hardware & Operating Systems
Database and Info Systems Management
Programming and Web Design Essentials
Prepare for In-Demand IT Certifications
Southern New Hampshire University
Network Design and Administration
Detect and Prevent Network Intrusions
Emerging Tech & Trends in Cybersecurity
Vital Communication Skills for IT Pros
Capella University
Cloud Architecture & Distributed Systems
Design and Manage Enterprise Networks
Cloud Ops and Application Deployment
Emerging Trends in Network Technologies
Search IT courses and degree programs by job role, technology platform & major.
Network Administrator Certifications
Desirable certifications for network administrators include the following:
Read this post from networking pro and trainer, Darril Gibson, for a detailed network administration certification path.
Network Administrator Jobs
Your network administration training, certifications and experience may qualify you for a range of positions, including:
Job Outlook
Employment of network administrators is expected to increase by 5% from 2020 to 2030, slower than the 8% average growth rate for all occupations. Network administration job growth will be tempered by the proliferation of cloud computing solutions, which increase network productivity, thus reducing the number of networking personnel needed to complete the same tasks. However, IT networks remain an integral part of the modern enterprise, and demand for network administrators with the right skill set will continue to grow as firms invest in better computer systems to boost performance, scalability and security. Network administration skills that will improve your job outlook include mobile device management, cyber security, cloud computing, and virtualization.
The rapid adoption of mobile and smart devices means more organizations will use the Internet to conduct business online, translating to an increased need for network administrators with mobile computing skills who can help businesses better connect employees, clients and customers. Network administration career growth will also be driven by the increasing need for qualified network security personnel as cyber attacks continue to grow in frequency, scope and sophistication.
Source: U.S. Bureau of Labor Statistics' Occupational Outlook Handbook
Related Careers
Subject Matter Expert Contributor