IT Certification Path for Network Administrators
Darril Gibson, certified technical trainer and best-selling author of IT study guides, lays out a rock-solid IT certification path to begin or advance your career as a network administrator.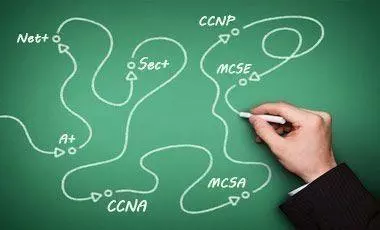 Aspiring IT professionals frequently ask me questions like "How can I get into an IT job?" and "What is the best IT certification path for a network administrator?" Unfortunately, there isn't a one-size-fits-all answer because there are so many variables, such as how much knowledge you start with and what type of jobs are available where you live.
However, if you are focused on landing an IT job and you're willing to take the time to master the materials, you can earn several certifications that will make you highly desirable as a network administrator, one of the industry's most essential and opportunity-rich positions. Learn the material, earn the certifications, and you'll have an opportunity to shine at network administration job interviews.
Featured Network Management Programs
Explore high-quality, flexible online programs in computer networking and related fields.
Contact these schools to learn about start dates, transferring credits, financial aid & more.
Southern New Hampshire University
Top Networking Programs:
Capella University
Top Networking Programs:
First, what is a network administrator? Most people define a network administrator as someone that maintains hardware and software on a computer network. In a large organization, the network administrator is a mid-level IT worker focused primarily on maintaining networking components. However, in smaller organizations, the network administrator is also responsible for desktop support for end-users, maintaining servers, and managing any other devices connected to the network.
In this article, I've divided the network administrator certification track into three categories:
Foundation certifications: These CompTIA certifications are vendor-neutral and provide a solid knowledge base for any path to becoming a network administrator.
Cisco certifications: These credentials are valuable for administrators that manage Cisco's widely-used network devices, such as routers and switches.
Microsoft certifications: These certificates are key for administrators that provide network administration services at both the desktop and server level.
People commonly want to know how long it'll take to complete these certifications so I've given some common study time estimates. These guidelines assume you have a job but you're still able to study regularly to master the concepts. Someone that is unemployed and spending 12 hours a day studying can complete these certifications much quicker. In contrast, someone with a full time job that regularly requires overtime might need more time.
CompTIA Certifications | The Foundation
Many people begin their IT certification path with CompTIA certifications. CompTIA has been in existence for more than 40 years and has certified hundreds of thousands of people in a range of essential disciplines. CompTIA's core credentials are A+, Network+ and Security+; this trio of certifications represent a globally recognized foundation of IT knowledge.
A+ Certification
The CompTIA A+ certification is considered a starting point by many people in the IT field, as it demands no prerequisites, and introduces candidates to a range of fundamental hardware and software disciplines, including PC repair, software and operating systems, desktop support, networking and cyber security. The A+ curriculum even covers basic interpersonal communication skills - a key attribute for enduring success the IT workforce.
Network+ Certification
The CompTIA Network+ certification builds on the knowledge from the A+ certification with a focus on networking topics, such as network installation, administration, troubleshooting and security. Net+ candidates are recommended to have an A+ certification or equivalent knowledge, and at least nine months of experience in IT networking.
Network+ study time: 45 days, after passing both A+ exams
Security+ Certification
CompTIA's Security+ is an entry-level security certification that is considered the minimum amount of security knowledge required by network administrators. For example, the U.S. Department of Defense requires administrators to be at least Security+ certified before they are granted administrative rights on a DoD network. Security+ certification validates your skills in topics like network security, threat assessment, cryptography and cyber incident response.
As with other CompTIA certifications, you can attend a class to master the objectives in the exam or self-study. Here are some popular Security+ Bootcamps attended by many people to pass the Sec+ exam the first time they take it.
Security+ study time: 45 days, after passing Network+ exam
A Fork in the Road
After completing the A+, Network+ and Security+ certifications you have a decision to make. Do you want to pursue a Cisco path or a Microsoft path? Both paths are proprietary and there isn't much crossover between the two so it will be very difficult if you decide to pursue both at the same time.
In many cases, an employer lets you know what is valuable to the company and this is often the deciding factor. In other cases, people just enjoy working with operating systems more than networking devices or vice versa (by the time you finish the CompTIA certifications you should know your preference). As the old saying goes, "Do what you love and you'll never work a day in your life."
Of course there are exceptions and there's no reason you can't pursue both paths. If this is your choice, then Cisco's entry-level CCNA certification is the logical next step. The CompTIA Network+ lays a good foundation for both. After completing the CCNA you can turn your attention to Microsoft certifications.
Cisco Certifications
Cisco certifications are focused on the popular networking and telecommunications products from Cisco Systems, but they also provide a significant amount of knowledge related to networking in general. Two Cisco certifications that a network administrator should pursue are the Cisco Certified Network Associate (CCNA) and Cisco Certified Network Professional (CCNP).
CCNA Certification
CCNA certification builds upon the general skills you learned during Network+ exam prep with proprietary topics, such as how to install, monitor and troubleshoot Cisco devices. Most candidates spend a lot of hands-on time with Cisco equipment (or with lab simulators for online training). Through its training partners, Cisco offers a range of campus-based and online Cisco training programs where you can gain hands-on experience using the latest Cisco devices.
After completing the CCNA certification, there are many specialized Cisco certifications network administrators can pursue depending on their goals and interests. Specializations include network security, voice, and wireless topics.
CCNA study time: 3 months
CCNP Certification
The CCNP is an advanced Cisco certification and includes complex topics on security, voice, wireless, and video solutions within both local (LAN) and wide area networks (WAN).
It's common for people pursuing the CCNP through self-study to buy routers and switches to build their own lab.
CCNP study time: 6 months after passing CCNA
Microsoft Certifications
The mass majority of computers used within organizations run Microsoft operating systems. With this in mind, knowledge of Microsoft technologies is vital. Earning the latest Microsoft certifications is the best way to prove this knowledge to employers.
As a general rule, plan to study about 60 days for any Microsoft certification exam. This assumes you have a solid IT knowledge base and meet the prerequisites for the exam.
People that self-study Microsoft certifications commonly use virtualization to create entire practice networks. If you have a powerful PC, you can easily set up a virtual environment with one or more virtual servers and one or more virtual desktop systems. For those who prefer to learn in a classroom (or virtual classroom) environment, there is a variety of instructor-led Microsoft training programs.
MCSA Certification
The Microsoft Certified Solutions Associate (MCSA) group of certifications provide a foundation for Microsoft technicians. This group includes several certifications that a network administrator should consider, especially those in Azure, Microsoft's wide-ranging cloud computing solution that's rapidly gaining market share.
MCSE Certification
After becoming MCSA certified, there are many specialized Microsoft Certified Solutions Expert (MCSE) certifications you can pursue. For example, the MCSE credentials in Windows Server and Windows can apply directly to network administrator job roles.
Summary
If you plan on pursuing a job as a network administrator, it's best to lay a solid foundation with CompTIA's A+, Network+ and Security+ certifications. With a little dedication, you can obtain these three credentials in about six months of study.
Next, decide on a Cisco or a Microsoft path. If you plan on working with Cisco devices, you can follow up with the Cisco CCNA certification, and should be able to get it within six months, followed by three more exams for the CCNP in another six months.
If you want to work with Microsoft products, the MCSA certifications are the logical place to start and you can typically get certified within four to six months, depending on which certificates you pursue. If you obtain an MCSA you can follow it with specialized MCSE certifications. Each MCSE will take about four more months.
The ideal certification track of a network administrator is not set in stone, however the learning plan laid out above will help you build a well-rounded and highly marketable skill set, and prepare you to perform in the majority of network administration positions. Good luck!