Google Career Certifications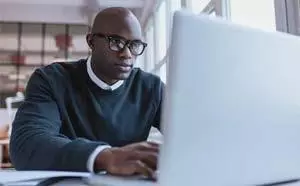 Google career certifications provide the skills and credentials to launch a range of IT careers.
Google now offers a selection of career-focused certificates for aspiring IT professionals. These online training programs are designed to prepare you for careers in sought-after domains like technical support, data analytics, project management, user experience design, digital marketing and mobile application development.
This page will provide an overview of Google's career certificate program, including the benefits of getting certified, jobs you can land with a Google cert and how much you can earn, as well as links to deep-dive descriptions of each certification.
Find Google Certification Training
Benefits of Google Certifications
When compared to traditional IT training programs, Google career certifications have a strong value proposition. Key benefits of Google certifications include:
Flexibility: Google certificate programs are self-paced and available 100% online. Most Google certs take less than 6 months to complete with 10 hours of weekly study.
Affordability: Google certificates cost $49/month by subscription on Coursera, the online learning platform that's providing the official Google certification training. Scholarships and financial aid are available too.
Relevance: The curriculum of each Google IT certificate is well-designed for current and projected market needs in its respective discipline.
Authority: Even though these credentials are relatively new on the scene, Google's name lends an air of legitimacy to these certifications.
Accessibility: Google career certificates demand no prerequisites, making it easy for almost anybody to begin on the path to a career in IT.
Effectiveness: 75% of Google certification holders report a positive impact on their career - such as a raise, promotion or new job - per responses to a 2021 graduate survey from Google.
Transferability: The American Council on Education (ACE) recommends anywhere from 9 to 12 college credits for Google IT certificate holders, depending on the cert. Learn more on the ACE website.
There's quite a few advantages to Google career certificates, but like any training program, it's not the right fit for everyone. The ideal candidate for Google certification training is a self-motivated, independent learner with at least 5 hours per week to devote to study.
Google Career Certificates List
Click on the certification names below for a deep-dive description of each Google IT certificate, including skills you will learn, program costs, duration, jobs and salaries.
This list represents the most in-demand Google career certificates and will be updated as certs change and launch. For up-to-the-minute info, visit the official Grow with Google website.
Google Certification Jobs & Salaries
Currently, there's not enough field-based wage data of Google certified pros for an accurate earnings figure by certification, but here are some popular jobs you can pursue with a Google career certificate and the salary for each position.
Google Career Certificate
IT Job Role
Average Salary
Google IT Support Certificate
Help Desk Technician
$49,000
IT Support Specialist
$53,000
Network Administrator
$72,000
Google UX Design Certificate
Web Developer
$68,000
User Interface (UI) Designer
$84,000
User Experience (UX) Designer
$96,000
Google Project Management Certificate
Project Manager
$77,000
IT Project Manager
$99,000
Agile Project Manager
$108,000
Google Data Analytics Certificate
Associate Data Analyst
$67,000
Junior Data Scientist
$84,000
Business Intelligence Analyst
$90,000
Associate Android Developer Certification
Mobile Application Developer
$94,000
Junior Software Engineer
$94,000
Android App Developer
$110,000
Google Digital Marketing & E-commerce Certificate
Marketing Coordinator
$45,000
E-commerce Specialist
$58,000
Digital Marketer
$82,000
Google Cybersecurity Certification
IT Security Specialist
$107,000
Cybersecurity Analyst
$90,000
Cyber Defense Analyst
$87,000
Source for salary data: Indeed.com
Google Certification Training
These online courses and degrees align with popular Google career certifications.
Frequently Asked Questions
Here are some commonly asked questions from prospective students in the Google career certification program:
How much experience do I need to pursue Google career certifications?
None. Google certificates are designed for beginners and thus there is no experience required.
How much do Google career certificates cost?
Each Google career certification costs $49 per month via subscription on Coursera. The typical Google career cert takes 6 months to complete with 10 hours of weekly study, for an estimated average price of $294.
Are Google certifications worth it?
Yes. With a solid curriculum, shareable certificate, flexible training options and affordable fees, Google career certificates are a worthwhile investment in your IT career.
Search IT courses and degree programs by job role, technology platform & major.
About Grow with Google
In 2017, Google launched its Grow with Google initiative, a suite of technical training programs, professional certificates and resources to help people advance their IT careers and organizations. Google career certificates are a key part of this enterprise.