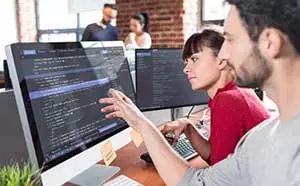 Information Technology (IT) continues to change the way we live, play and do business, so it should come as no surprise that IT is among the fastest growing sectors of the American workforce, and will continue to be for years to come.
The dominance of the information technology job market is due to numerous factors, including the rapid growth of the Internet and e-commerce, increased demand for information security specialists spurred by escalating cyber attacks, the advent of smarter applications enabling companies to analyze business data for unprecedented intelligence, cloud computing revolutionizing the way IT departments operate, and the proliferation of mobile devices.
For established information technology professionals or those beginning an IT career path, this is great news. However, despite rapid growth and increased opportunity, simply showing up will not guarantee success. The IT job market will continue to get more competitive as people follow the money and jobs. This is why it's important to clearly identify your tech career objectives and develop a learning plan with the necessary skills, computer training, and IT certifications to build a competitive edge and achieve your goals.
Understanding the current technology career landscape is your first step. Profiled on this page are some of the most sought-after IT careers based on earning power, growth potential, job outlook, and excitement. Click the button below each tech job summary for a deep-dive job description.
In-Demand IT Careers
Subject Matter Expert Contributor