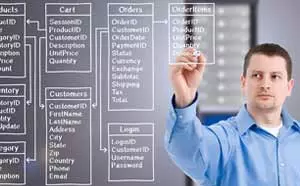 Database Administrators organize and manage a company's data.
Database administrators ensure that business data is accurate, available and secure. The corporate database is the heart of key business systems that drive payroll, manufacturing, sales and more, so database administrators are recognized - and rewarded - for playing a crucial role in an organization's success. Beyond database administrators' high salary, DBA roles offer the personal satisfaction of solving business problems and seeing (in real-time) how your hard work benefits the firm.
A typical database administration learning plan begins with an undergraduate degree in computer science, data analytics, computer information systems (CIS) or a related field of study. A balance of technical, business and communication skills is critical to a database administrator's success and upward mobility, so the next step in a DBA's education is often a graduate degree with an information systems concentration, such as a MBA in Management Information Systems (MIS) or CIS.
Featured Data Analytics Programs
These top-rated online courses and degrees in data analytics are currently enrolling students.
Bachelor of Science in Data Analytics
Southern New Hampshire University
Leverage Data to Drive Business Goals
Learn Python, SQL, Tableau and R
Big Data Analysis and Visualization
Project Management for Data Analytics
Master of Science in IT - Analytics
Capella University
Data Mining and Predictive Modeling
Learn SAS, R, Python and Tableau
Big Data Visualization and Presentation
Use Applied Forecasting to Solve Problems
Database administrators can continue to learn and advance their career by getting certified in one or more database management systems (DBMS); in-demand DBMS include Oracle, Microsoft SQL Server, IBM DB2 & MySQL. Learn more about DBA education requirements and compare the top-rated database administrator training programs.
a.k.a. DBA | Database Analyst | Database Manager
DBA Skills and Responsibilities
Typical day-to-day duties and in-demand skill sets for DBAs include the following. Database administrators:
Implement, support and manage the corporate database.
Design and configure relational database objects.
Are responsible for data integrity and availability.
May design, deploy and monitor database servers.
Design data distribution and data archiving solutions.
Ensure database security, including backups & disaster recovery.
Plan and implement application and data provisioning.
Transfer database information to integrated mobile devices.
Some database administrators design and develop the corporate database.
Some DBAs analyze and report on corporate data to help shape business decisions.
Produce entity relationship & data flow diagrams, database normalization schemata,
logical to physical database maps, and data table parameters.
Database administrators are proficient in one or more of the leading database
management systems, such as, Microsoft SQL Server, IBM DB2, MySQL and Oracle.
---
Database Administrator Salary
The mean annual salary for database administrators is $99,000, according to the latest data from the US Bureau of Labor Statistics.
| | |
| --- | --- |
| Database Administrator Salary $99,000 | |
Average salaries for database administrators and related positions:
Database Developer: $92,000
MySQL Database Administrator: $94,000
IBM DB2 Database Administrator: $97,000
Oracle Database Administrator: $98,000
Database Administrator: $99,000
Senior Database Administrator: $102,000
Oracle Applications Specialist DBA: $107,000
Database Engineer: $109,000
Database Team Leader: $144,000
Top paying US cities and metro areas for DBAs:
San Jose, California: $143,000
Seattle, Washington: $120,000
New York City Metro Area: $119,000
Washington DC Metro Area: $116,000
San Francisco, California: $115,000
The hourly wage for database administrators ranges from $30 to $90, depending on the DBA's education, location, proficiency in known database management systems, certifications and experience.
Deep dive into database administrator salary ranges.
Sources: U.S. Bureau of Labor Statistics • Indeed.com
---
Database Administrator Education Requirements
Database administration positions typically require at least a bachelor's degree in Computer Information Systems (CIS), Computer Science, Database Administration or a related field of study. Many employers prefer to hire MBAs for database administration jobs, because in addition to the extra technical database training, MBAs are well-versed in key business domains, e.g., accounting, marketing and management, and they're more adept at communicating with technical and non-technical employees - two traits of highly successful DBAs. Popular MBA concentrations for database administrators include Management Information Systems (MIS), Database Management and CIS. Database administrators can further distinguish themselves and advance their careers with specialized training and certifications in the leading database management systems, i.e., Oracle 11g, Microsoft SQL Server, IBM DB2, Sybase and MySQL.
Research and compare the top-reviewed database administration training programs in the U.S. and online.
---
DBA Training & Degree Programs
Compare undergrad and graduate degrees, professional certificates and self-paced online training courses matching the database administrator education requirements and career path.
Google Data Analytics Pro Certificate
Includes Certification Preparation for:

Google Data Analytics Professional

Learn to use Popular Data Analytics Tools inc. Tableau, SQL, R Programming, Spreadsheets & Slideshows
Clean, Organize and Analyze Complex Data Sets
Data Visualization & Stakeholder Presentation
Constructive Questioning and Structured Thinking
Bachelor's in Computer Science - Data Analysis
Gain the Skills and Credentials to Pursue Sought-After Careers in Data Management
Create and Manage Structured Databases
Analyze Data to Meet Organizational Goals
Advanced Statistics for STEM Disciplines
Use Emerging Tech in Cloud Computing, Artificial Intelligence (AI) and Machine Learning (ML) to Analyze Big Data
Master of Science in IT - Analytics
Use analytics, statistics & forecasting to drive smarter business decisions
Identify relevant data and sources to solve complex business problems
Address global, ethical, legal & cultural factors in data analytics
Create effective data visualizations and stakeholder presentations
Must have a bachelor's degree to apply. GRE / GMAT not required.
Search IT courses and degree programs by job role, technology platform & major.
---
Certifications
Marketable certifications for database administrators include the following:
---
Database Job Openings
Your specialized database administration training, experience and certifications may qualify you for a range of lucrative positions. Browse and apply to these DBA job openings:

---
Database Administrator Job Outlook
Employment of database administrators is expected to grow by 8% from 2020 to 2030, right inline with the 8% average for all occupations, according to the U.S. Bureau of Labor Statistics. As businesses continue to accumulate record amounts of data, the demand for trained and certified database administrators to store, organize, analyze and secure this data will continue to rise.
In addition, as more databases are integrated with the Internet and cloud, data security will become increasingly complex, thus a growing number of database administrators with skills in cybersecurity and cloud computing will be required to protect sensitive information from hackers and other threats. DBAs with expertise in the leading database management systems, such as Microsoft SQL Server, Oracle, MySQL, and IBM DB2 will enjoy greater hiring prospects as well.
Source: U.S. Bureau of Labor Statistics' Occupational Outlook Handbook
---
Related Careers
---
Subject Matter Expert Contributor