Best Computer Science Schools in Illinois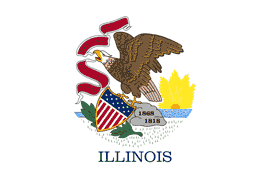 Research the best computer science schools in Illinois.
Home to Chicago - one of our most diverse and impressive cities, delicious food from around the world, and a prolific sports culture, Illinois has a lot to offer. Beyond being a great place to live, the Prairie State has some of the nation's top colleges for computer science and engineering. The best computer science schools in Illinois include The University of Chicago, University of Illinois in Urbana-Champaign, and Northwestern University in Evanston.
For those who remain in-state after finishing computer school in Illinois, the startup scene is thriving, especially in and around Chicago. Known for their strong work ethic, pragmatism and creativity, Chicagoans make attractive employees in the flourishing high-tech space. Big tech is taking notice too, with major players like Google, Salesforce and Groupon building a significant presence in the Chicago area.
Find top-rated computer science schools.
Best CS Schools in Illinois
Compare the top-ranked colleges and universities for computer science in Illinois.
University of Illinois Urbana-Champaign
The University of Illinois in Urbana-Champaign is the best school for computer science school in Illinois. The University's Grainger School of Engineering has graduated 8 Nobel prize winners, is routinely a top-10 school for undergraduate and graduate programs in CS and engineering, and ranked as the #5 computer science program in the nation by US News & World Report.
Comp-Sci Majors and Minors include:

Systems Engineering and Design
Computer Science
Computer Engineering
Engineering Mechanics
Bioengineering
Materials Science and Engineering

Campus Locations:

UIUC: Urbana-Champaign: 601 E John St. | Champaign, IL 61820
University of Chicago
Located in the historic Hyde Park neighborhood just 20 minutes from downtown, UC students get the best of both worlds - a comfortable home with a college-town vibe, and easy access to a bustling metropolis. UChicago offers a world-class computer science program, featuring interdisciplinary research in emerging domains like artificial intelligence, data science and quantum computing.
Undergrad & Graduate CS Degrees in:

Artificial Intelligence (AI) & Machine Learning (ML)
Scientific and High Performance Computing
Advanced Cyber Security & Privacy
Human Computer Interaction
Systems, Architecture & Networking

Campus Locations:

Hyde Park: Rosenwald Hall | 1101 E. 58th Street | Chicago, IL 60637
Online Computer Schools in Illinois
These leading online computer science schools are accepting applicants from Illinois.
Capella University
Capella University offers online computer science degrees that focus on the skills, platforms and certifications that employers demand.
Computer Science Programs in:

Data Management and Analytics
Information Assurance & Cybersecurity
Networking with Cisco & Microsoft Technologies
Web and Software Development
Southern New Hampshire University
SNHU's online computer science programs feature experiential learning and hands-on projects to provide the skills needed for success in the modern IT workforce.
Undergraduate & Graduate Programs in:

Computer Science and Engineering
Business Intelligence & Analytics
Graphic Design & 3D Animation
Information Security
Top Paying Computing Jobs in Illinois
For those who live and work in-state after completing training, here's how much you can earn in the top paying tech roles in Illinois.
Source: U.S. Bureau of Labor Statistics
Regional Tech Pay in Illinois
These Illinois metro areas pay the highest wages to computing and IT professionals.
| Location in Illinois | Hourly IT Salary | Annual IT Salary |
| --- | --- | --- |
| Bloomington, IL | $48.04 | $99,920 |
| Chicago-Naperville-Elgin, IL-IN-WI | $45.39 | $94,400 |
| Peoria, IL | $43.08 | $89,610 |
| Springfield, IL | $41.57 | $86,460 |
| Champaign-Urbana, IL | $38.98 | $81,090 |
Source: U.S. Bureau of Labor Statistics
Frequently Asked Questions
Here are some popular questions from prospective computing and engineering students in Illinois.
What's the best computer science college in Illinois?
University of Illinois Urbana-Champaign (UIUC) is considered to be the state's best college for computer science. US News & World Report ranks UIUC as the best CS school in Illinois.
Search more IT courses and degree programs by job role, technology vendor & major.