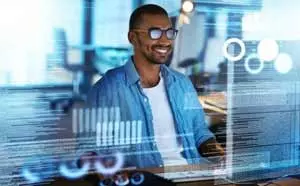 DevOps engineers merge expertise in coding, testing, integration & project management to optimize the software development life cycle.
What is DevOps?
Traditional software development projects used a compartmentalized mindset. When the need arose for a new piece of software, a company would assemble a team devoted to that application. Once that team creating the app, the completed software would be passed to an operations team to manage.
Any updates to the software would require a business to pull together a new team to address those issues. That often caused friction between the operations team charged with making sure a platform remained viable for users, and development teams who were focused on getting their changes up and running.
Featured Programs in Software Development
These top-rated online programs in software development and computer programming are currently enrolling students.
Southern New Hampshire University
Featured Development Programs:
DevOps evolved from the mindset of agile development, which takes a more collaborative and iterative approach to software development. It promotes continuous interactions and feedback between team members and stakeholders as they work to refine and improve a piece of software. Approaching application management from a DevOps perspective makes room for the continuous evolution of a project while promoting the partnership between IT development and operations areas - hence the moniker "DevOps."
With DevOps, companies gain the ability to standardize how they approach application development while automating the delivery, security, and maintenance of various software products. It's a way of breaking down the costly silos that often crop up in organizations of all sizes in application development.
How do DevOps Engineers Fit Into an IT Organization?
DevOps engineers facilitate various aspects of development and operations by taking on several roles throughout the process. They make sure the company stays on-track in delivering on project goals. They ensure consistency in making code changes and deployments of new versions of software to various environments.
The best DevOps engineers understand how to step back and see the big picture. They also know how to assess individual functions in a process and make them work more efficiently. For example, they may make a recommendation on the tools that testers should use when evaluating the viability of a new web application.
Computer schools offer courses, certificates, and college degree programs featuring the skills you need to become a devops engineer. Compare devops engineer training programs in the U.S. and online below.
a.k.a. Development Operations Manager | Integration Specialist | Release Manager | Automation Engineer
What are the Responsibilities of a DevOps Engineer?
Good DevOps engineers make software functions appear seamless from the outside. They interpret and execute the needs of developers, managers and other stakeholders and address issues that come up during different project iterations.
DevOps engineers function similarly to IT project managers in many ways. They help bridge the gap between the operations team and developers and help each other understand the role they play in ensuring successful software project outcomes.
Let's take a deeper look at some day-to-day tasks of DevOps Engineers:
Infrastructure Management: DevOps engineers continuously monitor the different functions that go into app development and deployment. They make sure users have the access they need, that databases can scale to meet business demands, and oversee the management of different workflow processes. The role also calls for oversight of testing and automated deployments.
Security Oversight: DevOps engineers ensure the security and integrity of any software deployed by the company. They look for and resolve any problems that could lead to breaches of confidential business data. DevOps engineers also collaborate with the cyber security team to ensure compliance with existing company protocols.
Automation Management: Modern DevOps typically involves the use of various automation tools to ensure the smooth delivery of code to different environments. DevOps engineers should understand how to wield automation to eliminate manual processes and add more efficiency to the software development life cycle.
What Skills do DevOps Engineers Need?
A reliable DevOps specialist understands every aspect of the Software Development Life Cycle (SDLC) - which is basically defined as the systematic procedure for planning, developing, testing, deploying and maintaining a software system. They also need a solid understanding of core DevOps principles and best practices.
Here are some of the most important and marketable skill sets for devops engineers:
Agile Development: DevOps engineers help teams organize work in shorter iterations, called sprints, to get through an increased number of releases. They also help map out the work that teams must complete in upcoming iterations, and incorporate feedback from each version of a software platform to address future issues.
Continuous Integration (CI): DevOps engineers make sure that new code coordinates properly with an existing codebase. It's their job to ensure consistency in development and avoid the inclusion of components that would hurt performance and negatively affect users.
Continuous Delivery (CD): DevOps engineers oversee the continual delivery of new code via testing and automation. They look for ways to remove waste and ensure that code is consistently ready-to-deploy. DevOps engineers should understand how to leverage popular CI/CD tools like Jenkins to manage different aspects of continuous delivery.
Orchestration: One essential skill often relied upon by DevOps engineers is being able to analyze current practices and look for ways to improve efficiency by removing manual tasks. The orchestration process makes sure any repetitive steps performed by humans get transformed into an automated process to speed up deployments. Such functions include implementing database changes or launching a new web server.
Source / Version Control: Source control tools, also called version control tools, help DevOps engineers cut down on development time and improve their chances of having successful deployments. These tools facilitate the tracking and storage of any changes to software projects over different periods. Popular source control tools include GitHub, Subversion, AWS CodeCommit, and Microsoft Team Foundation Server.
Container Management: Containers make it easier for DevOps engineers to set up hosting of different applications in a portable environment. They let you create exact copies of a system required for deployment. Containers are more lightweight than the virtual machines used for this purpose in the past. Examples of popular container technology include Docker, Kubernetes, Microsoft Containers, and DigitalOcean. Using containers helps DevOps engineers ensure consistency across multiple environments.
Programming Knowledge: Having a programming background is crucial to success as a DevOps engineer. Some languages that a prospective DevOps engineer may want to learn include Java, Python, PHP, C#, Ruby, G and JavaScript.
What Kind of Background Should a DevOps Engineer Have?
Anyone interested in filling the role of a DevOps engineer within an organization should have experience working with different testing tools, integration technology, working with automation, and various programming languages. Most DevOps engineers start with a background in IT project management, system management, database administration, software development, or other IT careers.
---
DevOps Engineer Salary
Thanks to their significant impact on business processes and the bottom line, DevOps engineers enjoy one of the highest base salaries in the IT job market. The mean annual wage for development operations engineers in the U.S. is $119,000.
| | |
| --- | --- |
| DevOps Engineer Salary: $119,000 | |
Average salaries for DevOps engineers and related job roles:
DevOps Engineer: $119,000
Software Developer: $108,366
Front-End Web Developer: $107,276
IT Project Manager: $96,509
Database Administrator: $95,357
Computer Systems Analyst: $80,787
Computer Programmer: $76,085
Top paying states for DevOps engineers:
California: $150,000
New York: $146,000
Massachusetts: $140,000
New Jersey: $135,000
Washington: $133,000
Sources: Indeed.com | Talent.com
---
DevOps Engineer Education Requirements
DevOps engineers typically start with an undergraduate degree in software engineering, computer science, or a related information technology field. A degree in mathematics can also provide the foundation needed to progress in DevOps engineering.
Aspiring DevOps engineers should choose a curriculum allows them to focus on the following disciplines:
Software Development: DevOps engineers should learn how to design, build, and implement software applications. Languages that aid in front and back-end web development include Go, Scala, JavaScript, PHP, and Ruby. It's also helpful to learn about modern JavaScript frameworks and runtimes like React, Angular, Node.js, Polymer, and Vue.
Cloud Architecture: With so many organizations moving toward cloud technology for data and application needs, DevOps engineers should know the basics of cloud architecture. This role will likely require the management of applications and databases on a cloud server. Look for programs that cover topics like cloud computing, database management in the cloud, and serverless architecture.
System Architecture: DevOps Engineers should understand how to assess and support the entire DevOps pipeline used to support development, testing, and CI/CD processes. That means understanding the flow of all company systems and the impacts various changes have on users in different areas of an organization. Take courses covering topics like distributed system design, software architecture and design, and client-server design. Knowing the ins and outs of data recovery, networking, and memory management is also helpful.
While it's vital to have the right technical expertise (hard skills), DevOps engineers also need business and communication know-how (soft skills) to succeed in this role.
Here are some of the most desirable soft skills for DevOps engineers:
Effective team management and leadership
Clear and precise communication to users across different levels of technical knowledge
An understanding of company culture and the people using managed software products
A commitment to quality control to ensure the integrity of the DevOps process
The ability to provide consistent feedback to developers and other stakeholders
Compare courses and degrees that align with devops' education requirements.
---
DevOps Engineer Courses & Degrees
To date, there aren't many college degrees focused expressly on devops, however many programs include coursework in the skills needed to become a DevOps Engineer. Here are some courses and degree programs that align well with devops engineering.
Search IT courses and degree programs by job role, technology platform & major.
---
DevOps Engineer Certifications
DevOps engineers looking to enhance and validate their skills should consider earning certifications in these domains. It shows employers your commitment to maintaining and growing your skillset. Keep in mind that every company has their preference when it comes to a technology stack.
Here are some of the most desirable certifications for devops engineers:
---
Job Outlook for DevOps Engineers
The future for DevOps engineers is as bright as the overall prospects for the field of information technology. As long as there are developers creating new projects for companies, there will be a need for those experts who can take a 360-degree view of what's involved in building, testing, and releasing quality builds to better serve customers.
That view is backed up by a 2019 DevOps Skills Report from the DevOps Institute. The survey showed high workforce demand for skilled development operations engineers to manage their code releases, greater than any other kind of software engineer.
According to the U.S. Bureau of Labor Statistics, the job market for software developers (the closest position to devops engineer in the BLS projections) is expected to grow by 19 percent from 2020 through 2030, more than double the 8% growth rate for all occupations. The DevOps segment should grow even faster.
Lasting success and upward mobility in devops means constantly growing your skill set. There's always a new technology on the horizon promising to change how we build, release and manage software. It's up to DevOps engineers to assess their viability and make sure they're safely incorporated into the current CI/CD model favored by their employer.
Sources: DevOps Institute | U.S. Bureau of Labor Statistics
---
DevOps Engineering Jobs
Your DevOps skills and experience may qualify you for a range of lucrative positions. Use the links below to browse and apply to:

---
Related Careers
---
Subject Matter Expert Contributor