Business Intelligence Degrees & Courses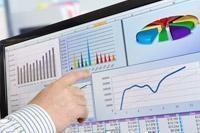 Business Intelligence (BI) - the process of using technology to extract actionable intelligence from organizational data - is one of the most sought-after skills in the modern workforce. In order to improve offerings, reduce costs or otherwise gain a competitive edge, organizations are amassing huge data caches and driving record demand for BI analysts to interpret this wealth of information. Professionals with degrees in business intelligence will be well-positioned to capitalize on this trend.
The following certificates and online degree programs in business intelligence feature coursework in marketable skills such as data mining, machine learning, data visualization, BI programming and more.
Find certificates and degrees in business intelligence and analytics now.
This page will break down the most important considerations when choosing a business intelligence program, including:
the classes you should look for in the curriculum of a business intelligence degree
various levels of BI programs with data like cost, length & admission requirements
careers and salaries you can achieve with a college degree in business intelligence
answers to the most frequently asked questions from prospective BI students
Popular Business Intelligence Classes
The skills you will learn during the program are the most important factor when choosing a business intelligence degree. Here are some marketable hard skills, soft skills and certifications that employers want, and which you should look for when choosing a business intelligence program.
Hard Skills
Hard skills are the tools, techniques and platforms you will use on the job. Look for these hard skills in a business intelligence degree:
Data Mining: Data mining is the sorting of massive data sets to identify patterns that can be used to predict future business trends and power smarter decision-making.
Popular BI Platforms: Learning how to use the leading business intelligence programs will increase the value of your BI degree and boost your job prospects. Sought-after business intelligence platforms include SAS, Microsoft Power BI, Tableau, Qlik, IBM Cognos and Tibco.
Advanced Statistics: As the mathematical discipline that covers the collection, analysis, interpretation and presentation of data, statistics is a vital skill for BI analysts and data scientists.
Artificial Intelligence / Machine Learning: AI and ML are making a big splash in the business intelligence world; a key reason for this is their effectiveness in constructing predictive analytics models.
Data Visualization: Making your BI findings clear to decision makers by the use of charts, graphs and other illustrations, a.k.a., data visualization, is a key competency to look for in a business intelligence degree program.
Big Data Analysis Tools: Technologies used to extract actionable intelligence from big data sets are in high demand across all industries. Marketable big data platforms include MongoDB, Cassandra, Apache Spark and Hadoop.
Business Intelligence Programming: Some BI and data analytics roles require coding expertise; marketable languages to look for in a business intelligence degree program include Python, R, SQL, Java and Scala.
Finance and Economics: In a field like this where business intersects technology, it's smart to attend finance and economics courses that will increase your business acumen.
Top-Rated Business Intelligence Degrees
These online degree programs in business intelligence and data analytics best reflect the skills and credentials that employers demand.
Bachelor of Science in Data Analytics
Capella's bachelor's degree in data analytics will prepare you for a variety of job roles such as data analyst, database manager and business intelligence developer. Core curriculum in this online program includes valuable IT domains like cyber security, programming, networking and project management, and how to apply these skills to achieve data-driven business goals. This degree features courses from SAS Institute (developers of the industry-leading Statistical Analysis System software suite) which prepare students for the SAS Certified Base Programmer certification exam.
Program Highlights:
Includes certification prep for:

SAS Certified Base Programmer
CompTIA A+ and Network+

Data Governance and Information Security
Integrate & Analyze Data from Multiple Sources
Data Extraction, Transformation & Loading (ETL)
Data Interpretation & Statistical Analysis in SAS
Big Data Delivery Strategies and Creative Reporting
Data Distribution in Cloud and Virtual Environments
Related programs at Capella University:
BS - Data Management
BS - Business Intelligence
BS - Information Assurance & Cybersecurity
MS - Data Analytics
Bachelor of Science in Computer Science - Data Analysis
SNHU's online bachelor's degree in computer science with the data analysis concentration covers the necessary skills and platforms to manage the vast data stores of the modern enterprise. Graduates from this program will be prepared for job roles such as business intelligence analyst, database administrator and big data specialist.
Program Highlights:
Create and Manage Structured Database Environments
Use Data Analysis to Meet Organizational Goals
Advanced Statistics for Science, Technology, Engineering & Mathematics (STEM)
Wield Emerging Tech in Cloud Computing, Artificial Intelligence (AI) and Machine Learning (ML) to Analyze Big Data for Actionable Intelligence
Related online degree programs at SNHU:
AS in Information Technologies
BS in Cyber Security - Data Analytics
MS Data Analysis
MBA Business Intelligence
Search more IT courses and degree programs by job role, technology vendor & major.
Business Intelligence Degree Levels
College degrees in business intelligence and data analytics come in multiple levels, the 3 most common being associate, bachelor's, and master's. The ideal BI degree for you will depend on multiple factors, including your current level of education, career goals, and the time and money you wish to invest in training.
Here are the most popular types of business intelligence programs along with the cost, duration, and admission requirements for each:
Associate Degree in Business Intelligence
Associate degrees in business intelligence or data analytics usually take 2 years to complete as a full-time student. Typical admission requirements for a BI associate degree are a high-school diploma or passing grade on the GED.
The average net price (after financial aid has been applied) for an associate degree in business intelligence is $8,147, according to the National Center for Education Statistics.
Positions you can pursue with a business intelligence associate degree include entry-level data analyst and junior business analyst.
BI Degree Programs Online
Compare accredited online degrees in business intelligence, data analytics and related fields of study.
Business Intelligence Master's Degrees
Featured online master's degrees in business intelligence and related disciplines:
Business Intelligence Bachelor's Degrees
Featured online bachelor's programs in business intelligence and data analytics:
Business Intelligence Boot Camps
Business intelligence boot camps are accelerated training programs that cover the essential skills to become a data analyst or BI professional. Because of their rapid pace and the fact that they often require some baseline knowledge, BI boot camps are an ideal option for those who already have experience in a related field.
Data Analytics Boot Camp
Gain the expertise to become a business intelligence analyst in just 24 weeks. Learn the data analytics skills that employers demand via engaging online content and live, instructor-led virtual classes.
Program highlights:
Essential data science skills inc. Tableau, Excel, Machine Learning & Statistics
Learn sought-after BI programming languages such as Python, SQL, and JavaScript
Career Services inc. Interview Prep, Portfolio Review, 1:1 Coaching and Resume Support
Schools offering this program:
Frequently Asked Questions
Business and IT insiders answer common questions from people considering a degree program in business intelligence.
Further Reading