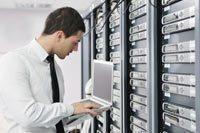 Networking professionals - including network administrators, managers and engineers - are among the nation's hottest IT career paths, especially for those with the right skills and credentials. In addition to the requisite education in Cisco hardware and Microsoft software, today's most sought-after network specialists are skilled in cutting-edge domains like cloud computing, cyber security, virtualization and mobile device management.
The following computer networking courses and degree programs feature skills and certifications that will prepare students for the modern workforce. Jump ahead to compare networking degree programs in the U.S. and online, or read on for some tips on how to choose the best possible computer networking degree.
Choosing a Networking Degree
Here are the most important items to consider when selecting a college degree in computer networking:
Curriculum
The key element of a networking degree is the skills and technologies you will learn over the course of the program, a.k.a. the curriculum. Here are the courses and subjects you should look for in a computer networking degree:
Network administration - Networking pros should be able to configure and manage the leading types of enterprise networks, e.g., LAN (local area network), WAN (wide area network), SD-WAN (software-defined WAN), Wireless, and VoIP (voice over internet protocol).
Cyber security skills are a hottest commodity in computer networking. Marketable skills include firewall and antivirus management, cloud security, access control management, and wireless network security.
Network design, sometimes called network engineering or network architecture, is the skill set needed to build a computer network from the ground up or analyze and improve the existing network.
Virtualization - network specialists will benefit from knowing how to install, configure and manage virtual networks and remote machines.
Soft skills like multitasking, problem solving, and interpersonal communication will also help you succeed in computer networking roles.
Featured Networking Degrees
BS - Network Technology: Cisco
Through classroom lectures, real-world learning scenarios, and hands-on practice with industry-leading technologies, students in this program will gain the skills and credentials to design and manage enterprise networks.
Program Highlights:
Includes Certification Preparation for:

Cisco Certified Network Associate (CCNA)
CompTIA A+, Network+, Security+, Project+ & Linux+

Design and Manage Cisco Wired / Wireless Networks
Network Security Threats and Countermeasures
VoIP & Telecommunications System Administration
Technology Project and Process Management Training
Explore Hot IT Trends inc. RFID Architecture, Cloud, Mobility & Virtualization
Learning Method:
Online Degree
Degree Level:
Bachelor
Accredited School:
Yes
Financial Aid:
Federal, State, Military and Scholarship

Related Programs at Capella University:
BS - Network Technology: Microsoft
BS - Information Assurance & Security
MS - Network Management
PhD - Information Assurance & Security
---
Bachelor of Science in Cybersecurity
This online bachelor's degree provides the info security, networking and management skills modern employers demand, while preparing students to earn useful IT certifications. Graduates of this program will be prepared for job roles such as information security analyst and network administrator.
Program Highlights:
Includes Certification Preparation for:

CompTIA A+, Network+ and Security+
TestOut Network Pro, Security Pro & Pro PC

Design Secure Computer Networks and Applications
IT Risk Management & Info-Sec Policy Creation
Cyber Attack Incident Response and Investigation
Learn how to Manage IT Projects and Services
Learning Method:
Online Degree
Degree Level:
Bachelor
Accredited School:
Yes
Financial Aid:
Federal, State, Military & Scholarships

Related Degree Programs at SNHU:
AS Information Technology
BS Cybersecurity - Data Analytics
BS Computer Science - Information Security
MS IT - Information Security
---
Network Administration Courses, Degrees & Certificates
Research and compare degree programs from accredited colleges, IT certification boot camps, and self-paced online courses matching the network administrator career path and education requirements.
Network Administrator Career Resources