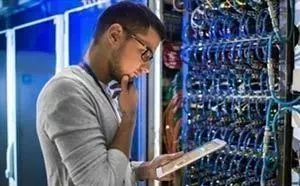 As technology continues to evolve and devices and workers become increasingly connected, the demand for skilled and qualified network administrators is soaring. Network administrators are the beating heart of the IT infrastructure, responsible for ensuring smooth operations, efficient communication, and secure data flow. One of the key stepping stones to this dynamic career is a degree in network administration.
This guide will provide an in-depth look at network administration degrees, including their benefits, curriculum, degree level-comparisons, and potential career outcomes. We'll also highlight some of the best online network administration degrees at the associate, bachelor's, and master's levels.
Featured Network Management Programs
Explore high-quality, flexible online programs in computer networking and related fields.
Contact these schools to learn about start dates, transferring credits, financial aid & more.
Southern New Hampshire University
Top Networking Programs:
Capella University
Top Networking Programs:
Why Choose a Network Administration Degree?
In the age of proliferating interconnectivity, network administrators who can keep devices and communications systems functioning properly and securely are valuable across all sectors. A network administration degree offers students a structured pathway into this thriving field.
Here are a few reasons to consider a network administration degree:
Dynamic Curriculum
A degree in network administration covers a wide range of marketable tech subjects including the basics of hardware and software, network management, information security, and cloud computing. This broad and varied curriculum keeps the learning experience engaging.
Career Versatility
Graduates of a network administration degree can work in various sectors such as healthcare, finance, education, technology and so on. The skills learned in a networking program are transferable across industries, allowing students to pursue a wide range of IT career paths.
Earning Potential
Network administrators are well paid. According to the US Bureau of Labor Statistics, the median annual salary for network and computer systems administrators is $80,600 and climbing. This is much higher than the $45,760 median wage for all occupations.
Curriculum in a Network Administration Degree
Network administration degrees offer a comprehensive curriculum designed to provide students with an understanding of managing, maintaining and troubleshooting computer networks and IT systems.
Here's an overview of the courses you will find in a network administration program:
Intro to Computer Systems
This foundational course introduces students to the essentials of computer hardware, software and operating systems, as well as basic programming concepts.
Networking Fundamentals
This part of a networking degree covers the principles of computer networks, including network topologies, protocols, firewalls, and network hardware such as routers and switches.
Network Administration
This course delves into the practical aspects of managing networks, including installing, configuring and maintaining network devices, as well as troubleshooting network issues.
Network Architecture & Design
Students in this course will learn about designing and building network infrastructures, focusing on aspects such as network topology, IP addressing, and routing protocols.
Network Security
This class emphasizes the importance of securing networks and teaches students about various security measures, such as firewalls, intrusion detection systems, penetration testing, and encryption.
Operating Systems
In this course, students explore the fundamentals of popular operating systems, such as Microsoft Windows, Linux, and MacOS, and learn about system administration tasks, file systems, and process management.
Wireless Networking
This section of your network admin program is focused on wireless network technologies and protocols, such as Wi-Fi and Bluetooth, and the design and management of wireless networks.
Data Management and Storage
This course will cover data storage solutions, such as Network Attached Storage (NAS) and Storage Area Networks (SANs), as well as database management systems and data backup.
Cloud Computing
As organizations continue to implement cloud-based solutions, network administration students must understand key cloud concepts, such as virtualization, infrastructure as a service (IaaS), platform as a service (PaaS), and software as a service (SaaS).
Soft Skills
Valuable soft skills to seek out in a network administration curriculum include teamwork and collaboration, problem-solving, interpersonal communication, and organization.
Network Administration Degrees Online
Compare top-rated online network administration programs now enrolling students.
Visit school sites to learn more about networking programs, start dates, tuition and financial aid.
Got targeted education goals? Many schools offer individual courses from accredited online programs.
Strayer University
Network Hardware & Operating Systems
Database and Info Systems Management
Programming and Web Design Essentials
Prepare for In-Demand IT Certifications
Southern New Hampshire University
Network Design and Administration
Detect and Prevent Network Intrusions
Emerging Tech & Trends in Cybersecurity
Vital Communication Skills for IT Pros
Capella University
Cloud Architecture & Distributed Systems
Design and Manage Enterprise Networks
Cloud Ops and Application Deployment
Emerging Trends in Network Technologies
Network Administration Degree Levels
As you climb the educational ladder in network administration, from associate to bachelor's to master's degree, the depth and breadth of the curriculum, career opportunities, and earning potential increases.
Here is a comparison of network administration programs by degree level:
Associate Degree in Network Administration
A network administration associate degree is typically a two-year program that provides students with a fundamental understanding of the field. The curriculum often covers basic concepts such as computer hardware and software, networking fundamentals, and basic network security.
Graduates of an associate program can usually find entry-level positions such as network support specialist or junior network administrator. Network administration associate degrees are an excellent option for those who want to enter the workforce quickly or plan to continue their education with specialized IT certifications or a bachelor's degree.
Bachelor's Degree in Network Administration
A bachelor's degree in network administration generally requires four years of study and provides a more comprehensive understanding of networking tools and techniques. The curriculum goes beyond the basics, covering advanced topics such as network infrastructure, cybersecurity, systems analysis, and data management. There's also a deeper dive into related areas like cloud computing, virtualization, and some aspects of IT management.
Compared to associates, the career opportunities are more varied and lucrative with a network administration bachelor's degree. Graduates can take up roles as network administrators, systems administrators, network analysts, and network engineers.
Master's Degree in Network Administration
A network administration master's degree is the pinnacle of academic achievement in this field. Usually lasting an additional 2 years after a bachelor's, it's designed for those who wish to hold leadership roles in IT and network management. The curriculum tends to be highly specialized, focusing on high-level concepts such as network architecture, advanced cybersecurity strategies, IT governance, and strategic management.
Graduates with a master's degree in network administration or related fields are well-positioned for senior roles, such as technology manager, network architect, or IT project manager. They may also work as consultants, providing expert guidance to businesses on their network infrastructure.
Network Administration Degree Careers
The job prospects for graduates of a network administration degree are expansive. This table will highlight some of the careers, salaries, and degree requirements for networking professionals:
| Career Path | Average Salary | Degree Level |
| --- | --- | --- |
| Network Support Specialist | $55,000 | Associate Degree |
| Network Administrator | $75,000 | Bachelor's Degree |
| Systems Administrator | $80,000 | Bachelor's Degree |
| Network Engineer | $93,000 | Bachelor's Degree + Experience |
| Information Systems Manager | $112,000 | Bachelor's or Master's Degree |
| Network Security Engineer | $114,000 | Bachelor's or Master's Degree |
| Network Architect | $133,000 | Bachelor's Degree + Experience |
Remember that specific salaries for network administration degree holders will vary based on numerous factors, such as location, experience, industry, as well as your skills and certifications.
Salary data for networking professionals courtesy of Indeed.com.
Search IT courses and degree programs by job role, technology platform & major.