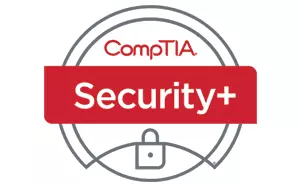 A guide to the best Sec+ bootcamps for 2023.
As cyber attacks continue to escalate in scale and frequency, the demand for qualified cybersecurity professionals is at an all-time high. If you're planning to launch a career in this dynamic field, earning your Security+ certification is a great place to begin.
CompTIA's Security+ is a globally-recognized credential that validates the baseline skills to pursue a career in cybersecurity. Becoming Sec+ certified can help you land an interview, command a higher salary once hired, and open up a pathway to advanced certifications that will kick your career into overdrive.
Attending a Security+ bootcamp is one of the most effective ways to earn this credential. Security+ bootcamps are intensive, instructor-led training programs designed to provide the skills and experience to pass the Security+ certification exam in the shortest possible time period.
In this article, we will highlight the best Security+ bootcamps for 2023. We'll also explore key topics like the costs and benefits of Security+ bootcamps, which skills you'll learn in the program, and FAQs from prospective students to help you choose your ideal Sec+ bootcamp.
Security+ Bootcamp Overview
Average Cost: $2,000 - $3,000
Duration: 3 to 5 days (8+ hours per day)
Format: Instructor-led training. Online or In-person.
Level: Beginner. No IT or security experience required.
Exam Prep: CompTIA Security+ (exam code SY0-601)
Security+ Bootcamp Curriculum
The skills you learn in a well-designed Security+ bootcamp will align with the topics of the certification exam. Here is the Sec+ certification curriclum and the exam weight for each knowledge domain:
SECURITY+ DOMAIN
EXAM WEIGHT
SUBDOMAINS
Threats, Attacks and Vulnerabilities
24%
Social engineering techniques
Different kinds of cyber attacks
Attacks on applications
Network infrastructure attacks
Types of security threat actors
Consequences of security breaches
Security assessment techniques
Network penetration testing
Architecture and Design
21%
Enterprise information security
Cloud computing & virtualization
Secure application development
Authentication and authorization
Cybersecurity resilience
Embedded systems security
Physical security controls
Fundamentals of cryptography
Implementation
25%
Implementing secure protocols
Host or application security solutions
Secure network designs
Wireless security settings
Secure mobile solutions
Cybersecurity in the cloud
Identity and access management
Authentication solutions
Public key infrastructure (PKI)
Operations and Incident Response
16%
Organizational security tools
Incident response policy & procedure
Cyber attack investigation
IT security threat mitigation
Digital forensics fundamentals
Governance, Risk, and Compliance
14%
Information security control types
Importance of security regulations
Organizational security policies
Risk management procedures
Privacy & sensitive data handling
Visit CompTIA.org for a detailed walkthrough of the Security+ certification exam.
Benefits of Security+ Bootcamps
Focused Cybersecurity Training
Security+ bootcamps are intensive training programs that focus on essential cybersecurity concepts, from threat identification and security architecture to incident response and risk mitigation. This dedicated focus helps participants learn the cyber security topics on the Security+ exam.
Guidance from Cyber-Sec Experts
The best Sec+ bootcamps are taught by certified professionals who are experienced in the field. Their years of expertise provide practical insights and help participants understand how theoretical concepts are applied in real-world cybersecurity scenarios.
Security+ Exam Focus
The curriculum of a Security+ bootcamp is specifically structured around the CompTIA Security+ certification exam objectives. This ensures that all the relevant topics are covered and can save participants from the confusion of figuring out what topics to study.
Hands-on Security Training
The leading Security+ bootcamps offer practical, hands-on exercises and labs. These can help participants to better understand and remember complex cybersecurity concepts and techniques by putting them into practice as they are learned.
Sec+ Exam Preparation
Security+ bootcamps often include focused exam preparation activities, such as guided practice tests and question reviews. This helps participants become familiar with the exam format, understand the type of questions they might face, and develop effective strategies for passing the test.
Accelerated Learning
For individuals looking to achieve the Security+ certification in a shorter time frame, a bootcamp's intensive learning format can help them to prepare for and pass the exam more quickly than self-study or other training options. Accelerated Security+ bootcamps typically last 3-5 days.
Security+ Bootcamp Cost
Security+ bootcamp prices vary based on several factors such as course length, training provider, and which resources -- exam vouchers, practice tests, authorized training materials, etc. -- are included in the program. That said, top-tier, instructor-led Security+ bootcamps usually cost between $2,000 and $3,000. Some bootcamp training providers offer discounts for early signup, group registration, or for certain applicant categories like military veterans or students.
Top Security+ Bootcamps
This year's top-ranked bootcamps for Security+ exam prep were selected based on numerous factors, including school reputation, training program features, flexibility and overall value.
These are the best CompTIA Security+ bootcamps for 2023:
Training Camp
The 3-day Security+ Certification Boot Camp at Training Camp includes official courseware, instructors and practice tests from CompTIA, as well as a Security+ exam voucher with a 2nd-shot voucher for a free retake.
Duration: 3 days
List Price: $2,495
Format(s): Online | In-Person
Certification Academy
Certification Academy's CompTIA Security+ online training course comes in as the most affordable Sec+ bootcamp on this list, and features a Security+ exam voucher, study guide, practice tests and interactive labs for hands-on learning.
Duration: 5 days
List Price: $1,995
Format(s): Online
InfoSec Institute
The Security+ Training Boot Camp from InfoSec Institute features 90-days of extended access to boot camp materials (including class recordings), Sec+ exam voucher, unlimited practice tests, and a 3 month subscription to the Infosec Skills platform (which provides access to 1,400+ additional labs and courses).
Duration: 5 days
List Price: $2,799
Format(s): Online | In-Person | Group On-site
Security+ Training Programs
These online courses and degrees from reputable institutions align with the CompTIA Security+ curriculum.
Southern New Hampshire University
A+, Network+ & Security+ Cert Prep
Network Design and Administration
IT Network and Application Security
Incident Response and Investigation
Capella University
CompTIA Security+ Certification Prep
Learn Cisco, Microsoft & Linux Platforms
Microsoft Azure and AWS Cloud Skills
Info Assurance and Network Security
Strayer University
CompTIA A+, Net+ and Sec+ Prep
Hardware and Software Support
Information Systems Management
Computer Programming Essentials
Search IT courses and degree programs by job role, technology platform & major.
Security+ Bootcamp FAQs
Tech and education insiders provide answers to commonly asked questions from Sec+ bootcamp candidates.
Do I need experience for a Security+ bootcamp?
No, most Security+ boot camp programs are designed for beginners, although having some technical experience can be beneficial. Some Security+ bootcamps recommend you get A+ and Network+ certified before attending, but this is not a typical requirement.
Can I attend a Security+ bootcamp online?
Yes, there are many 100% online Security+ bootcamps that feature the same program quality, support resources, and pass rates as in-person bootcamps.
How much does a Security+ bootcamp cost?
The price of a Security+ bootcamp will vary depending on factors like training provider reputation, program duration, and whether the bootcamp is CompTIA-authorized. The leading instructor-led Sec+ bootcamps typically cost between $2,000 and $3,000.