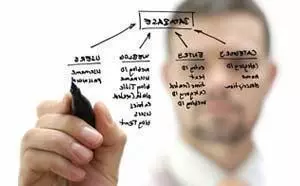 Database management is an essential component of today's digital workforce. As more businesses rely on data-driven decision making, the need for qualified database managers has soared. A database management degree provides comprehensive training for aspiring data professionals, from associate's degrees for initial professional exposure to master's programs for specialized knowledge and leadership skills.
Accredited schools offer database management degrees featuring coursework in today's top data platforms from Microsoft, Oracle, SQL, and IBM. This article will provide a comparative overview of associate, bachelor's, and master's degrees in database management. We'll also highlight some of the best online database management programs available today.
Featured Database Management Programs
Explore high-quality, flexible online degrees in database management and data analytics.
Contact these schools to learn about start dates, transferring credits, financial aid & more.
Southern New Hampshire University
Top Data Management Programs:
Database Management Degree Levels
The level of database management degree you pursue will depend on your career goals and current expertise. An associate's degree can be a starting point for those new to the field, a bachelor's degree in database management provides comprehensive knowledge for a broad range of positions, while a master's offers specialized training for advanced roles and leadership.
Let's take a closer look at the main database management degree levels.
Associate Degree in Database Management
An associate degree in database management is an entry-level program that typically takes two years to complete and provides fundamental knowledge in data maintenance and analytics. This degree offers introductory courses in database design, data structures, and information systems. A database management associate degree is designed to prepare students for entry-level roles such as junior database administrator or data analyst.
Database management associate degrees are commonly found in community colleges and vocational schools. Although an associate degree may not delve into complex database management concepts, it sets a solid foundation and provides a good stepping stone for students who want to eventually pursue a higher degree or begin working immediately upon graduation.
Bachelor's Degree in Database Management
A bachelor's degree in database management usually takes four years to complete and offers more in-depth knowledge than an associate program. Bachelors in database management typically cover subjects such as data modeling, database administration, data warehousing, and emerging topics like cloud computing and big data analytics.
A database management bachelor's degree often combines theoretical learning with practical experiences, enabling students to work on real-world projects, which makes them more proficient and competitive in the job market. Bachelor's degree grads are eligible for positions such as database administrator, data scientist, and database designers.
Bachelor's degrees in database management also prepare students for advanced graduate studies should they choose to specialize further. Many universities offer internships, capstone projects, and job placement, which can significantly boost career prospects in this field.
Master's Degree in Database Management
A master's degree in database management is an advanced program usually completed in two years following a bachelor's degree. It provides highly specialized training in areas such as advanced data analytics, big data visualization, predictive modeling, and machine learning. Students can also learn about database security, data privacy and ethics, and information system management.
Database management master's degrees are targeted towards students who aim for senior-level positions or specialized roles like senior data analyst, database architect, or data strategist. Some programs require a final project or thesis, giving students an opportunity to apply their learning to a specific area of interest. Master's programs can also pave the way towards Ph.D. programs for those interested in advanced data research or academia.
Online Degrees in Database Management
Compare accredited undergraduate and graduate degrees in database management, data analytics, and related fields of study.
Got targeted learning goals? Many schools offer individual courses from campus & online degree programs.
Strayer University
Database and Info Systems Management
Network Hardware & Operating Systems
Programming & Web Design Essentials
Introduction to Information Security
Southern New Hampshire University
Leverage Data to Drive Business Goals
Big Data Analysis and Visualization
Learn Python, SQL, Tableau and R
Data Analytics Project Management
Capella University
Data Mining and Predictive Modeling
Utilize SAS, R, Python and Tableau
Big Data Visualization and Presentation
Use Applied Forecasting to Solve Problems
Search IT courses and degree programs by job role, technology platform & major.
Database Management Resources