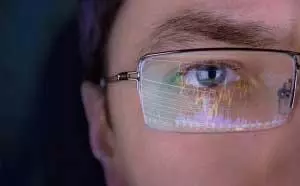 Data scientists analyze business data for actionable intelligence.
Data scientists mine and analyze data from a range of sources, including customer transactions, click streams, sensors, social media, log files and GPS plots. Their mission is to unlock valuable and predictive insights that will influence business decisions and spur a competitive advantage.
The data explosion – fueled by increased bandwidth and processing power, innovative data analysis tools, and the proliferation of inexpensive cloud-based storage solutions – has placed data scientist among the most sought-after and lucrative IT careers. Data scientists' salary and demand are well-deserved, as their findings have the potential to make or break the business. To illustrate this point, a study from the McKinsey Global Institute indicates retailers that maximize data analysis capabilities could increase profits by a whopping 60%, while the health care industry can reduce operational expenses by 8% - that's $200 billion per year.
Featured Data Analytics Programs
Explore high-quality, flexible online degrees in data science and analytics.
Contact these schools to learn about start dates, transferring credits, financial aid & more.
Southern New Hampshire University
Top Data Analytics Programs:
Capella University
Top Data Analytics Programs:
The most successful data scientists possess that rare combination of analytical skills, technical prowess and business acumen needed to effectively analyze massive data sets while thinking critically and shifting assumptions on the go, ultimately transforming raw intelligence into concise, actionable insights.
a.k.a. Data Architect | Big Data Scientist | BI Analyst | Data Mining Engineer | Information Scientist
Data Scientist Skills & Responsibilities
Typical day-to-day activities and in-demand skill sets for Data Scientists include:
Perform data-mining, modeling and hypothesis generation in support of high-level business goals.
Stay current with emerging tools and techniques in machine learning, statistical modeling & analytics.
Successful data scientists often have strong aptitudes for business, technology, mathematics & statistics.
Need strong oral & written communication skills to present data as a concise story for diverse audiences.
Big data scientists develop customized algorithms to solve analytical problems with incomplete data sets.
Big data scientists often use data visualizations, e.g., heat maps, to analyze and present complex trends.
Many data scientists use Hadoop - an open-source Apache framework - to analyze & mine big data sets.
Some data scientists have computer programming skills – such as SQL, Python, Unix, PHP, R and Java –
which they use to modify or develop custom analytical solutions.
Data scientists often work in a team setting, with managers, IT administrators, programmers, statisticians,
graphic designers, and experts in the company's products or services.
Data Scientist Salary
The mean annual salary for data scientists in the US is $104,000, according to the latest data from US Bureau of Labor Statistics.
| | |
| --- | --- |
| Data Scientist Salary $104,000 | |
Salaries for data scientists and related positions:
Business Intelligence Analyst: $84,000
SAS Data Analyst: $84,000
IBM Data Analyst: $84,000
Data Mining Engineer: $93,000
Machine Learning Engineer: $94,000
Big Data Scientist: $97,000
Data Scientist: $104,000
Data Architect: $107,000
Business Intelligence Architect: $110,000
Enterprise Data Architect: $110,000
Big Data Architect: $111,000
Hadoop Engineer: $112,000
Data Warehouse Architect: $113,000
Senior Data Scientist: $130,000
Senior Big Data Analyst: $138,000
Top paying US cities and metropolitan areas for data scientists:
San Francisco / Oakland, CA: $149,000
San Jose, California: $146,000
New York City Metro Area: $129,000
Seattle, Washington: $121,000
Los Angeles, California: $118,000
The business intelligence & analytics field has practically unlimited earning potential. Talented data scientists with a solid education and relevant field experience can earn over $250,000 per year with salary plus incentives.
The hourly salary range for data scientist contract positions is $30-$85, dependent upon skills and project requirements.
Sources: US Bureau of Labor Statistics | Indeed.com
Data Scientist Education Requirements
The education requirements for data scientists are among the steepest of all IT occupations. Approximately 40% of data scientist positions require an advanced degree, such as a Master's, MBA or PhD. Others companies will accept data scientists with undergraduate diplomas in an analytical concentration, such as Computer Science, Math & Statistics, Management Information Systems, Economics, Engineering and Hard Sciences.
Schools also offer career-focused courses, degrees and certificates in analytical disciplines like database management, predictive analytics, business intelligence, big data analysis and data mining, all of which provide a solid base for a data scientist career. Targeted training programs like these also present a great way for current business and IT professionals to learn the skills required to break into this red-hot field.
Research and compare data science training programs and business intelligence degrees online.
Data Scientist Training Programs
Research and compare accredited college degrees, professional certificates and self-paced online courses matching data scientists' education requirements.
Southern New Hampshire University
Leverage Data to Drive Business Goals
Big Data Analysis and Visualization
Learn Python, SQL, Tableau and R
Data Analytics Project Management
Capella University
Data Mining and Predictive Modeling
Utilize SAS, R, Python and Tableau
Big Data Visualization and Presentation
Use Applied Forecasting to Solve Problems
Coursera
Prep for Google Data Analytics Certificate
Learn to use Popular Data Analytics Tools
Big Data Visualization and Presentation
Asking Questions for Data-Driven Decisions
Search IT courses and degree programs by job role, technology platform & major.
Data Scientist Certifications
Database management and BI certifications for the leading database systems, e.g., Oracle & SQL Server, are consistently in demand at companies and public sector organizations that use these DBMSes for data management and analysis.
When it comes to "big data," most certifications come directly from the leading analytics software providers, i.e., EMC, SAS and IBM. While well-designed, the obvious limitation of vendor-sponsored credentials is their tendency to be specific to the certifying company's product line. One stand-out in this area is EMC's Data Science Proven Professional certification, as it covers a range of vendor-neutral big data tools, techniques & best practices.
Here are some of today's most marketable data scientist certifications:
Data Science EMC Proven Professional [EMC] (EMC product knowledge + vendor-neutral big data skills)
Certified Health Data Analyst [AHIMA] (specific to health care industry)
Apache Hadoop certifications [Cloudera] (specific to the Hadoop open-source analytics platform)
SAS Certified Predictive Modeler [SAS] (specific to SAS analytics products)
SAS Certified Statistical Business Analyst [SAS] (specific to SAS analytics products)
SAS Certified BI Content Developer [SAS] (specific to SAS analytics products)
New data scientist certifications will be added here as they launch.
Data Scientist Jobs
Your specialized data scientist education and experience may qualify you for a variety of job roles, including:

Data Scientist Job Outlook
Data scientists will enjoy one of the brightest job outlooks over the next decade. The data science job market is expected to grow by 22% from 2020 to 2030, much faster than the 8% average for all occupations over the same period. As social media and high-tech organizations proliferate, and data continues to become the most valuable asset in the global marketplace, more data scientists will be needed to mine this massive cache of information for actionable intelligence.
Data is the new oil. Unfortunately, the technology has evolved faster than the workforce skills to make sense of it, and organizations across sectors must adapt to this new reality or perish.

-Andreas Weigend, Head of Stanford's Social Data Lab and former Chief Scientist at Amazon
Health care is a notable hot area for data scientist hiring; with its rapid migration to electronic medical records, the medical industry is building data sets to rival the largest enterprises. Other industries aggressively hiring big data scientists include government agencies, social networking hubs, retailers, and the U.S. military.
Source: U.S. Bureau of Labor Statistics' Occupational Outlook Handbook
Related Career Paths
Subject Matter Expert Contributor