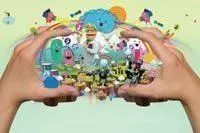 The graphic design job market boasts a range of opportunities for skilled designers, including positions in web design, digital photography, game art, mobile media and computer animation.
With the growing number of digital media platforms, the demand for talented graphic designers is on the rise. Designers with superior digital, web and multimedia skills are in the greatest demand, as businesses seek slick interfaces and stunning visual effects to bolster their online presence.
Compare graphic design training and degree programs in the U.S. and online below.
Top-Rated Graphic Design Programs
These graphic design courses and degrees best embody the skills you need to pursue a digital artist.
Admissions advisors can provide more info about graphic design programs and curriculum, admissions & start dates, online learning, career opportunities, tuition costs, and personalized financial aid options.
BA in Graphic Design - Web Design
Students in this specialized graphic design bachelor's degree will learn the skills and technologies to succeed in roles such as web designer, graphic designer, and digital marketing specialist.
Program Highlights:
Learn to Develop Cutting-Edge, Interactive Websites
Graphic Design Training ft. Adobe Creative Cloud
User Interface (UI) & User Experience (UX) Design
Advanced Digital Imaging and Digital Publishing
Fine Arts Foundation inc. Design & Color Theory
Related online degree programs at SNHU:
BA in Graphic Design & Media Arts - 3D Modeling and Animation
BS in Game Programming & Development
MS in IT - Software Application Development
Graphic Design Training
Our network of technology and creative design schools offers a range of training programs for graphic artists. Compare online courses, certificates and college degrees matching the graphic designer education requirements and career track.
Graphic Design Online Courses
Learn the latest multimedia design tools and techniques including digital painting and illustration, visual effects production, 3D modeling and computer animation. Online design courses feature expert instruction, flexible schedules and a certificate to validate your skills to employers.
CG Spectrum Digital Arts School
Online multimedia certificate programs in:

Digital Painting and Concept Art ft. Adobe Photoshop
2D and 3D Animation using Autodesk Maya or Toon Boom Harmony
3D Modeling featuring the ZBrush digital sculpting tool
Video game design, programming and art production
Visual effects (VFX) production using Houdini FX & Nuke
Search IT courses and degree programs by job role, technology platform & major.
Resources for Graphic Designers