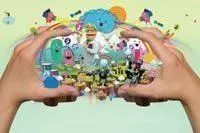 The graphic design job market boasts a range of opportunities for skilled designers, including positions in web design, digital photography, game art, mobile media and computer animation.
With the growing number of digital media platforms, the demand for talented graphic designers is on the rise. Designers with superior digital, web and multimedia skills are in the greatest demand, as businesses seek slick interfaces and stunning visual effects to bolster their online presence.
Compare graphic design training and degree programs in the U.S. and online below.
Top-Rated Graphic Design Programs
These graphic design courses and degrees best embody the skills you need to pursue a digital artist.
Admissions advisors can provide more info about graphic design programs and curriculum, admissions & start dates, online learning, career opportunities, tuition costs, and personalized financial aid options.
Graphic Design Training
Our network of technology and creative design schools offers a range of training programs for graphic artists. Compare online courses, certificates and college degrees matching the graphic designer education requirements and career track.
Resources for Graphic Designers