Graphic Design Degrees & Courses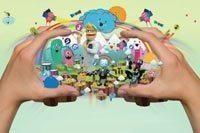 The graphic design job market boasts a range of opportunities for skilled designers, including positions in web design, digital photography, game art, mobile media and computer animation.
With the growing number of digital media platforms, the demand for talented designers is on the rise. Graphic designers with superior digital, web and multimedia skills are in the greatest demand, as businesses seek to gain a competitive advantage with slick interfaces and stunning visual effects for their online hubs.
Compare graphic design training and degree programs in the U.S. and online below.
Featured Graphic Design Programs
BA in Graphic Design - Web Design
Students in this specialized graphic design bachelor's degree will learn the skills and technologies to succeed in roles such as web designer, graphic designer, and digital marketing specialist.
Program Highlights:
Learn to Develop Cutting-Edge, Interactive Websites
Graphic Design Training ft. Adobe Creative Cloud
User Interface (UI) & User Experience (UX) Design
Advanced Digital Imaging and Digital Publishing
Fine Arts Foundation inc. Design & Color Theory
Related online degree programs at SNHU:
BA in Graphic Design & Media Arts - 3D Modeling and Animation
BS in Game Programming & Development
MS in IT - Software Application Development
AAS - IT: Programming and Software Development
This online associate degree imparts the skills to develop innovative software solutions for the Web, computer systems and mobile devices. Students will learn marketable programming and scripting languages such as Javascript, HTML, CSS, Java, SQL and Objective-C.
Program Highlights:
Web Development using HTML, CSS and JavaScript
Use the Adobe Suite to Create Web Graphics & Effects
Design and Develop Secure Systems & Applications
Database Management and SQL Database Programming
User-Interface (UI) and User-Experience (UX) Design
Assemble a Professional Software Developer Portfolio
Related degree programs at Purdue University Global:
A.A.S. Information Technology
BS - IT: Programming & Software Development
M.B.A. Information Technology
Graphic Design Training Online
Our network of technology and creative design schools offers a range of training options for graphic designers. Compare courses, certificates and college degree programs matching the graphic designer education requirements and career path:
Graphic Design Courses with Certificate
Learn the latest graphic design tools and techniques including advanced digital illustration, concept art, game art and 3D animation. Online graphic design courses feature expert instruction, flexible schedules, and a certificate to validate your skills.
Online Degrees in Graphic Design
Compare accredited online degree programs in graphic design, media arts and related subjects.
Graphic Design Online Bachelor's
Recommended online bachelors programs in graphic design and related subjects:
Graphic Design Online Master's
Recommended online masters programs and advanced degrees in graphic design and related subjects:
Search more IT courses and degree programs by job role, technology vendor & major.
More Resources for Designers