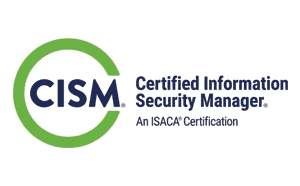 A guide to the best CISM exam prep bootcamps for 2023.
With an average salary topping $160,000, according to the latest salary survey from Skillsoft, ISACA's Certified Information Security Manager (CISM) has emerged as one of the decade's hottest info-sec credentials. CISM certification validates marketable skills in information security management such as risk assessment, cyber security governance, and incident response. An instructor-led CISM bootcamp is one of the best ways to prepare for this rigorous certification exam.
In this article, we will identify the top-ranked CISM bootcamps for 2023. We'll also explore key information for CISM boot camp candidates, including the CISM exam outline, program costs and benefits, and FAQs from prospective students to help you choose the best CISM bootcamp for your needs.
CISM Bootcamp Overview
Average Cost: $2,500 - $4,500
Duration: 3 to 5 days (with 8+ hours of daily study)
Format: Online or On-campus. Live, instructor-led training.
Level: Advanced. 5+ years of IT security management experience.
Exam Prep: ISACA Certified Information Security Manager (CISM)
CISM Bootcamp Curriculum
The best Certified Information Security Manager bootcamps provide expert instruction and intensive review of the 4 CISM job practice domains. These knowledge areas, their subdomains, and average weight in the CISM certification exam are as follows:
CISM Domain
Exam Weight
Subdomains
Information Security Governance
17%
Enterprise Governance
Information Security Strategy
Information Security Risk Management
20%
Info Security Risk Assessment
Info Security Risk Response
Information Security Program
33%
Info Security Program Development
Info Security Program Management
Incident Management
30%
Incident Management Readiness
Incident Management Operations
Visit Isaca.org for a more detailed breakdown of each CISM certification exam domain.
Pros of CISM Bootcamps
Attending a CISM certification bootcamp offers several key benefits:
Intensive, focused learning: Covers all crucial CISM exam topics in a short time.
Expert instructors: Learn from experienced security pros with real-world expertise.
Hands-on practice: Gain practical experience through information security simulations.
Networking opportunities: Connect with fellow cybersecurity pros and managers.
Educational resources: CISM study materials, practice exams & post-course support.
These advantages significantly increase your chances of passing the CISM certification exam while boosting your cybersecurity management career potential.
Cons of CISM Bootcamps
CISM bootcamps also have potential drawbacks for some students:
Cost: CISM bootcamps can be expensive, potentially straining your budget.
Time: Intensive courses take time away from work, family and other obligations.
Pace: The accelerated format of a CISM bootcamp may not suit your learning style.
Considering these potential disadvantages is crucial when deciding whether to attend a bootcamp for CISM exam preparation.
CISM Bootcamp Cost
CISM bootcamp prices vary depending on the institution and length of the program. Most top-tier, instructor-led CISM bootcamps range from $2,500 to $4,500, including exam vouchers and support materials. The learning format -- whether it's in-person or a live-online CISM bootcamp -- does not impact this general price range. Some CISM training providers offer financing or scholarships to help offset this cost. There are also self-paced cybersecurity courses and degrees that align with portions of the CISM curriculum and can cost less than bootcamps. It's important to do your due diligence and compare programs to find the best CISM bootcamp for your budget.
The Best CISM Bootcamps
This year's top-ranked CISM certification bootcamps were chosen based on numerous factors, including training provider reputation, program features, flexibility and overall value.
The best CISM bootcamps for 2023 are:
Global Knowledge
The CISM prep course from technical training mainstay, Global Knowledge, comes in as the shortest and most affordable CISM bootcamp in this year's list. In addition to targeted online training from subject matter experts, this program includes 60+ days of free access to Skillsoft's immersive online learning platform, to further prepare students for the CISM and other IT certifications.
Duration: 3 days
List Price: $2,395
Formats: Live Online Training
InfoSec Institute
InfoSec Institute is one of a select number of ISACA Accredited Training Organization (ATO) at the Elite+ level, meaning its bootcamps meet ISACA's highest quality standards. InfoSec's CISM Training Boot Camp includes official ISACA training materials, satisfaction and exam-pass guarantees, and 90 days of extended access to study materials.
Duration: 5 days
List Price: $4,499
Formats: Online | In-Person | Corporate On-site
Certification Academy
The Certified Information Security Manager Boot Camp at Certification Academy features affordable tuition, exam pass guarantee, and live-online training from experienced instructors. Certification Academy claims a 98% exam pass rate for its bootcamp students.
Duration: 4 days
List Price: $2,495
Formats: Live Online Training
CISM Training Programs
These online courses and degrees from reputable providers align with topics covered in ISACA's CISM certification.
Southern New Hampshire University
Design, Manage & Secure Networks
Detect and Prevent Network Breaches
Cyber Incident Response & Investigation
Prepare for In-Demand IT Certifications
Capella University
Identify and Manage Cybersecurity Risk
Secure Network Design and Engineering
Network Architecture and Cyber Ops
NSA & DHS Approved Security Program
Strayer University
Network Hardware & Operating Systems
Database and Info Systems Management
Programming & Web Design Essentials
Introduction to Information Security
Search IT courses and degree programs by job role, technology platform & major.
CISM Bootcamp FAQs
Tech and education insiders answer commonly asked questions from prospective CISM bootcamp students.
What are the prerequisites for CISM certification?
The prerequisite for CISM certification is 5+ years of experience in information security management. CISM candidates with other relevant experience and/or certifications can obtain an experience waiver for one or two of these years (depending on which skills and certs they hold) bringing their requirement down to a minimum of 3 years of info-sec management experience.
How long is a CISM bootcamp?
The length of a CISM bootcamp varies from school to school, however most CISM bootcamps last from 3-5 days, with 8-10 hours of intensive study per day.
How much does a CISM bootcamp cost?
Bootcamp prices vary based on training provider and duration, but most live instructor-led CISM bootcamps cost between $2,500 and $4,500. This price typically includes at least one CISM exam voucher.
Are CISM bootcamps available online?
Yes, many of the high-quality CISM bootcamps that you can take in-person are also available online. In fact, live online CISM bootcamps are now more popular than campus-based versions.
What post-class support will I get with a CISM bootcamp?
The best CISM bootcamps include post-class support features like unlimited practice tests, resume and interview prep, job-placement assistance, and long-term access to educational materials like courseware and class recordings.