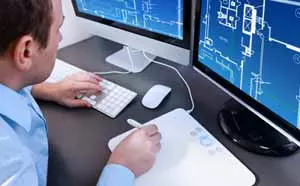 Explore the AutoCAD drafter career path, including hot skills & certifications, education requirements, training programs, outlook, jobs & salaries.
Drafters use software such as Autodesk's AutoCAD to prepare 2D and 3D technical drawings. These drawings are used as blueprints to construct products and structures, such as buildings, machinery, toys, microchips, plumbing & electrical systems, vehicles and a host of other manufactured goods. Drafting professionals hold a range of job titles, including engineer, drafter, estimator, designer, modeler, architect and illustrator.
The best AutoCAD drafters combine "right-brain" attributes, such as creativity & spatial relationships, with "left-brain" traits, like mathematics & analytical thinking, to produce designs that are captivating, functional and innovative. Whether your CADD (computer-aided drafting & design) career path lies in civil engineering, architecture or even entertainment (CADD software such as Autodesk's Maya can render stunning 3D animation and special effects), AutoCAD gives you the power to bring your ideas to life.
Featured Drafting Programs
Explore flexible online training programs in AutoCAD drafting and related fields.
CG Spectrum
Top Drafting Programs:
AutoCAD is the most popular CADD software with the highest overall job-market demand. There are also specialized versions of AutoCAD and other Autodesk products designed for drafters in specific job-roles and industries. Here are the most widely used Autodesk products and the drafting specialists that use them:
| Autodesk Product | Drafting Specialists |
| --- | --- |
| AutoCAD | Designers, Architects, Engineers |
| AutoCAD Civil 3D | Civil Engineers, Drafters, Designers |
| AutoCAD Architecture | Architects, Contractors, Building Managers |
| AutoCAD Electrical | Electrical Controls & Systems Designers |
| AutoCAD LT | 2D Artists, Designers, Document Creators |
| 3ds Max | Game Developers, Graphic Designers, 3D Animators |
| Inventor | Product Manufacturers, Inventors, Prototype Designers |
| Maya | 3D Animators, Effects Specialists, Game Designers |
| Revit | Architects, Construction Managers, Structural Engineers |
| BIM 360 | Building Information Modelers, Construction PMs |
| Alias | Automotive Designers, Industrial & Product Designers |
Drafting and design schools offer campus & online degree programs, courses and certificates in the latest AutoCAD drafting skills & technologies. Compare AutoCAD drafter training programs in the U.S. and online.
a.k.a. AutoCAD Designer | AutoCAD Operator | AutoCAD Engineer | AutoCAD Architect | CADD Technician
AutoCAD Drafter Skills & Responsibilities
Typical day-to-day activities and in-demand skill sets for AutoCAD drafters include the following. AutoCAD drafters:
Are fluent in one or more Autodesk CADD (computer-aided drafting & design) programs.
Create technical schematics and blueprints for the construction of structures and products.
Provide measurements, dimensions and notes on the materials needed to complete the project.
Coordinate with other employees to obtain technical details, optimize designs, and resolve issues.
Modify and revise designs to correct operating deficiencies and limit production problems.
Write additional instructions & comments and position them into technical drawings and blueprints.
Need strong communication skills to deal with both technical & non-technical employees/clients.
The best AutoCAD drafters are creative thinkers with an ingrained curiosity for how things work.
AutoCAD Drafter Salary
The median annual wage for drafters is $60,400, according to the latest data from the U.S. Bureau of Labor Statistics.
Here are some salaries for popular drafting jobs by role, experience, and AutoCAD certification:
| Drafting Career | Average Salary |
| --- | --- |
| AutoCAD Certified Associate | $57,000 |
| AutoCAD Designer | $61,000 |
| AutoCAD Drafter | $62,000 |
| AutoCAD Certified Professional | $88,000 |
| Building Information Manager (BIM) | $90,000 |
| Civil Engineer | $99,000 |
| AutoCAD Project Manager | $111,000 |
For drafting jobs paying hourly, wages typically range from $25 to over $40 per hour.
Sources: U.S. Bureau of Labor Statistics | Analysis of Online Job Boards
Drafter Education Requirements
Hiring managers for drafter positions prefer applicants with training in a recent version of AutoCAD or a specialized Autodesk drafting program, such as Revit Architecture, AutoCAD Civil 3D or 3ds Max. Depending on the type of position you wish to acquire and your preferred learning style, you can learn AutoCAD drafting in a two-year program at a technical or trade school, as part of an associate or bachelor's degree from an accredited university, or through a post-secondary diploma or certificate program. The AutoCAD subject matter works well with online training programs. Prospective employers may also want to see a portfolio of your completed AutoCAD projects. Most AutoCAD training programs, such as those listed below, will review your coursework and help you assemble a professional portfolio and resume. Relevant work experience and drafting certifications will aid candidates in securing a position.
Specific coursework and in-demand skill sets to look for in an AutoCAD drafting education program include hands-on training in AutoCAD technologies, AutoCAD user interface (UI) training, mechanical drawing, knowledge of drafting standards & terminologies, mathematics, science, art and engineering. For industry-specific AutoCAD training programs, Architecture, Building Information Modeling (BIM) & Civic Engineering are currently in the highest demand; that said we recommend you choose the CADD specialty you're most passionate about, as there will always be new job opportunities and hot specialties, but your passion for the subject matter can give you the edge in getting hired as well as more happiness on the job.
Research and compare AutoCAD drafting training programs in the U.S. and online.
AutoCAD Drafter Training
Browse the top-rated courses and degree programs matching AutoCAD Drafters' education requirements.
Admissions advisors can provide more info about AutoCAD drafting programs and curriculum, admissions & start dates, tuition costs, personalized financial aid options & more.
Got targeted learning goals? Many schools offer individual courses from long-form programs.
CG Spectrum
3D Modeling and Animation
Training in Autodesk Maya
Character and World Design
Mentorship from Top Animators
Southern New Hampshire University
Create Stunning, Interactive Websites
Graphic Design Training in Adobe Suite
Learn UI / UX Design and Development
Build a Multimedia Design Portfolio
Drafter Certifications
Marketable certifications for AutoCAD drafters include the following credentials from Autodesk, and the American Design Drafting Association (ADDA).
Most Autodesk certifications are offered at two skill levels: User and Professional. Users are the entry level and typically have about 150 hours of real-world experience with the software, while the more advanced Professionals possess 400+ hours of practical experience and the ability to solve complex workflow and design challenges. Autodesk certification exams may be available as part of your training or degree program, or directly through Certiport, Autodesk's dedicated exam provider.
Autodesk Certifications:
AutoCAD User
AutoCAD Professional
AutoCAD Civil 3D Professional
Revit Architecture Professional
Revit MEP (Mechanical, Electrical & Plumbing) Professional
Revit Building Systems Professional
Revit Structures Professional
Inventor User
Inventor Professional
3ds Max User
3ds Max Professional
Maya User
Maya Professional
Fusion 360 User
ADDA Certifications:
ADDA Certified Apprentice Drafter - Architectural
ADDA Certified Apprentice Drafter - Mechanical
ADDA Certified Drafter - Architectural
ADDA Certified Drafter - Mechanical
ADDA Certified Design Drafter - Civil
ADDA Certified Digital Designer - Digital Imaging
ADDA Certified Digital Designer - Visual Communication
Compare AutoCAD training and certification programs online and in your area.
Drafter Job Outlook
According to the U.S. Bureau of Labor Statistics, employment for drafters will decline slightly by 2% from 2022 through 2032. However, CADD professionals entering the field with the right training and career specializations will still have a great deal of job opportunities.
Civil engineering and building information modeling (BIM) are among the hottest drafting specialties, projected to grow much faster than the overall drafting field. Increased construction activity stemming from U.S. population growth and the need to shore up our infrastructure will spur demand for drafters who are trained and certified in civil engineering, BIM, and interior design. Product data management (PDM) software - programs that track and control data related to a specific product and its lifecycle, including CAD schematics - is another emerging drafting domain that's generating workforce buzz and demand.
Source: U.S. Bureau of Labor Statistics' Occupational Outlook Handbook
AutoCAD Drafting Jobs
Your AutoCAD education and experience may qualify you for numerous roles including the following. Browse and apply to:
Related Careers
Sources