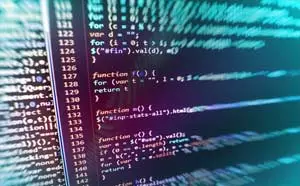 In a world where just about everything we do is through the lens of an application, the demand for software developers who design and write the code that bring these apps to life has skyrocketed. As the software developer job market continues to grow, a pressing question arises: Is a software development degree your ticket into this prolific field?
Whether you're new to software development, looking to upskill, or aiming for a senior role, a wide range of software development programs are available, including certificates, associate, bachelor's, and master's degrees. This guide will compare and contrast the software development degree levels to help you make an informed decision about your education. We'll also highlight some of the best online software development degrees you can enroll in today.
Featured Software Development Programs
Explore high-quality flexible online degrees in computer science and software development.
Southern New Hampshire University
Top Software Development Programs:
Strayer University
Top Software Development Programs:
Software Development Degree Levels
The choice between a certificate, associate, bachelor's, or master's degree in software development will be guided by your career goals as well as how much time and resources you have to commit to education. Each path offers a unique set of skills and career opportunities.
Let's take a closer look at the software development degree levels.
Certificate in Software Development
A certificate in software development is typically a short-term program focused on building targeted, job-ready skills. Often completed in less than a year, software development certificates offer practical knowledge in sought-after programming languages, databases, and web development. This option is ideal for those looking to quickly gain hands-on skills, shift careers, or for beginner coders aiming to update their skill set. While a certificate may not provide the same breadth of knowledge as a software development degree, it could serve as a pathway to entry-level positions or enhance your credibility in the field.
Associate Degree in Software Development
A software development associate degree, usually completed in two years, offers a broader education than a certificate. This program combines foundational computer science courses with practical development skills, with topics spanning various programming languages, algorithms, data structures, and more. An associate degree in software development can pave the way to entry level roles like junior developer, software analyst, or computer programmer. It can also serve as a stepping stone towards a software development bachelor's degree, with many schools allowing the transfer of credits. Those who crave more computing theory in their software development education can opt for a computer science associate degree.
Bachelor's Degree in Software Development
A software development bachelor's is the standard degree for many jobs in the industry. It takes four years to complete as a full-time student and provides a comprehensive education in software development and complementary subjects. The curriculum typically includes beginner through advanced programming, systems analysis, data management, software engineering, and often allows for specialization in hot domains such as cybersecurity and cloud computing. Graduates of a bachelor's degree in software development will be equipped for a wide range of roles, including software developer, software engineer, systems analyst, software project manager, or database administrator.
Master's Degree in Software Development
A master's degree in software development, generally completed in 1-2 years after earning a bachelor's, is an advanced program that dives deep into specific areas of the field. Marketable specializations to look for in a software development master's degree include artificial intelligence (AI), machine learning (ML), data science, information security, and software architecture. Ideal for those who aspire to reach senior or leadership positions, teach, or conduct research, a master's in software development provides the highest level of education in the field. Graduates can pursue careers such as software development manager, software architect, data scientist, or college professor.
Compare the best software engieering master's degrees online.
Software Development Degrees Online
Compare the top-rated online degree programs in software development and related fields.
Request information to learn more about software development programs & curriculum, start dates and admissions, tuition costs, and personalized aid options.
Got targeted learning goals? Many schools offer individual courses & certificates from accredited degrees.
Southern New Hampshire University
Python, Java & C++ Coding
Agile Project Management
Data Structures & Algorithms
System Analysis and Design
Capella University
Web, Mobile, Cloud & AI Development
Learn Android Studio, Swift, Java, C, C++, C#, Javascript, Kotlin, Python, MySQL, MongoDB, MariaDB & MySQL
Study the Internet of Things (IoT)
Agile Software Project Management
Georgetown University
Managing Technology & IT Staffers
Ethics in Technology Management
Enterprise Modernization Strategy
Application Security Management
Software Development Resources