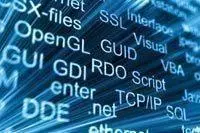 The US Bureau of Labor Statistics forecasts 22% job growth in software development from 2020 to 2030, placing it among the nation's fastest growing career paths. The proliferation of mobile and cloud technologies, soaring demand for business intelligence software, and the need to develop secure systems to combat escalating cyber threats will help drive this hiring boom for skilled and certified software developers.
Universities, colleges and private computer schools offer training programs featuring coursework in marketable software development skills. Compare software development courses & degrees in the U.S. and online below.
Featured Software Development Programs
BS Computer Science - Software Engineering
Students in this specialized computer science program will use the latest software engineering tools, techniques and programming languages to develop secure software systems and applications. Graduates of this online bachelor's program will be prepared for job roles such as Full Stack Developer, Application Developer, Systems Engineer and Programmer Analyst.
Program Highlights:
UI/UX Design for Cloud, Web and Mobile Software Applications
Evaluate & Implement Systems Architectures to Achieve Business Goals
Identify Software Vulnerabilities and Develop Secure Apps and Systems
Use Reverse Engineering to Develop, Improve & Support Existing Software
Related online programs at SNHU:
AS in Information Technologies
BS in CS - Information Security
BS in IT - Software Development
MS In IT - Software Development
BS IT: Software Development
Capella's online bachelor's degree with the minor in software development imparts the skills you need to create cutting-edge websites, software systems, and a host of practical applications that harness the power of the Internet. Students who earn this degree will be prepared for sought-after roles such as web developer, software engineer, application developer, and database developer.
Program Highlights:
Develop Stunning Websites using HTML, CSS, AJAX and Javascript
Use Structured Query Language (SQL) to Build Powerful Data-Driven Apps
Create Stunning Multimedia Apps with the Latest Editing Tools
Develop Secure Cloud-Based Systems and Web Applications
Manage Web & Software Engineering Projects with Agile
Related online degrees at Capella University:
BS - Information Assurance & Cybersecurity
BS - Data Management
MS - IT: Analytics
Software Development Certificates & Degrees
Compare professional certificates and college degree programs matching the software developer education requirements and career track.
Bachelor of Arts in Game Art & Development
Gain the Skills to Become a Video Game Designer
Design Visually-Stunning Characters, Worlds, and Creatures
Create User Interfaces inc. Game Menus & Heads-Up Displays
Computer Animation, Image Capture, and 3D Modeling
Visual Arts foundation inc. Design and Color Theory
Bachelor of Science in Software Development
Cross-Platform Application Development Training
User Interface (UI) & User Experience (UX) Design
Software Testing, Security and Quality Assurance
Learn Marketable Languages inc. Java & Javascript
Advanced Data Modeling and Database Development
Manage Software Projects with Agile Best Practices
Transfer Previous College Credit to Lower Tuition
Search IT courses and degree programs by job role, technology platform & major.
Software Development Resources