Jobs You Can Get with a Computer Science Degree
ITCareerFinder breaks down the most sought-after tech jobs you can get with a degree in computer science. Delve into each role for marketable courses, salaries, recommended degree programs and insider tips.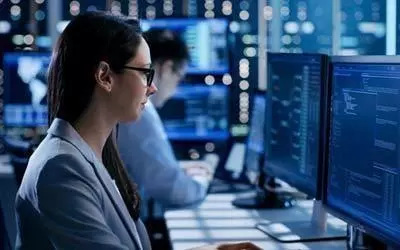 There's never been a better time than now to pursue a career in IT. The proliferation of emerging technologies in mobile and cloud computing, soaring demand for data science, programming and cyber security skills, and the increased automation (for better or worse) of legacy roles in retail and manufacturing, are just some of the factors driving a golden age for tech employment. There are infinite paths to the IT job of your dreams, but whichever road you choose there's a good chance that earning a degree in computer science (CS) will be your first step.
CS curricula and the jobs you can land with a computer science degree vary widely, but there are some core subjects shared by most undergraduate computer science programs. The core curriculum in a CS associate or bachelor's degree typically includes programming and software development, data structures and algorithms, operating systems, and applied mathematics. There are many CS specializations that dive deeper into one or more of these core areas, and plenty of computer science majors designed to prepare you for a specific IT career path. Your personal passions, resources like time and money, and the job you're shooting for will dictate the computer science program that's right for you.
The curriculum in a graduate computer science program builds on the undergrad coursework above. Generally, a computer science master's degree dives deeper into the technical skills you learned as an undergrad, with a greater focus on a specific career track and potential management roles. MBAs in computer science concentrate on the business side of things; here you will learn to use computing skills to set and achieve organizational goals. Doctoral and PhD degrees in computer science tend to focus on research and scientific advancement; these programs are geared toward jobs like computer research scientist and CS professor.
This article will lay out some of the best jobs you can achieve with a computer science diploma ("best" in this case means top-tier salaries, an aggressive hiring forecast, and a high rate of upward mobility). We'll also highlight the courses and electives you should pursue to maximize your job prospects in each role, recommended degree levels, and earnings.
Here are the best jobs you can get with computer science degree:
More Computer Science Jobs
In addition to the aforementioned career paths, here's a look at some other desirable jobs you can qualify for with a computer science degree:
What about "Computer Engineering?" While there is quite a bit of overlap, computer science is different from computer engineering. Generally, computer science degrees are more software-heavy while computer engineering degrees focus more on hardware; here's a closer look at the differences between CS and CE programs.
Looking to save some money on your CS degree? Check out this list of the cheapest online computer science bachelor's.
Sources