The Best IT Certifications for Beginners
If you want to break into the technology field, proactive training and experience – validated by industry-recognized IT certifications – is a great way to begin. These certifications are the best for beginning IT pros looking to land an entry-level position.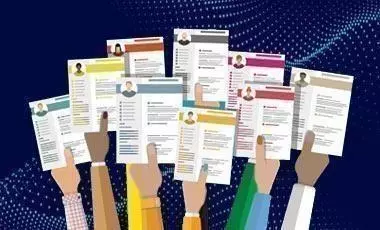 The COVID-19 pandemic has cost millions of Americans their jobs and made it difficult for 2020 college graduates to find work. Additionally, the advent of a larger remote workforce means the state of jobs today looks pretty different than it did just one year ago. Perhaps you're looking to change careers. Now may be the perfect time. If information technology is a field that interests you, here's what you need to get your resume noticed and your foot in the proverbial door.
Train Before You Get the Job
Yes, IT skills are in-demand right now. If you're researching a career in IT you've probably read about the IT skills gap. Essentially this means that there are more technology jobs available than qualified professionals to fill them. The good news is, there are plenty of resources out there to skill up to get one of these in-demand positions. One of the best ways to validate your knowledge in the technology industry is via IT certification.
Certifications aren't just about adding a gold star to your resume. The skills and knowledge gained through proper certification training and exam prep is exactly what IT departments need. The skills gap is slowly hurting organizations and the best solution is upskilled employees. Preparing for, and earning, an IT certification(s) is one of the best ways to gain the critical skills employers need.
The Best Certs for IT Beginners
Before we get into the best IT certifications for beginners, let us first define "best." It is, after all, a subjective term. Does best mean it will make you more money? Lead to more interviews? Or does best mean that employers are specifically looking for these credentials?
We have decided the "best" certifications for IT beginners are those that will help you get an entry-level job. To that end, we've matched desirable entry-level tech roles with the skills needed to land that job, then paired the most marketable certifications with those skills.
Here are the best IT certifications for beginners, segmented by 3 of the hottest technical domains:
Information Security

You can probably guess that a job in information security, or cybersecurity, is one of the hottest tickets for entry-level IT pros. The reason, of course, is that as our way of life becomes increasingly digital, data breaches and cyber attacks become more frequent and damaging. Workforce demand is soaring for IT personnel who can protect vital data and computer systems against these escalating threats.

Popular entry-level jobs that demand info-sec skills include IT Security Specialist, Systems Administrator, and Network Engineer.

Professionals in these roles should be able to detect threats, deploy and troubleshoot network components, understand penetration testing, implement secure network architecture, configure wireless security settings as well as identity and access services, and implement best practices for risk management.

To validate these skills, IT pros should pursue CompTIA Security+ and GSEC certifications:

CompTIA Security+ emphasizes hands-on practical skills, ensuring the professional is prepared to problem solve a wide variety of information security issues.
GIAC Security Essentials (GSEC) demonstrates the professional is qualified for hands-on IT systems roles with respect to cyber security tasks.

Networks and Cloud Computing

Nowadays we store our digital information in a variety of ways. IT pros working in networking and the cloud manage access to this critical information. This role is especially important today as more people are working from home. Network and cloud engineers make sure these myriad connections are available. strong and secure.

Popular entry-level jobs that demand skills in cloud computing and networks include Network Administrator, Cloud Engineer, Network Support Technician, and Jr. Systems Administrator.

IT pros in these roles should be able to apply best practices to manage a network, support connectivity and performance, implement common networking concepts, execute workload migrations to the cloud, determine proper allocation of cloud resources, and implement proper security controls.

To learn these skills, IT beginners should look at CCNA, AWS Cloud Practitioner & Network+.

Cisco Certified Network Associate (CCNA) tests a candidate's knowledge and skills required to install, operate, and troubleshot a small to medium size enterprise branch network.
CompTIA Network+ helps IT professionals develop a career in computer networking and infrastructure covering troubleshooting, configuring, designing and managing networks.
AWS Cloud Practitioner teaches students the concepts of cloud computing without technical detail to validate understanding of cloud computing with a focus on AWS (the leading cloud platform).

Did you know? This year Microsoft retired almost all of its major certifications (MTA, MCSA, MCT and MCSD) in favor of Azure certifications. That's right – everything Microsoft now points to the cloud! Network Chuck does a great job of explaining the new role-based approach Microsoft is taking. IT beginners should explore these new Microsoft certs too.

Hardware, Services & Infrastructure

IT pros who work in hardware, services and infrastructure are proven problem solvers. These are the people you call when your device or application isn't working properly or you're having trouble accessing crucial data. Oftentimes, these are the people at the front line of the help desk – ready to assist with anything.

Some entry-level jobs in this space include IT Support Specialist, Desktop Support Specialist, Field Service Technician, and Help Desk Technician.

Tech pros in these roles should understand the basics of virtualization, desktop imaging and deployment, computer hardware repair, identify and troubleshoot common security issues, and configure operating systems.

To learn these skills, look at CompTIA A+ and ITIL Foundation.

CompTIA A+ validates fundamental IT knowledge including networking, operating systems, mobile device management, computer hardware, and security. CompTIA's A+ is a globally recognized building block toward career progression in just about every IT career path.
ITIL Foundation focuses more on services. The Information Technology Infrastructure Library is a set of best practices for creating and improving an ITSM (IT Service Management) process. In short, an ITIL Practitioner is considered an expert in shaping IT service data development processes – a key skill in this field.
Beginning Pathways Turn into Specializations
Usually beginning IT pros find themselves working in one of the three technology areas listed above: information security, network and cloud technologies, or hardware, services and infrastructure. Once you land your first IT job, there's no question that you'll learn just how much more you have to learn! And that's a good thing.
Your first few years in IT should be akin to having an undeclared major in college. You should be taking it all in, learning what you like and what you don't and discovering what your passion is. When you find out what you really want to dive into (nobody wants to stay at the help desk forever!) do your research and map out your next steps.
IT certifications are a standard benchmark in the computing industry, and they are here to stay. If you want to pursue a lucrative career in technology, start with these best IT certifications for beginners and take it from there. The sky is the limit!