A Guide to Changing Careers from Military to IT
A technical staffing advisor with 20+ years of experience lays out the path for military veterans to successfully transition to a career in information technology.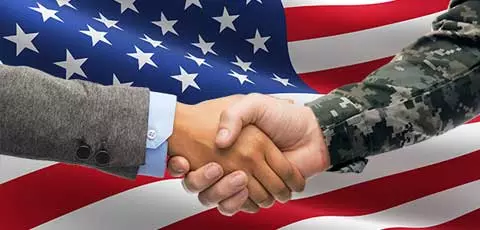 If you're nearing the end of active service and looking for a fast growing, high paying career with a bright future, you may want to consider a job in IT. Given that many of the skills and qualities you developed in the military apply to roles in information technology, a career in IT could be your best move.
Why IT? Let's start with demand. The U.S. Bureau of Labor Statistics expects employers to add about 668,000 computer and information technology jobs by 2030 to reach a total of 5.7 million jobs. In fact, businesses would like to hire more tech workers but they can't find qualified candidates — especially developers, engineers and cybersecurity pros. Even so, U.S. IT job growth is still in record territory with no signs of slowing down.
Then, there's the money. The median salary for Computer and Information Technology Occupations is $86,320 as reported by the U.S. Bureau of Labor Statistics, more than double the $41,950 median wage for all jobs nationwide. What's more, the military or a prospective employer may even pay for IT training and certifications that will further enhance your skill set and market value.
There's also a huge range of entry-to-mid level jobs that are appropriate for veterans who are just starting their civilian careers. Ready to get started? Here's how veterans can navigate the transition into employment in the IT job market.
Discover Your Transferable Skills
Military veterans usually have a great number of technical skills,
soft skills
and qualities requested by employers. How do you identify your most valuable skills and turn them into money? Self-knowledge can help you discover IT careers that are the best match for you.
Conducting a skills assessment, personality assessment and/or a career mapping exercise can help you discover your transferable technical and non-technical skills, create an inventory, and match them to IT roles that utilize those skills. You can improve your efforts by using a keyword finder to identify the most commonly requested requirements across a set of job descriptions and realize what hiring managers are looking for.
Exploring the requirements for in-demand positions can not only help you find the perfect role or specialty but translate your military skills and experience into language, keywords and accomplishments that private sector employers understand and value. If you're not sure how to translate your military experience into civilian terms, try using a military skills translator.
Find Your Ideal IT Career Path
The best thing about IT is that it creates diverse opportunities in every business and industry, making it possible to forge a career path in a sector that prioritizes your passions, purpose and goals. In essence, the market is endless.
For instance, if you have coding or programming expertise, you may be qualified for an entry-level position as a software developer, tester or QA analyst. If you have experience with computer networks or troubleshooting, electronics or software implementation, you may be qualified for an entry-level position as a help desk analyst, PC technician or computer operator.
Other great entry-to-mid level jobs for veterans interested in IT include system security specialist, intelligence analyst, project manager, web developer, DBA, engineer, cybersecurity analyst, technical writer and system administrator. Here's a look at some of the most sought-after career paths in IT.
By the way, don't forget about soft skills when searching for an ideal entry-level position or industry. Having the right "intangibles" can can help you land a great job in IT, even without hands-on experience. For example, soft skills such as critical thinking and problem-solving will go a long way in a role like information security analyst where the quick identification of a security breach and execution of the appropriate countermeasure is vital.
Currently, the in-demand, transferable soft skills for IT include communication and collaboration, organization, problem-solving, leadership, teamwork, attention to detail, critical thinking, dependability, emotional intelligence, customer service, the ability to learn quickly, negotiation, supervision and management as well as training and mentoring.
Once you identify an area of specialization or career path that matches your interests, financial goals and strengths, perform a skill gap analysis by comparing your inventory to a list of must-have and nice-to-have skills for a specific position and identifying training, certifications or other ways to close the chasm.
Free Training & Certification for Vets
Whether you need to fill in expertise gaps or simply want to elevate your existing skills to new heights, there are plenty of free or low-cost ways for veterans to skill-up in a short period of time.
Take Your Best Shot
Employers want you. Many companies give veterans priority and have policies, programs, initiatives, resources and services to support the unique needs of former military personnel and ensure their success. They may also be one of the
companies that has committed to hiring thousands of vets
, making it somewhat easier to score an interview and possibly an offer.
These companies are often referred to as being "military friendly" or "military ready."
How do you find military friendly employers? There are several sites that accumulate lists of companies that cater to hiring veterans (some provide fresh job postings and information on upcoming career fairs) like Military Friendly, National Labor Exchange, Vet Central, Veteran Recruiting and FedsHireVets.
However, you can also identify great companies that are committed to hiring and supporting veterans on your own by looking for these things:
Dedicated job training, apprenticeship, certification or educational benefits for veterans clearly visible on the company's website or career page.
Job postings marked "veterans preferred." You should be able to return appropriate positions by including "veterans" in your search terms or adjusting the parameters.
Mentorship programs, support groups or a veteran buddy system.
Specialized job search tools/translators to help you find open positions that match your military title or skill set. Facebook, Google and Lockheed Martin are just some of the companies that provide specialized search tools.
Investments in marketing campaigns, sponsorships, advertisements and job fairs to promote veteran hiring programs.
Examples of veteran success stories and testimonials posted online, especially on social media.
More Resources for Career-Minded Vets
Acquiring the right skills is only half the battle. To land your first position in IT, you need to design and execute an effective campaign. Whether you need help creating a resume, cover letter, practicing for an interview, polishing your technical skills or completing a job application, there are plenty of people, resources and services waiting to help.
Final Thoughts
Leaving the military is a time to reflect on your goals, needs and future career path. If in the process, you discover that you want challenge, professional growth, high pay, multiple career paths, a bright future and the chance to make a difference, there may never be a better time to pursue a career in IT.