Personal Branding Part 1: How to Define Your Brand
Establishing a personal brand is now a crucial part of a successful job search. Since we think it's such an important tool for job seekers to understand, and because the experts we spoke to had such good advice, we decided to divide our personal branding post into two parts. Read this then check out Personal Branding Part 2: Marketing Yourself.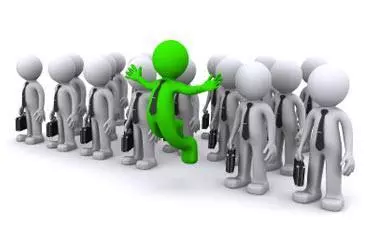 Why You Need a Personal Brand
If you've ever conducted a job search, you're probably familiar with a search strategy we like to call "the lottery mentality." It's the idea that a lot of job seekers have that - like someone who buys three dozen lotto tickets hoping to win the jackpot - sending out dozens of job applications will increase the odds of landing a job.
While this approach seems to be pretty logical at first (more applications = more chances), the bad news is that it's a better strategy for wasting time than it is for job search success. That's because, instead of playing a job search like it's a game of skill, the lottery mentality turns it into a game of chance.
Here's why. By applying to every job you see, you start sacrificing quality for quantity. The quality of your application - the time you take to highlight what sets you apart from everyone else and what makes you special - is what will ultimately land you a job. So by giving away the quality, you're giving away any advantage you may have had against your competition, and relying purely on chance to get you noticed among what could be hundreds of other applicants. If you've ever walked away from a casino $100 poorer than you walked in, you know that games of chance don't always (or even usually) work out the way we want them to. If you've ever won a soccer game or a wrestling match, you've experienced the control you have over the outcome of a game of skill.
The easiest way to forever break the time-wasting cycle of - please excuse the bad business jargon - throwing everything at the wall and seeing what sticks, is to establish your personal brand, and to govern your job search by it.
What is a Personal Brand
If you're still new to the idea of personal branding, the overarching idea is this: In the highly competitive labor market, you need to hone in on what makes you special, what you're good at and what you want to do, and then you need to let other people know about it. The narrower your focus and the better you can promote your expertise, the more success you will have.
How to Start Building your Brand
"To go about [discovering your brand], you first have to figure out who you are, how you want to position yourself in the market, and the types of jobs, career and companies you're interested in — you've got to get all of that information down," says Dan Schawbel, managing partner of Millennial Branding, LLC and author of Me 2.0: Build a Powerful Brand to Achieve Career Success. "It's the hardest part for people, but once you know how you want to be positioned in the marketplace, you can tailor your brand to reflect that."
When it comes to defining your area of expertise, which will be at the core of your brand, the narrower the better, Schawbel says. "If you brand yourself as just another marketing expert or operations specialist, you're competing against millions of people worldwide because it's a global economy, but if you narrow it down to, say, what specific audience you can best serve, then instead of becoming one out of a million [people with that expertise], you're one in 10,000. That really helps your chances of getting you name out there and becoming more visible, and visibility creates opportunity," he says.
Not sure which niche you want to hold in your industry? That's OK, too. Start out with a broader focus and tailor it as your career progresses, Schawbel says.
In choosing your focus, beyond being narrow, it should also be something that you're good at, and something that will be desirable to potential employers, says Lisa Johnson Mandell, resident blogger for Aol Jobs and author of "Career Comeback–Repackage Yourself to Get the Job You Want." "Before, employers may have gotten 20-30 applications for each position, but these days they're getting hundreds, so it's essential to make yourself notable, so that out of all of those applicants, you're the one that stands out," she says.
Once you've honed in on what sets you apart, Mandell suggests creating a quick tagline or mission statement around it, and letting that tagline dictate the rest of your brand-promoting efforts. As a job search expert across multiple platforms, Mandell's personal tagline is "Saving America one job at a time." Schawbel, on the other hand, markets himself as a personal branding expert for Gen Y.
Want to know more about marketing your brand? Good, because that's our topic for the second half of our blog - read it here.
Has a personal brand helped you in your job search? Tell us about it in the comments section.
This article was originally featured on CareerBuilder's TheWorkBuzz.com and republished here with permission.
Job Seeker Resources