3 Reasons Chicago Is Becoming America's Newest Tech Hub
Ian Clark, Head of Americas at cloud staffing firm Frank Recruitment Group, breaks down the key reasons IT professionals are moving to The Windy City.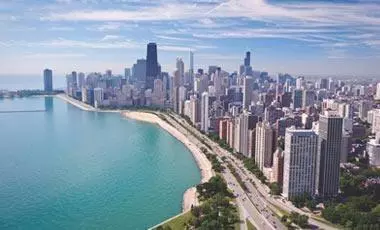 When you think of the world's great tech cities, Chicago may not always be top of your mind, but its transformation over the last decade makes it impossible to omit from any discussion about the best American cities for IT professionals.
The global skills gap in technology means that professionals hold most of the cards when it comes to choosing how and where their career pans out, but Chicago has a lot to offer to make sure people want to be there.
Of course, there must be opportunity, and there's plenty of that. Tech giants such as Google, LinkedIn and Salesforce all have offices in the city, which is partly why CompTIA named Chicago as one of the largest tech employers in the US last year.
Here are the top three reasons tech professionals are packing an extra layer and heading to the Jewel of the Midwest:
Property & Cost of Living

The obvious piece of math to start from will be earning potential vs. property prices, and Chicago Illinois scores brilliantly well when it comes to cost of living. According to Zillow, the median price of homes in the area is $288,200 and rental gives even better value for money compared to other cities of that size.

Whereas the median rental in Los Angeles is $3,650 per month and New York is $2,875, the Windy City is a cool $1,760, which leaves plenty of room to enjoy Chicago's amazing range of eateries and nightlife. Compare that to other tech hubs like San Francisco ($4,500) and it's clear that Chicago has serious appeal on this front.

Even if you prefer to live in the suburbs, the city benefits from one of the best transit set-ups in the US. The famous L system moves commuters around the city itself, trundling above the streets below, and if you'd rather travel by foot the Pedway is a fantastic system of tunnels and bridges designed to help pedestrians get around quickly.

Related: Best Computer Science Schools in Illinois

IT Job Opportunities

It's all well and good having an affordable place, but you need to know your skills have a home, right? Well, Chicago's growth in the tech sector may not be as explosive as other cities, but the great news is that it's steadily rising, offering reassurance that other destinations may not be able to match. IT salaries in Chicago have grown for close to a decade, with the median tech wage now sitting at $82,224.

There's also still room for growth in terms of personnel. The city's IT workforce now totals over 73,000 and companies such as Uber and Salesforce have announced that they are looking to hire thousands of new recruits for their new outposts there.

With Chicago being ranked as one of the top 10 tech ecosystems across the world, finding a role that will offer an appropriate level of compensation is incredibly realistic. Several San Francisco-based giants have seen the Midwest as an affordable base, as well as plenty of start-ups, meaning it appeals to a wide range of job seekers. This influx of major employers and their competition to hire the best candidates means better perks and higher wages for Chicago-based IT pros.

Work-Life Balance

Of course, all of this is irrelevant if you're not in a city that truly feels like home, and it's hard not to fall in love with Chicago. There's truly something for everyone including over 8,000 restaurants, with several Michelin starred spots for foodies. And you haven't had a hot dog unless it's on a poppy seed bun with celery salt and a pickle on top; trust me on that!

If you're a culture vulture then the city has a great theater scene, as well as several renowned comedy clubs. There can't be many cities outside of New York that offer as many opportunities to catch great touring shows. There's also plenty of galleries and museums for those seeking a quieter way to wind down and appreciate the arts.

As for sports, there's something for everyone. The Chicago Bulls are one of the most famous basketball teams in history, and with NFL, NHL and MLB also being represented in the city, it's something of a destination when it comes to watching big-time teams.

No matter what you want to do away from work, Chicago truly caters to your tastes. It's the perfect location to be sure of a great work life balance, and one of many reasons why it should be high on your list when you're looking for the next great step in your IT career.