Online Learning Tips: How to Succeed in Virtual Classes & Degrees
Business and education leaders share tips and tricks for overcoming the challenges of distance learning and getting the most value from your online education.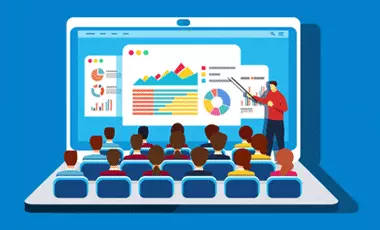 For many of us, the global coronavirus pandemic has made in-person learning a temporary impossibility, but even with the promise of a vaccine, the shift toward learning online is likely to be a permanent trend.
Beyond its current expedience, there are many advantages to pursuing a training or degree program online, including the ability to study at your own pace and schedule, practicing self-motivation, gaining expertise in the increasingly valuable array of digital collaboration tools, and saving money versus traditional classroom programs.
However, online learning, be it in front of your computer or on a mobile device, presents numerous challenges, from the lack of interaction with fellow students, to potential struggles with motivation, concentration, and time management.
For a deeper look at the challenges of distance learning and how to conquer them, we asked industry experts in business, education and technology for their best tips and tricks for online learning. Here's what they had to say.
Collaboration Tips
Trish Martin, Director of Business Hacking Studio, Globant, said the biggest difference between an online course or degree from a web-based company like Udacity versus a campus-based program at a legacy college is the collaboration and connection with peers and instructors.
"The benefits of an online school that offers flexible, self-paced programs contrasts with the advantages of a traditional school which provides learners with the opportunity to collaborate with other students and faculty," she said.
Martin explained that for many students, discussing what they have learned, giving and getting feedback on their understanding of concepts, and being able to reach out to a network of people who share an interest in the content is the most engaging and sustaining form of learning.
To better collaborate during your online course or college degree program:
Be Proactive in Seeking Help
Reach out on your distance learning platform to others who are studying with you or have already completed your online degree. Many of the top platforms have built-in collaboration tools, for example Udacity's Student Hub where current learners can engage with peers who share their degree focus. Even if your virtual training provider doesn't have a dedicated collaboration portal, most online schools offer a forum where you can connect with fellow learners.
There is also a wide range of web-based communities around information technology, software development, and just about any other discipline you can think of. Be proactive and join forces with your fellow students; you won't regret it.
Establish a Virtual Mentorship
Outreach could include setting up an informational interview to establish a virtual mentorship – you might find a mentor in your field and start building a network that will benefit you for years to come.
When it comes to setting up a more serious in-depth mentor/mentee relationship, take a look at services like Plato, a mentoring platform for product and engineering oriented people, which is run entirely virtually.
It is also important to create a schedule where you're in regular contact with your mentor, who can help you answer questions as you move through the process of obtaining your online degree or certificate, and beyond.
Focus & Productivity Tips
Martin also mentioned that staying focused and productive outside of a typical classroom environment can be a challenge, and while reaching out to the community is important, it's equally important to equip yourself with tools that will allow you to focus on your online education with dedication and free of distraction, which may mean re-organizing your schedule—and your home.
Here are some proven methods to boost focus and efficiency while distance-learning:
Set up a Dedicated Study Space
Carve out a space at home where you'll be able to devote your energy to your online education and won't be distracted by the surrounding environment. Make sure it's a space where you feel comfortable, where the internet connection is stable, and surround yourself with all the materials - books, drinks, snacks, etc. - you'll need before settling into your studies. A good set of headphones can also go a long way to blocking out the distractions of the outside world and keeping your online education squarely the target of your time. If you have roommates or need to deal with other noises, look into a pair of headphones with active noise control (ANC) capabilities, as these do an excellent job of drowning out ambient sounds.
Break Up Study into Segments
On the micro scale, planning frequent short breaks can be a way to avoid distance learning fatigue and give your brain a rest, such as going for a short walk outside. On the macro scale, make sure your online learning schedule is evenly balanced throughout the week so you have time to absorb the material, and try to keep weekends free for other activities and to decompress.
Nicolas Avila, Chief Technology Officer, North America, for IT and software development company Globant said you have to think of learning productivity just like you would focus on work productivity.
"Setting and committing to goals is extremely important, but also considering that in many cases you will be your own enforcer it might be important for some people to focus on things that keep them motivated; set achievable milestones and work in the mechanics to build momentum," he explained.
Just like work, he said it's important to schedule learning in your best and most productive working hours, ensure necessary breaks and find the space to share, practice and reinforce what you learned.
Time Management Tips
The flip side of scheduling your classes successfully is staying on track, which in the virtual environment can be a challenge, especially for the procrastinators among us. Thankfully, there are ways to progress your online learning goals with the help of scheduling apps that help you work in advance of deadlines.
To maximize the time spent in your remote class or online degree:
There's an App for That
There are dozens, in fact, and among the best is Evernote, which lets you keep your online education on track through the use of note taking, organizing, task management, and archiving features. For help with managing collaborative classes and team-driven projects, take a look at Trello. Both of these time management tools have a robust free option, as well as paid tiers for those needing greater functionality.
Explore Mobile Opportunities
Mobile apps can help you manage your study time by providing bite-size opportunities to pick up content, so look out for the ability to take notes, download offline content, integrate online classes into your calendar, and set goals—these are all worthwhile features of a mobile learning app.
Another great benefit of mobile education apps is, of course, the ability to study from anywhere, so if you've got time on your commute to work, or want to try some open-air study sessions, a tablet or smartphone makes this possible, and the mobile-based apps are usually less bandwidth intensive, so they can be used over a cellular network.
Coursera's mobile app, for example, features integration with Apple CarPlay and Android Auto, so that when the user is driving around, she or he can continue to have a way to learn the content, while Udemy's mobile app offers access to more than 100,000 online courses.
Many mobile learning apps from schools and universities also provide the ability to download courses to watch offline, listen to lectures via podcast-style audio, or watch classes using popular streaming devices like Chromecast or Apple TV.
Further Reading: