CySA+ vs. Security+ Certification
A detailed comparison of CompTIA's CySA+ and Security+ certifications.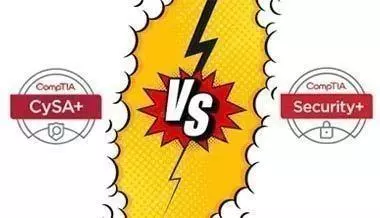 In the rapidly expanding field of cybersecurity certifications, two prominent credentials are the CySA+ (Cybersecurity Analyst) and Security+ from CompTIA. Both industry-respected certifications play a crucial role in validating the skills of cybersecurity professionals. But, how do the CySA+ and Security+ differ? Which one should you choose?
This page will provide a head-to-head comparison of the Security+ and CySA+ certifications. We'll summarize each credential, and outline key aspects such as skill level, curriculum, costs, job roles, and exam details. We will also highlight some of the best CySA+ and Security+ training programs to help you get skilled up and ace the exams.
Security+ Certification
Security+ is designed for beginners seeking foundational cybersecurity knowledge. The Sec+ certification encompasses a broad spectrum of introductory security topics, ranging from understanding threats, attacks and vulnerabilities, to risk management, identity and access management, and basic cloud security.
There are no mandatory requirements to become Security+ certified, however CompTIA recommends that candidates have Network+ certification and 2+ years of experience in information security or systems administration. If you're completely new to cybersecurity, a Security+ bootcamp can help you gain the necessary skills.
CySA+ Certification
CySA+ certification offers a more advanced layer of certification than Security+, with a strong focus on the hands-on aspects of cybersecurity. The CySA+ delves into the nuances of threat detection and security operation center (SOC) management, emphasizing the practical skills to spot and respond to malicious activities. CySA+ is tailored for IT professionals who already have a footing in cybersecurity and are aiming for roles like cybersecurity analyst or security architect.
CySA+ certification also has no mandatory requirements to sit for the exam, but CompTIA recommends Network+ and Security+ certification (or equivalent knowledge) and 4+ years of experience in cyber incident response, SOC analysis or related fields.
Related: Top Paying IT Certifications
Exam Comparison
This table represents the similarities and differences between the CompTIA Security+ and CySA+ certification exams.
| | Security+ Certification | CySA+ Certification |
| --- | --- | --- |
| Skill Level | Beginner | Intermediate |
| Question Format | Multiple-choice & Performance-based | Multiple-choice & Performance-based |
| Duration | 90 minutes | 165 minutes |
| Length | 90 questions max. | 85 questions max. |
| Passing Score | 750 out of 900 | 750 out of 900 |
| Exam Cost | $392 | $392 |
Which Certification Should You Choose?
With both certifications being vendor-neutral and having similar costs and exam formats, the choice between CySA+ and Security+ will depend largely on your current skill level and career goals.
Who Should Choose Security+?
If you're new to the information security job market and looking to gain foundational knowledge in cybersecurity, the Security+ certification will be your ideal choice.
Who Should Choose CySA+?
If you already understand the basics of cybersecurity and wish to advance your career towards threat detection and incident response, CySA+ certification is the way to go.
Featured Training Programs
These online courses and degrees align with CompTIA certifications including the Security+ and CySA+.
Southern New Hampshire University
A+, Network+ & Security+ Cert Prep
Network Design and Administration
IT Network and Application Security
Incident Response and Investigation
Capella University
CompTIA Security+ Certification Prep
Learn Cisco, Microsoft & Linux Platforms
Microsoft Azure and AWS Cloud Skills
Info Assurance and Network Security
Strayer University
CompTIA A+, Net+ and Sec+ Prep
Hardware and Software Support
Information Systems Management
Computer Programming Essentials
Find IT Certification Bootcamps