CEH vs. PenTest+ Certification
A heads-up comparison of EC-Council's Certified Ethical Hacker (CEH) and CompTIA's PenTest+ professional certifications.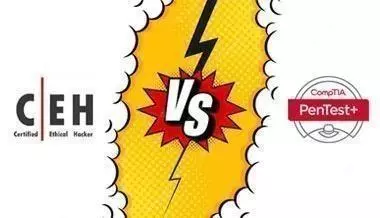 Cybersecurity is one of the top paying and fastest growing disciplines in the IT workforce. Among the myriad specializations in this field, ethical hacking and penetration testing are particularly sought-after due to the critical role they play in identifying and mitigating potential cyber attacks before they happen. Professional certifications like EC-Council's Certified Ethical Hacker (CEH) and CompTIA's PenTest+ offer a pathway to demonstrate your expertise in these domains.
But when it comes to choosing between the two, which certificate should you pursue? This article will compare the CEH and PenTest+ certifications to help you make an informed decision.
CEH Certification
Certified Ethical Hacker (CEH) is globally-recognized as a valuable credential in the field of ethical hacking. A CEH certified professional understands the mindset, tools and tactics of malicious hackers, and can leverage this knowledge to safeguard systems against potential attacks.
To become CEH certified, you need to pass an exam that tests your knowledge on nine different skill domains, including reconnaissance, system hacking phases, network and perimeter hacking, cryptography, web application hacking, mobile platform hacking and more.
CEH certification requires at least two years of information security-related experience. Candidates can also take an official CEH training program to waive the experience requirement.
Who Should Choose CEH?
The CEH certification is an ideal fit for individuals who are interested in understanding and exploiting vulnerabilities from an attacker's perspective, or what is often called an "offensive" role in cybersecurity. This includes security officers, auditors, network security professionals, site administrators, and anyone who is concerned with the integrity of their network infrastructure.
If you are working in or aiming for a job in a government or defense-related organization where CEH is required, then obtaining this certification would be beneficial. Additionally, the CEH certification is more widely-recognized than PenTest+, making it a good option for those looking to enhance their resume with a well-known credential.
PenTest+ Certification
The PenTest+ certification is offered by CompTIA, a leading provider of vendor-neutral IT certifications like the widely popular A+, Network+ and Security+. Unlike the CEH, the PenTest+ certification is more closely aligned with penetration testing and vulnerability management.
PenTest+ covers a broad range of skills needed to conduct penetration testing, such as planning and scoping a penetration test, conducting passive and active reconnaissance, exploiting vulnerabilities, and reporting findings to stakeholders.
While there is no strict experience requirement, CompTIA recommends that candidates have 2+ years of information security experience and hold the Security+ certification or equivalent knowledge before attempting the PenTest+ certification.
Related: Best Pentesting Certifications
Who Should Choose PenTest+?
The PenTest+ certification is ideal for those who are more interested in the "defensive" side of cybersecurity - finding and fixing vulnerabilities before they can be exploited. This certification would be beneficial for individuals in roles like penetration tester, vulnerability tester, or vulnerability assessment analyst. If you're interested in specializing in penetration testing, the PenTest+ certification could be the right fit for you.
In terms of when to pursue this certification, it could be a good next step after achieving CompTIA's Security+ certification, as PenTest+ builds on the foundational cybersecurity knowledge of this cert.
CEH vs. PenTest+: A Comparative Analysis
Focus
Both certifications share common ground but have different areas of focus. While the CEH leans more towards understanding how to think like a hacker and exploit security vulnerabilities, the PenTest+ focuses more on the practical aspects of carrying out penetration tests and identifying vulnerabilities in a system.
Recognition
CEH certification has been around longer and is more widely recognized in the industry. It's also mandatory for certain roles within the US Department of Defense (DoD) and other government agencies. However, the PenTest+ certification, though newer, is rapidly gaining acceptance due to CompTIA's strong reputation in the IT certification landscape.
Exam Details
| | CEH Certification | PenTest+ Certification |
| --- | --- | --- |
| Format | Multiple-choice questions | Multiple-choice & Performance-based questions |
| Duration | 240 minutes | 165 minutes |
| Length | 125 questions | Maximum of 85 questions |
| Passing Score | 70% | 750 out of 900 |
| Cost | $392 | $1,199 |
Conclusion
Choosing between the CEH and PenTest+ certifications depends on several factors, including your current skill level, career goals, and the specific requirements of the role or organization you're targeting.
If your aim is to understand the hacker's mindset and focus more on threat identification, then CEH may be the right choice. This certificate provides a thorough understanding of the tools, techniques, and thought processes of a hacker, allowing you to better anticipate and prevent cyber threats.
If you're more interested in a hands-on approach to identifying and addressing vulnerabilities, the PenTest+ certification might be a better fit. This certificate emphasizes the practical application of pentesting skills, equipping you to evaluate and reinforce a system's security.
Both certifications can help you advance your IT security specialist career. Ultimately, the choice between CEH and PenTest+ will depend on your individual career path and goals. It might even be to your advantage to pursue both certifications, as they each offer unique insights and complementary skills.