Jobs that will Gain (and Lose) in the Age of Automation
ITCareerFinder examines 10 sought-after roles that will thrive in the age of automation, as well as some popular jobs that will be replaced as automation accelerates.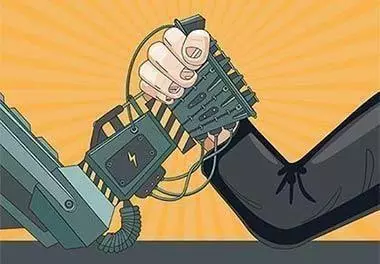 Employers estimate that by 2025, 85 million jobs may be eliminated by automation. But at the same time, a report by World Economic Forum (WEF), notes that 97 million new roles may emerge that are more adapted to the new division of labor between humans, machines and algorithms.
From the workers' standpoint, an overall addition of 12 million jobs, even after accounting for job losses due to the pandemic, is good news. Additionally, a Deloitte study found that automation technologies eliminated 800,000 low-skilled jobs, but the new jobs created by automation and robotics paid an average of $13,000 more per year than the ones that were lost.
So, what kind of jobs will technology create or expand? After careful research and review, here's a look at 10 jobs that will benefit directly from increased automation. Many of these roles are technical in nature, but not all. Best of all, these desirable jobs will not be replaced by artificial intelligence. They pay good salaries, provide interesting and challenging work, and will continue to grow for years to come.
Here are ten jobs that will thrive with increasing automation:
Drone Engineer / Drone Pilot

The drone age has arrived. The use of drones is projected to become even more widespread across numerous commercial and non-profits sectors including law enforcement, real estate, agriculture, delivery, ISPs, tourism, conservation and disaster relief.

In fact, a report from the Association for Unmanned Vehicle Systems International estimates that drones could create more than 100,000 new jobs and an economic gain of $82.1 billion by 2025.

This new tech will spawn high paying jobs for professionals with data analytics, software and hardware development and cybersecurity expertise. However, you don't need mastery of highly technical concepts to cash-in, as there is also a growing need for drone pilots and operators, journalists, GIS/mapping techs, rescue workers and conservationists. There's nothing but upside here.

Cobot Programmer

The demand for collaborative robots, or Cobots, which are designed to work safely alongside humans across diverse industries, is expected to reach $1.43 billion by 2027. These bots don't replace workers – they complement their human counterparts and can reportedly use a vending machine or fist-pound a coworker. Sounds like a solid teammate.

The latest collaborative robots are equipped with advanced embedded vision systems, versatile grippers and machine learning, allowing them to learn a task by observing a human. If you want to get into this fast growing field, here's a helpful overview of industrial and collaborative robot programming.

Machine Learning Engineer

Machine learning (ML) engineer has been one of the fastest-growing job titles in the world over the past two years. And with investments and budgets soaring, and 74% of executives calling ML a game-changer, these pros and other AI specialists will continue to be in demand for the foreseeable future.

You need a deep skillset to master the role, which sits at the intersection of software engineering and data science. But don't be discouraged. Many developers, software engineers and relatively new grads with just one to three years' experience have navigated the transition process. If 16% job growth and average salaries of $114,121 per year sounds too good to pass up, here are some tips for entering this fast-growing field.

Digital Marketer

With 61% of companies planning to hire a digital marketer, there's more opportunities than ever for pros who are proficient with search engine optimization, content and social media marketing and product/UX design. In fact, demand for digital marketing talent sits at 59%, with supply at just 19%.

According to experts, the current environment has accelerated the trend toward digital consumption, forcing companies to re-evaluate and rebuild their marketing strategies. If you are creative, and like to use technology and data to impact the bottom line, a career in digital marketing could be the right choice for you.

Application Developer

App Annie's state of mobile in 2020 explains why app development is a hot, high-paying job today and in the future. The average consumer spends 3.7 hours per day on their device—up 10% year-over-year, and 35% since 2017. Burning Glass estimates that mobile app developer jobs will grow 30.7% over the next decade.

It's no wonder that Robert Half estimates the median salary for mobile application developers with Objective C for iOS or Java for Android, graphic and UI design and RESTful web services experience at $141,000 per year.

Process Automation Specialist

According to The Future of Jobs Report, process automation specialist ranks as the fifth fasting growing job across all industries. In fact, between 2018 and 2028, the career is expected to grow 10% and produce 83,100 job opportunities across the U.S.

So, what does a process automation specialist do? While their duties vary by industry and company, they usually spearhead the analysis of existing systems and software and design new systems or improvements to optimize business operations.

They may also troubleshoot problems, run tests or provide training or technical support to end users. This fast-growing job that requires great people skills pays an average of $73,222 a year.

Digital Transformation Specialist

Given the rapid pace of technological innovation, you might think that businesses would be further along in their digital transformation journey. But business leaders now realize that digital transformation is a never-ending process that must be led by specialists or consultants who fundamentally change the way work is done.

You'll most likely need a bachelor's degree, knowledge of programming and computer science and excellent critical thinking, visionary and communication skills to determine how technology can improve business performance. To learn more about digital transformation, check out this list of free and paid courses suitable for beginners, intermediate learners as well as experts.

Need more incentive? As of February, the average annual pay for a digital transformation specialist in the U.S. was $111,867 a year.

Social Media Manager

Ten years ago, no one had heard of a social media manager. Now, it's one of the fastest-growing, highly sought-after positions in the country. According to data from LinkedIn, there has been a 1357% increase in social media positions listed on the platform since 2010 and these professionals can expect 10% job growth through 2026.

While job duties and titles vary, most managers are responsible for a company's social brand, content and engagement with members of the public on social media sites. Although the average base salary is $51,423 plus bonus, there are opportunities to parlay these skills and advance to social media director, communications VP or even marketing executive.

Driverless Car Engineer

The growth of self-driving and electric cars will create more than 100,000 jobs in the U.S. in the next decade, including 30,000 jobs for engineers with computer science-related degrees that may go unfilled.

Glassdoor reports that average salary ranges span $84,000 to $120,000, with experienced pros earning as much as $200,000.

Because a self-driving car engineer is a specialized software engineer, you don't need automobile industry experience to enter the field. If you are capable of creating high quality software and possess some specific competencies or embedded software experience, you may qualify now. If you don't meet all the requirements, consider taking online courses to close the gaps.

Business Development Manager

While many jobs were lost during the pandemic, hiring for sales consultant, sales operations and strategic advisor grew more than 45%. Why? Companies not only needed new and diversified revenue streams to protect their future, a bevy of new apps and tools are changing the way business development managers work.

"Biz dev" pros use data and technology to acquire in-depth knowledge of the marketplace and competitors. They also coordinate strategically with marketing and sales to plan and execute profitable campaigns. Their efforts are so essential, that they earn up to $140,000 per year.
Other Jobs that Stand to Gain from Automation
Some additional well-paying jobs that are projected to grow quickly over the coming years due to increasing automation include data scientists and analysts, information security analysts, internet of things (IoT) specialists, user experience (UX) pros and full stack developers.
Jobs that will be Lost to Automation
Conversely, many jobs that are repetitive or easily learned will be lost to automation in the years to come (and some have been lost already). For instance, many food preparation, office administration and transportation jobs will be taken over by machines. Other jobs that could be especially hard-hit by the rise of automation include:
Computer operators
Data-entry clerks
Accountants and auditors
Client information and customer service workers
Mechanics and machinery repairers
Material-recording and stock-keeping clerks
Further Reading: