CompTIA A+ Alternatives
ITCareerFinder breaks down the top 4 alternatives to CompTIA's A+ certification.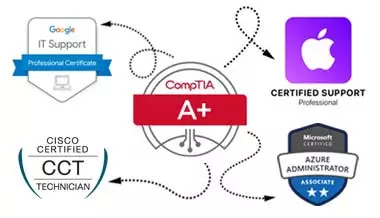 In the rapidly evolving tech space, IT professionals use certifications to show employers that they possess the latest and greatest skills. While CompTIA's A+ certification remains the gold-standard for validating essential knowledge across key IT domains - especially for tech support roles - there exists alternative credentials that offer specialized skill development and unique employment opportunities.
In no particular order, here are the top alternatives to CompTIA A+ certification:
Google IT Support Professional Certificate
Best A+ alternative for all-around skills and technical support jobs.
The Google IT Support Professional Certificate prepares beginners to pursue technical support roles in under six months. This self-paced online program, available on Coursera, covers a range of marketable topics, including computer networking, essential cybersecurity skills, system administration and troubleshooting, offering a comprehensive grasp of tech support fundamentals. Google's IT support pro certificate also covers many of the same topics as CompTIA's A+, so upon completing the program you should be able to take the A+ exam with little to no additional preparation. Major selling points for this certification are its affordability and accessibility.
Featured Technical Support Programs
Compare top-rated online courses and degrees in IT support and related fields.
Southern New Hampshire University
Top IT Support Programs:
Coursera
Top IT Support Programs:
Cisco Certified Technician (CCT)
Top A+ alternative for aspiring network and data center pros.
Another standout alternative to CompTIA's A+ is Cisco's Certified Technician certification. CCT certification validates the skills to support and maintain Cisco technologies at customer sites. Targeted primarily at support technicians, this certification offers two different tracks - CCT Routing & Switching and CCT Data Center, allowing candidates to hone their specialization in the Cisco environment. While not a direct requirement for CCNA and other advanced Cisco credentials, earning your CCT can help pave the way to a range of lucrative certifications from the telecommunications giant.
Apple Certified Support Professional (ACSP)
Top A+ certification alternative in the Apple ecosystem.
In an age where Apple products are omnipresent, becoming an Apple Certified Support Professional can provide a distinct advantage in your IT job search. ACSP certification validates hands-on skills in Apple operating systems, including macOS, iOS and iPadOS, offering deep insights into the Apple ecosystem. Obviously, ACSP certification is most beneficial for those seeking to work in environments that rely heavily on Apple devices. Many more enterprises currently run Microsoft over Apple, but Apple is rapidly gaining market share, especially in small businesses. Considering this trend, earning the ACSP certification can be a great way to differentiate yourself in a competitive marketplace.
Microsoft Azure Administrator
Best CompTIA A+ alternative for aspiring cloud professionals.
As you likely know, cloud computing is one of the most sought after IT skill sets in the modern workforce. Microsoft's Azure cloud platform is the one of the industry leaders in this space - alongside AWS and Google Cloud. The Microsoft Azure Administrator certification validates skills in the setup, management and monitoring of a Microsoft Azure cloud environment, including storage, virtual networking, security and governance. Becoming a certified Azure Administrator can also set you up to earn higher-level Microsoft cloud credentials like the Azure Security Engineer and Azure Solutions Architect.
Conclusion
While CompTIA A+ has carved a significant niche in the entry-level IT certification space, the presence of alternatives like the Google IT Support Professional, Microsoft Azure Administrator, Apple Certified Support Professional, and Cisco Certified Technician credentials ensure that aspiring technology professionals have plenty of choices. By choosing an alternative path to the A+, you can not only cultivate a unique skill set, but differentiate yourself in a competitive IT landscape and seize opportunities with proficiency and specialization.