CCNA vs. Network+ Certification
A head-to-head comparison of the Cisco CCNA and CompTIA Network+ certificates including exam topics, skill levels, costs, and job prospects.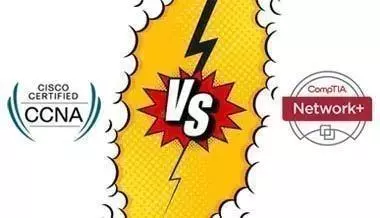 In the realm of computer networking, two certifications reign supreme due to their reputation and universal acceptance: Cisco Certified Network Associate (CCNA) and CompTIA Network+. These are arguably the best IT certifications for individuals looking to demonstrate fundamental networking skills. While both certifications have unique benefits and areas of focus, the decision between Net+ and CCNA will boil down to your experience, career goals and preferences.
This article will provide a detailed comparison of the CCNA and Network+ certifications to help you make an informed decision between the two. We'll also highlight some of the best training programs for Network+ and CCNA exam prep.
Overview
Let's start with a brief description of the CompTIA Network+ and Cisco CCNA certifications.
CompTIA Network+
CompTIA's Network+ certification is the most widely-recognized professional credential for basic skills in IT networking. Network+ is a vendor-neutral certification that covers the necessary skills to design, configure, manage, and troubleshoot both wired and wireless networks across various platforms. The Net+ certificate touches on vital computer networking domains such as configuration, operations, security, and troubleshooting.
Cisco CCNA
The Cisco Certified Network Associate (CCNA) credential is offered by Cisco, one of the leading providers of enterprise network and telecommunication systems. Unlike Network+, CCNA is vendor-specific, meaning it focuses on Cisco technologies, though it does include general networking concepts that apply to other systems. CCNA certification validates skills in network hardware, access, IP connectivity, IP services, network security, and automation.
Skill Level
Here is a comparison of experience-levels for CCNA versus Network+ certification.
CompTIA Network+
Network+ is an entry-level certification. It's an excellent starting point for those who are new to networking and looking to gain a foothold in the industry. There are no mandatory requirements for Net+ certification, however CompTIA recommends that candidates have A+ certification.
Cisco CCNA
CCNA is more of an entry-level to intermediate-level certification. While it has a lot of overlap with Network+, the CCNA delves deeper into the hands-on aspects of networking, particularly in the use of Cisco equipment. The CCNA also has no formal prerequisites, however Cisco recommends that candidates have one or more years of experience working with Cisco solutions.
Job Prospects
While both certifications can enhance your career prospects, there are some key differences between Network+ and CCNA certification when it comes to the jobs you can pursue.
CompTIA Network+
With a strong focus on network setup and troubleshooting, Network+ certification aligns best with IT career paths like network analyst, network field technician, help desk technician, and network support specialist.
Cisco CCNA
CCNA certification will prepare you for more specialized roles that deal with Cisco products, including entry-level network engineer, network administrator, system administrator, and network support technician.
Cost
Cost is rarely a factor when choosing between the Network+ and CCNA certifications, as both credentials have similar exam fees.
CompTIA Network+
The cost of a Network+ exam voucher is $358. If you need additional training to pass the test, there are many Network+ bootcamps, courses and other training programs to choose from, however these will add to your final cost.
Cisco CCNA
A test voucher for the CCNA certification exam costs $300, making it slightly cheaper than the Network+. Similarly, there are many bootcamps and online networking degrees that can aid in your CCNA certification prep.
Conclusion
The ultimate choice between the CCNA and Network+ will boil down to your experience, career goals and personal interests. If you are new to networking and want to quickly gain a broad understanding of networking concepts, Network+ is a great place to begin. However, if you already have some experience and want to delve deeper into networking, especially in Cisco technologies, the CCNA is the better choice.
Find IT Certification Bootcamps