Should You Pursue an Online Degree?
Education vs. Experience: Many people find that their career reaches a plateau and that employers place greater value on workers with a higher level of education or a degree more relevant to the modern workplace. Anyone that has ever been passed over for promotion only to find a college graduate in the post will know how frustrating this can be. An online degree offers the perfect solution.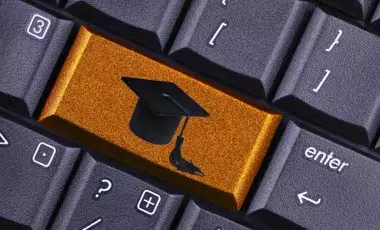 There are a huge variety of online degree programs which can be pursued to associate, bachelor's, master's or doctoral level. Professional certifications are also attainable via the Internet. With the advances in information technology over the past decade, there is no reason to get stuck in a rut. Whether it is nursing, education, business management or information technology, a development of an existing career or a whole new departure, there is an online degree or certificate program to suit you.
Browse online courses and degrees from the leading colleges and universities.
Advantages of Online Education
Few adults are able to return to college to pursue further education --they have jobs and families to support. Even on-campus adult education programs can be unfeasible for some. Consequently, adults seeking access to continued education are increasingly turning to online programs. The freedom to study how and when they want is essential.
Many professionals work irregular hours or travel as part of their job. An online degree program allows study wherever and whenever a busy schedule allows. Even if you are living abroad, you can gain a degree online from an American university. The convenience and accessibility of an online degree makes it easier than ever to learn while you earn and enhance your career prospects.
The Value of Education
Employers are not necessarily at fault in placing such value on a higher education. Degree programs are often vocational, providing students with broad, practical, up-to-date understanding of certain industries and equipping them with the skills and expertise that are in demand within them. Such graduates are assets for companies seeking a competitive edge in their sector.
You can develop the skills that are rewarded through an on-line degree program. It is worth the investment, but there is no need to worry if you can't afford the fees. Financial aid is available in many cases, especially for active or retired U.S. military personnel. The Post 9/11 GI Bill is a comprehensive grant for military veterans that pays for multiple expenses associated with continuing your education, including tuition assistance, housing, books & supplies, relocation, and even the ability to transfer a GI's funds to family members so they can return to school. For non-military education-seekers there are numerous college scholarships that can help you pay for your online degree.
Online degrees versus traditional programs
People that have been out of education for some time often worry that on-line degrees are less highly regarded than traditional, on-campus qualifications. This may once have been the case but online degree programs are now rightly perceived to be topical, challenging and highly relevant. They are designed with the needs of working adult learners in mind and are developed in consultation with experienced professionals in industry and business to ensure that students learn concepts and methods that are immediately applicable in their work environment.
Technology has progressed so that quality and content do not need to be sacrificed to allow for flexibility and accessibility. And, in a technological age, the ability to complete a degree online is an asset. Employers are likewise impressed by the initiative, ambition and self-motivation demonstrated by an employee who takes advantage of the Internet to develop their knowledge and their career. It is important to ensure that the degree you pursue is from an accredited university so that it will be treated with respect by employers. Gaining accreditation is a difficult and costly process so it is a good way to identify legitimate universities.
Enhance your career prospects
Online education provides access to learning that would otherwise be inaccessible to many people. Web-based programs present a flexible, independent learning opportunity that fits the schedule of busy people and complements their experience. It is time to re-gain the advantage so get started today.
This article was originally published on our partner site: CareerBuilder.com.
Job Seeker Resources