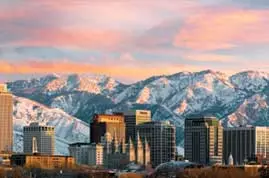 Research the top-ranked computer science schools in Utah.
Beyond its famed Mormon heritage, which remains strong throughout the state, Utah is a great place to call home. Benefits of living, working and studying in The Beehive State - named as such for the cooperative effort that would be needed to make the desert bloom - include rapid economic growth and a strong job market, plentiful outdoor activities in a variety of climates, low crime rates, and top-notch institutions of higher learning. When it comes to computing and information systems, the best computer science schools in Utah include the University of Utah in Salt Lake City, BYU in Provo, and Utah State in Logan, UT.
This page will explore Utah's best schools for computer science, as well as the top online tech schools for Utahns. We'll also analyze potential career outcomes for computer science professionals in-state, including the top paying cities and comp-sci career paths in Utah.
Best CS Schools in Utah
Compare the top-ranked computer science programs in Utah.
Admissions advisors can provide more info about programs and curriculum, admissions & start dates, tuition fees and financial aid options for computer science schools in Utah.
University of Utah
The University of Utah is the top computer science school in Utah. Students at U of U's School of Computing (SoC) benefit from some of the best career outcomes in the field, including job placement with 92% of students having a full-time job lined up by graduation, and post-graduation earnings with an average starting salary of $87,392. The University of Utah is also the only R1 research college in-state, meaning CS programs are taught by active researchers and computer science professionals, and students get the chance to participate in cutting-edge research projects while earning their degree.
Undergraduate and Graduate CS Programs in:

Algorithms and Computational Topology
Scalable Networks and Computer Systems
Artificial Intelligence & Machine Learning
Computer Programming and Software Engineering
Robotics and Autonomous System Creation
Information Security & Cryptography
Data Management and Analytics

Campus Locations:

University of Utah, School of Computing | Room 3190, 50 Central Campus Drive | Salt Lake City, UT 84112
Brigham Young University
Brigham Young University is supported by The Church of Jesus Christ of Latter-day Saints and roughly 98% of students there are Mormon. If this sounds like the path for you, there are some definitive advantages of studying computer science at BYU. Students at BYU enjoy affordable tuition costs (which are 50% lower for Church members), world-class instruction, strong internship programs, and certificate-based training options that are designed to prepare you for a career in computer science and information technology.
Featured Computer Science Degrees:

B.S. in Computer Science with Emphases in Animation, Bioinformatics, Data Science or Software Development
Master of Science in Computer Science
Doctorate (Ph.D.) in Computer Science

Campus Locations:

Computer Science Dept. | BYU | 3361 TMCB PO Box 26576 | Provo, Utah 84602
Top Paying CS Careers in Utah
For those who remain in-state after earning a computer science degree in Utah, here's what you can earn in UT's highest paying CS careers.
Source: U.S. Bureau of Labor Statistics
Regional CS Salaries in Utah
These Utah cities and metropolitan areas pay the highest salaries to computer science professionals.
| Location in Utah | Hourly CS Wage | Annual CS Wage |
| --- | --- | --- |
| Salt Lake City, UT | $43.01 | $89,460 |
| Ogden-Clearfield, UT | $40.95 | $85,170 |
| Provo-Orem, UT | $40.70 | $84,650 |
| St. George, UT | $36.35 | $75,600 |
| Logan, UT-ID | $35.44 | $73,720 |
Source: U.S. Bureau of Labor Statistics
Frequently Asked Questions
IT and education insiders answer common questions from prospective comp-sci students in Utah.
What's the best computer science college in Utah?
The University of Utah is the top-ranked school for computer science in Utah. Additionally, U.S. News & World Report lists U of U as the 46th ranked undergraduate and 43rd ranked graduate CS program in the nation.
Is Brigham Young University a Mormon School?
Yes, BYU is affiliated with The Mormon Church, and while it's not mandatory for admission, over 98% of the student body is Mormon.
Online Computer Schools in Utah
These top-rated online computer schools are currently accepting Utah residents.
Request info to learn more about online CS programs, start dates, tuition & financial aid.