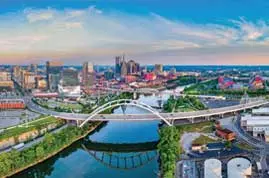 Research the top computer science schools in Tennessee.
From the vibrant music scenes of Nashville and Memphis to the fun and diverse college town of Knoxville, Tennessee is a great place to live. The Volunteer State - named for Tennesseans' historical willingness to serve in times of war - also boasts no state income tax, abundant outdoor activities, affordable housing and a low cost of living. College hopefuls who already reside in-state can also take advantage of the Tennessee Promise Scholarship - a scholarship, mentoring and community service program that can help students cover a large part of expenses for universities and technical schools in Tennessee. The best computer science schools in Tennessee include Vanderbilt University in Nashville, the University of Tennessee in Knoxville, and Tennessee Tech in Cookeville, TN.
This page will explore the top-ranked computer science colleges in TN, as well as the best online computer schools for Tennesseans. We'll also break down potential career outcomes for computer science professionals in-state, including the top-paying cities and IT career paths in Tennessee.
Best CS Schools in Tennessee
Compare the best colleges for computer science in Tennessee.
Visit these schools' websites for more info about programs and start dates, admission requirements, tuition & financial aid options for Tennessee computer schools.
Vanderbilt University
One of the top-ranked universities in America (13th in the nation per US News & World Report), Vanderbilt University offers the best computer science program in Tennessee. CS students in Vanderbilt's School of Engineering benefit from world-class professors and research facilities, ABET-accredited degree programs, and a specialized freshman curriculum that introduces various technical disciplines to help you choose your ideal comp-sci major. Computer science programs at Vanderbilt include cutting-edge subjects like mobile application development, cybersecurity, artificial intelligence, machine learning, big data science, and smart healthcare systems.
Computer science degrees:

Bachelor of Science (B.S.) in Computer Science
Master of Science (M.S.) in Computer Science
Online Master's Degree in Computer Science
Doctor of Philosophy (Ph.D.) in Computer Science

Campus Location:

Vanderbilt School of Engineering | 2301 Vanderbilt Place | Nashville, TN 37235
University of Tennessee
UT Knoxville is Tennessee's flagship university and one of the leading public research institutions. Students at the University of Tennessee (a.k.a. Volunteers) enjoy world-class D-1 athletics, a massive fraternity and sorority system, a sprawling East Tennessee campus, and top-notch degree programs at a high value. Computer science programs at UT feature courses and electives in marketable domains like algorithms and data structures, robotics engineering, artificial intelligence, data analytics, software engineering, and bioinformatics.
Undergraduate & graduate CS degrees:

Bachelor's in Computer Science
Computer Science Minors
Master's in Computer Science (campus or online)
Dual Master's + MBA in Computer Science
Doctoral Degree in Computer Science (Ph.D.)

Campus Location:

UT - Knoxville | Min H. Kao Dept. of Electrical Engineering & Computer Science | Knoxville, Tennessee 37996
Top-Paying CS Jobs in Tennessee
For those who remain in-state after graduating from a computer science program in Tennessee, here's how much you can earn in the state's top-paying computer science roles.
Source: U.S. Bureau of Labor Statistics
Regional Computer Science Pay in Tennessee
These cities and metropolitan areas pay the highest salaries to computing and IT professionals in Tennessee.
| Location in TN | Avg. Hourly Wage | Avg. Annual Wage |
| --- | --- | --- |
| Nashville-Davidson--Murfreesboro--Franklin, TN | $38.31 | $79,680 |
| Chattanooga, TN-GA | $38.16 | $79,380 |
| Knoxville, TN | $36.79 | $76,530 |
| Kingsport-Bristol-Bristol, TN-VA | $36.78 | $76,500 |
| Memphis, TN-MS-AR | $35.57 | $73,990 |
Source: U.S. Bureau of Labor Statistics
Frequently Asked Questions
Education insiders answer common questions from prospective computer science students in Tennessee.
What's the best college in Nashville for computer science and engineering?
Vanderbilt University is the best computer science school in Nashville. VU also has the top-ranked computer science program in the state of Tennessee.
Is The University of Tennessee good for computer science?
Yes, the University of Tennessee in Knoxville is a good school for computer science. Ranking just behind Vanderbilt University as the #2 computer science school in Tennessee, US News & World Report ranks UT Knoxville as 72nd and 89th in the nation for its undergraduate and graduate CS programs, respectively.
Online Computer Schools in Tennessee
These top-rated online computer schools are enrolling Tennessee residents.
Request info to learn more about online CS programs, start dates, tuition fees & financial aid options.
Southern New Hampshire University
Top Computer Science Programs:
Capella University
Top Computer Science Programs:
Search online associate, bachelor's and master's degrees in computer science.