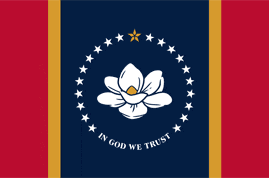 Research and compare Mississippi's top-ranked colleges for computer science.
As the IT workforce continues to decentralize, and the costs of living and housing rise across the nation, many people are choosing to work, live and pursue higher education in the South. Not normally known for its tech scene, Mississippi is quietly harboring a growing hub of academic excellence in computing and information technology. The best computer science schools in Mississippi include the University of Mississippi in the city of University, MSU in Mississippi State, and the University of Southern Mississippi in Hattiesburg, MS.
This page will provide a brief overview of Mississippi's best computer science schools and degree programs. We'll also highlight the top paying cities and technology careers in-state, and answer some FAQs from prospective CS students in The Magnolia State.
Best CS Schools in Mississippi
Here are the best schools for computer science in Mississippi, along with their top CS programs.
Admissions advisors can provide more information about programs and curriculum, admissions, start dates, tuition and financial aid for computer schools in Mississippi.
Mississippi State University
MSU is earning a reputation for providing robust computer science programs that equip students with cutting-edge tech skills. Mississippi State's undergraduate and graduate programs feature a range of marketable comp-sci specializations, including software engineering, data science, cybersecurity, and artificial intelligence. Collaborative research opportunities, online and accelerated CS degree options, and industry partnerships further enhance the learning experience at MSU's school of computer science and engineering.
Top Computer Science Programs:

BS in Computer Science, Concentrations in:

Artificial Intelligence
Computer Systems
Human & Visual Computing
Computational Science

BS in Software Engineering
BS in Cybersecurity
BS in Computer Engineering
Accelerated BS/MS in Computer Science
MS in Computer Science
MS in Cyber Security & Operations
PhD in Computer Science

CS Campus Locations:

Computer Science & Engineering Dept: 665 George Perry Street | 300 Butler Hall | Mississippi State, MS 39762
MSU Online School
University of Mississippi
Ole Miss offers a concise and well-designed computer science program at its state-of-the-art facility in University, MS. With two main undergraduate comp-sci programs, a Bachelor of Arts (BA in CS) and Bachelor's of Science (BS in CS), students at the University of Mississippi can customize their education with sought-after specializations in areas like computer security and data science. Additionally, Ole Miss is active in tech-centric organizations such as Engineers Without Borders (EWB), National Society of Black Engineers (NSBE), Ole Miss eSports, and the Society of Women Engineers.
Top Computer Science Programs:

BS in Computer Science, Emphases in:

Data Science
Computer Security
General Computer Science

BA in Computer Science
MS in Engineering Science (CS Emphasis)
PhD in Engineering Science (CS Emphasis)

CS Campus Locations:

Department of Computer and Information Science: 201 Weir Hall | University, MS 38677
Top Paying CS Careers in Mississippi
For those who decide to work in Mississippi after (or during) their college education, here's how much you can earn in the state's top paying computer science roles.
Source: U.S. Bureau of Labor Statistics
Regional Comp-Sci Salaries in Mississippi
These MS cities and metropolitan areas pay the highest salaries to computer science professionals.
| Mississippi Metro Area | Hourly CS Wage | Annual CS Wage |
| --- | --- | --- |
| Gulfport / Biloxi / Pascagoula, MS | $39.77 | $87,720 |
| Jackson, MS | $36.25 | $75,400 |
| Hattiesburg, MS | $30.54 | $63,520 |
Source: U.S. Bureau of Labor Statistics
Online Computer Schools in Mississippi
These top-rated online computer science schools are currently accepting applications from Mississippians.
Frequently Asked Questions
Technology and education insiders answer common questions from prospective students at computer science colleges in Mississippi.
What's the best computer science school in Mississippi?
Mississippi State University. With affordable tuition (especially for in-state students) and well-designed CS degrees at the undergraduate and graduate levels, MSU is the best school for computer science in Mississippi. US News & World Report also ranked Mississippi State first in the state for computer science colleges.
Is Ole Miss good for computer science?
Yes. The University of Mississippi offers top-notch computer science programs at the bachelor's, master's and doctorate levels. CS degrees at Ole Miss feature marketable majors, such as data science, information security, and computer engineering.
Search online associate, bachelor's and master's degrees in computer science.